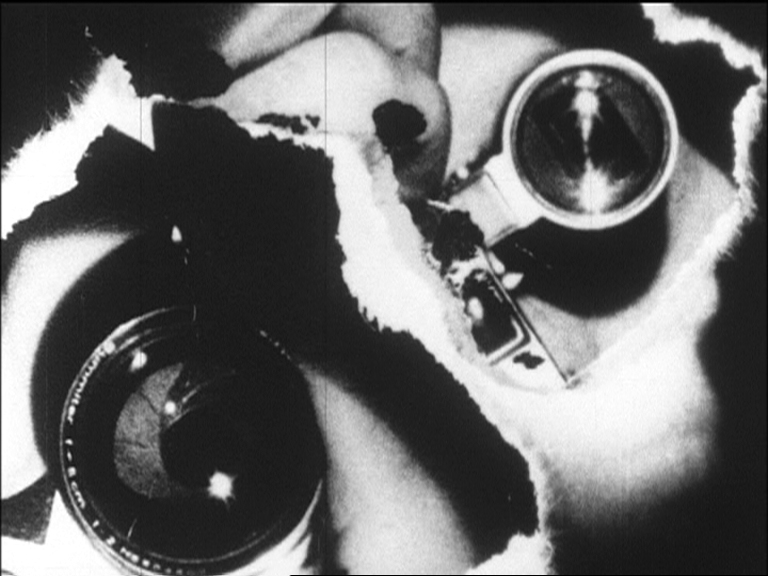 CAC CINEMA 5–16 AUGUST 2015
"I am kino-eye, I am a mechanical eye. I, a machine, show you the world as only I can see it. [. . .] free of the limits of time and space, I put together any given points in the universe . [. . .] My path leads to the creation of a fresh perception of the world." —Dziga Vertov
Since its inception, cinema has mediated between the human and the material: on the one hand, offering a new machinic vision for comprehending the material universe, and, on the other, providing a new optics to liberate or fundamentally reorient the human sensorium. The recent emergence of new materialist philosophies is only the latest in a series of reconsiderations of the perennial triangulation between the human, the material, and the machine, a state of affairs and set of hierarchies that are ever in flux.
Selecting both contemporary and historical works—from the Russian avant-garde to sensory ethnography, structuralist/materialist cinema, video art, and computer animation—this program foregrounds changes in the nature of the cinematic apparatus itself and the alteration it brings forth in the experience of the real and the material on screen. Here, we explore both cinema's pretense of becoming a perfect machine that decentralizes the figure of the human and the dialectical relationship between materialist cinema and the viewer's body and mind. Emphasizing the phenomenological, political, and speculative impact of media technologies, these moving-image works seek to understand how audiovisual media renegotiate the balance between the human and the material, the anthropogenic and the elemental.
This 10-program series includes films by Chris Marker, Basma Alsharif, Harun Farocki, Peggy Ahwesh, Hollis Frampton, Lis Rhodes, Apichatpong Weerasethakul, Jesse McLean, Dziga Vertov, The Otolith Group, Paul Sharits, Jean Painlevé, and others.
Subjects for thematic programs include: Vision Machines; Presence + Interface; Materiality and the Virtual Body; Light Machine; Labor, Material, and Time; Cinematic Apparatus and the Extended Vision; Materialities of the Image; Liquid Aesthetics; the Posthuman Body; and a special screening of Chris Marker's Level Five.
Thanks to: LUX (London), EAI (New York), VDB (Chicago), Light Cone (Paris), Harun Farocki GbR (Berlin), Filmmakers Coop. (New York), Kick The Machine (Bangkok), French Institute in Vilnius, Goethe Institute, and the filmmakers.
About the curators:
Lukas Brasiskis is a film theorist and lecturer currently enrolled in a PhD program in the Department of Cinema Studies at New York University. He has taught film theory and film history related courses in Vilnius Academy of Arts and in Lithuanian Academy of Music, Theater and Film from 2011 till 2014. He is a co-author of the collective monograph Film and Philosophy (Kinas ir Filosofija, ed. by Nerijus Milerius, Vilnius University Press, 2013) and A Short Film History (Trumpa kino istorija, ed. Aukse Kancereviciute, 2014). Starting from 2005, Lukas has curated and moderated a number of film events in Lithuania, including Nathaniel Dorsky's retrospective at CAC Cinema in July, 2014.
Leo Goldsmith is a writer and curator based in Brooklyn, NY. He is the co-editor of the film section of The Brooklyn Rail (www.brooklynrail.org), a monthly arts and politics newspaper. His writing on film and media has most recently appeared in art-agenda, Artforum, Cinema Scope, and Reverse Shot, and he is the co-author (with Robert Stam and Richard Porton) of Keywords in Subversive Film/Media Aesthetics (Wiley, 2015). He has organized exhibitions and film series for the Museum of the Moving Image, UnionDocs, 92Y Tribeca, and Heliopolis Project Space. With Gregory Zinman, he is the curator of the traveling film series "Computer Age: Early Computer Movies, 1952-1987." He is a PhD Candidate in the Department of Cinema Studies at New York University, where he is completing a dissertation on found footage and image circulation.
Programme of "HUMAN. MATERIAL. MACHINE.":
WEEK ONE
Opening night
Wednesday, 5 August /Light Machine /60 min.
The Handeye (Bone Ghosts) (Anja Dornieden & Juan David González Monroy [OJOBOCA], Germany, 2012, 16mm, 7 min)
Light Reading (Lis Rhodes, UK, 1978, 16mm, 20 min)
T.O.U.C.H.I.N.G. (Paul Sharits, USA, 1968, 16mm, 12 min)
Ashes (Apichatpong Weerasethakul, Thailand, 2012, digital, 20 min)
Cinema as light machine, as dream factory, as an apparatus for hypnosis, fragmentation of the senses, for the summoning "ancient memories." This introductory program functions as a point of entry in which OJOBOCA restages a paraphysical encounter between Sigmund Freud, Robert Musil, and Frans Anton Mesmer (deceased); Lis Rhodes offers a cryptic dismantling of language, cinematic imagery, and narrative; Paul Sharits induces in us an experience of synesthesia via violent color and stroboscopy; and Apichatpong Weerasethakul and his camera find an oneiric meeting point between light, world, and mind. Say hello.
Thursday, 6 August / Presence + Interface / 75 min
Document (Public Records) (Coleen Fitzgibbon, USA, 1976/2011, digital, 9 min)
Tilt (George Barber, UK, 1983, digital, 6 min)
The Invisible World (Jesse McLean, USA, 2012, digital, 21 min)
Deep Sleep (Basma Alsharif, Greece / Malta / Palestinian Territory, 2013, digital, 13 min)
Four works that explore cinema as an interface for material and bodily presence. Coleen Fitzgibbon's film, a transposition of microfilm to 16mm to digital, mines archives of bank documents, checks, and warrants to form a work of rigorous abstraction. Barber's euphoric video explores the materialities of the video image to find new spaces and bodily rhythms. McLean collages YouTube "hoarder" and "unboxing" videos with sci-fi films and ELO to explore the world of objects as material carriers of information. Finally, Alsharif's Deep Sleep transforms the cinema into a space for metaphysical bilocation beyond borders.
Friday, 7 August / Vision Machines / 77 min
Reckoning 3 (Kent Lambert, USA, 2014, digital, 12 min)
Eye/Machine I, II, III (Harun Farocki, Germany, 2012, digital, 65 min)
"Once we are definitively removed from the realm of direct or in­direct observation of synthetic images created by the machine for the machine, instrumental virtual images will be for us the equivalent of what a foreigner's mental pictures already represent: an enigma."—Paul Virilio, The Vision Machine
A set of works about the processing of visual information by humans and machines and the use of technology in the training of the human sensorium for production and war. Farocki and Lambert imagine the relationship between visuality and technology as a set of distances and proximities: the interaction of virtual and real spaces, and even the replacement of the former upon the latter.
Saturday, 8 August / Cinematic Apparatus and the Extended Vision / 79 min
Lettre à Freddy Buache (Jean-Luc Godard, France, 1982, 35mm, 11 min)
A Man with a Movie Camera (Dziga Vertov, Russia, 1929, Blu-ray, 68 min)
The search for a 'truthful' interaction between the cinematic apparatus and the material world, as well as a novel representation of a city by means of self-reflexive aesthetics, are the concerns shared by the two films presented in this subprogram. In his short film, Godard reflects on the technology and the montage methods he uses in the film as well as acknowledges the crucial differences between shooting people and shooting matter. Similarly, Dziga Vertov expresses his belief in the transformative power of the camera's vision and employs new montage strategies for a technological extension of the human senses. Through this Vertov is determined to separate his film from the narrative-based language of theater and literature, hence the name he assigns to the film: "kino-eye experiment."
Sunday, 9 August / Materiality and the Virtual Body / 51 min
Sweet Dreams (Jeanne Liotta, USA, 2010, digital, 4 min)
Maxwell's Demon (Hollis Frampton, USA, 1968, 16mm, 4 min)
Anthem (Bill Viola, UK, 1983, digital, 12 min)
Q (Oliver Husain, Canada/Germany, 2002, digital, 16 min)
She Puppet (Peggy Ahwesh, USA, 2001, digital, 15 min)
Films in this subprogram reflect on various visual representations of the body within the virtual worlds of the moving image. From the affective juxtaposition between the images of the vulnerable and finite human body and its industrial prosthesis in films by Bill Viola and Hollis Frampton, to the exploration of cyberspace that challenges natural definitions of gender and social space in films by Jeanne Liotta, Peggy Ahwesh, and Oliver Husain, the subprogram brings up the questions of the human body's relation to the machine, and how virtual worlds should be approached by cinema in a digital age.
WEEK TWO
Wednesday, 12 August / Materialities of the Image / 65 min
Littoral Zones (Sabrina Ratté, Canada, digital, 6 min)
Parallele I-IV (Harun Farocki, Germany, 2014, digital, 44 min)
Suchy Pion (Dry Standpipe) (Wojciech Bąkowski, Poland, 2012, digital, 13 min)
Digital simulations of architectural space, nature, and the real enable access to virtual worlds via entryways to planes, corridors, monuments, land and seascapes. While Ratté and Bąkowski sculpt the video image into new forms and spaces, Farocki – in his last completed work – charts a history of verisimilitude in computer animation, one that brings a parallel digital world into closer proximity with our own.
Thursday, 13 August / The Posthuman Body / 68 min
The Incredible Machine (Bell Labs/AT&T, USA, 1968, digital, 15 min)
The Love Life of the Octopus (Jean Painlevé, France, 1967, 35mm, 14 min)
Scratch Free State (George Barber, UK, 1982, digital, 6 min)
The Third Body (Peggy Ahwesh, USA, 2008, digital, 9 min)
Former Models (Benjamin Pearson, USA, 2013, digital, 20 min)
"… transgressed boundaries, potent fusions, and dangerous possibilities …"—Donna Haraway, "A Cyborg Manifesto"
Painlevé intraterrestrial science fiction emerges at the same moment as Bell Labs' promotional film, narrated by Orson Welles, announces the birth of a computer voice (which, anticipating Kubrick's HAL, learns to sing "Daisy Bell [A Bicycle Built For Two]"). Scratch Free State is a wildly exultant vision of the body transformed through the aesthetic of Scratch Video, a video-synthesis of animal, machine, human, and video-game character, which rhymes with the "thirdness" that Ahwesh proposes, using found footage to imagine us on the verge of a new Garden of Eden. Finally, Pearson's speculative biography reimagines Milli Vanilli's Rob Pilatus as a corporate clone in an age of planned obsolescence for pop culture and humanity alike.
Friday, 14 August / Liquid Aesthetics / 52 min
Cristaux Liquides (Jean Painlevé, France, 1978, 16mm, 6 min)
Anathema (The Otolith Group, UK, 2011, digital, 37 min)
Landfill 16 (Jennifer Reeves, USA, 16mm, 9 min)
"The image of water is the perfect environment in which movement can be abstracted from the thing moved, or mobility from movement itself."—Gilles Deleuze, Cinema 1: Movement-Image.
Each of the three different films selected to this subprogram offers a rare glance toward processes that take part in worlds unseen to the human eye. While Jean Painlevé employs microscopic optics to document how changes in pressure and temperature affect the appearance of liquid crystals, The Otolith Group re-imagines the human tactile relation with the liquid crystals embedded within touch-screens that are converted into abstractions of entrancing turbulence of communicative capitalism. Landfill 16 by Jennifer Reeves presents a gradual demise of the 16mm film fragments buried in the landfill, dug up, painted over, and played at different speeds. Non-directly referring to such topics as resistance to the acceleration of digital capital, object-oriented ecology, and the non-human assemblages, all three works are situated between political, scientific, and fictional realms of often understated aesthetics of materiality in flux.
Saturday, 15 August / Labor, Material, and Time / 60 min
Factory (Sergei Loznitsa, Russia, 2004, Digi Beta SP, 30 min)
Capitalism: Child Labor (Ken Jacobs, USA, 2007, digital, 14 min)
Single Stream (Toby Lee, Pawel Wojtasik & Ernst Karel, USA, 2015, Blu-ray, 16 min)
Starting with Lumières' Workers Leaving the Lumière Factory (1895), representations of the working class and the conditions of the labor have a long tradition in cinema's history. In this subprogram Sergei Loznitsa's and Ken Jacob's films draw attention to the exploitation of workers, though they do it in fundamentally different ways. The former invites the spectator to observe attentively Russian workers devoting their time to their daily duties in the archaic post-Soviet metal factory; the latter employs the extreme effects of stroboscopic light to digitally reanimate a stereoscopic photograph of a factory floor in late 19th century New York, crowded with machinery and child workers. Single Stream, a meditative and abstract documentary filmed in a recycling plant in the US, for its part, establishes an a-centric point of view that captures the process of both human and non-human agents at work in the spirit of new materialism and object-oriented ecology.
Closing night
Sunday, 16 August / Level Five / 106 min
Level Five (Chris Marker, France, 1997, Blu-Ray, 106 min)
Chris Marker's Level Five features a story of a woman distressed by the loss of her lover while working on programming a video game about the Battle of Okinawa, Japan, during World War II. Oscillating between essay film, documentary, and science fiction, Marker's film is a philosophical rumination on traumatic memory, the crisis of identity, and early digital culture. Combining scientific and futuristic computer-generated imagery, the film examines the functioning of early digital information, specifically the construction and organization of data to make meaning of the past, the tensions between the medium and the content as well as the complex relation between human and computer.