The CAC Reading Room welcomes its visitors to use Lithuania's largest resource of contemporary art publications free of charge. This adaptable space also includes space for work and meetings and occasionally serves as a site for lectures and other events, as well as exhibitions. The Reading Room is open on Tuesdays and Thursdays from 12pm to 7pm and by appointment ([email protected]).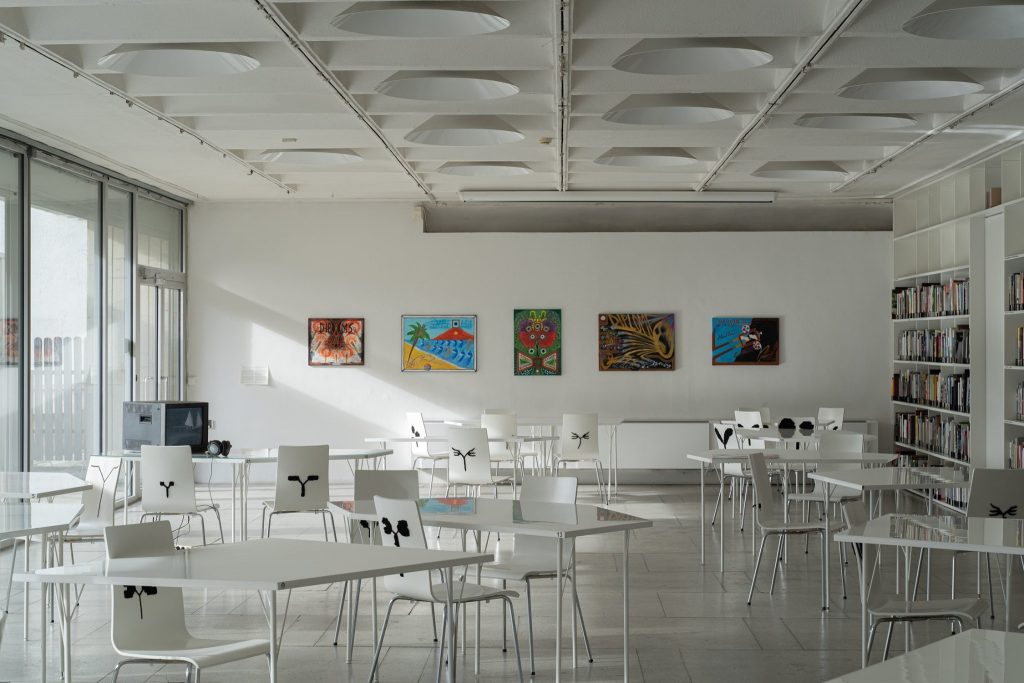 The CAC Reading Room collection comprises art, architecture and design magazines, exhibition catalogues, artist monographs and artist's books, publications on cultural theory and art history. It also offers special selections of reading material curated for visitors by the art historian Alfonsas Andriuškevičius, the publishing house castillo/corrales, writers Chris Kraus and Quinn Latimer, designer Linda van Deursen and others. All of the publications can be found in our online catalogue.
The history of the CAC Reading Room goes back to 1999, when the CAC launched a space called Info Lab. The Info Lab became known as the place to go to access the latest books on contemporary art, architecture and design, which were lacking at the time in local libraries, as well as subscriptions to international art magazines and free internet access. In 2006 the Info Lab was altered through an architectural project by Valdas Ozarinskas who radically transformed the foyer of the CAC, and three years later the collections of the Info Lab were moved into the spacious exhibition hall on the CAC's ground floor – the current Reading Room.
The current interior was designed in 2009 by a group of architects and designers based in Amsterdam – Anouk Vogel, Johan Selbing and Bart Guldemond, who won an international competition for young architects. They converted the exhibition hall into an 'interior garden' – a place which, according to their concept, offers the opportunity to meet up with friends, read, study, rest, be inspired or simply daydream.
VISITOR INFORMATION / HOUSE RULES 
The use of the Reading Room is free of charge, and no reservation or registration is required.

The publications are available for reference on site but they cannot be loaned or taken off the premises.

You are welcome to search the digital catalogue or ask our staff for help.

Please leave the books on the desks after using them or return them to a member of staff.

Password-protected wi-fi is available for free.