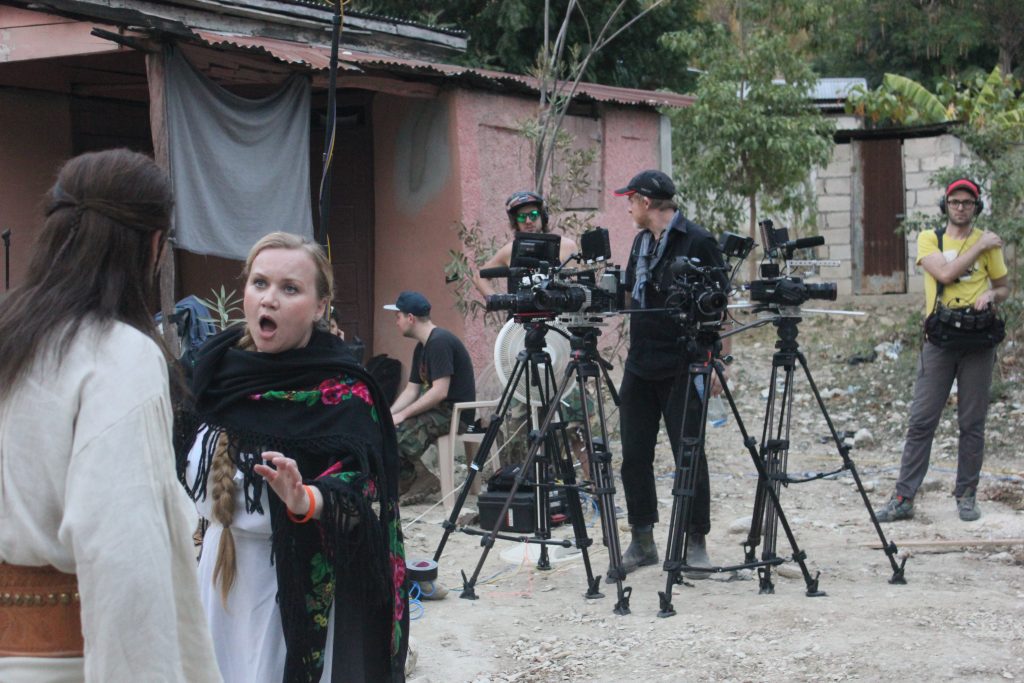 Saturday 30 January at 3 pm at CAC Cinema
The curator of the project HALKA/HAITI 18°48'05"N 72°23'01"W, (prepared for the 56th Biennale di Venezia), Magdalena Moskalewicz, will discuss the history of Polish presence in Haiti, connections between the opera Halka and the Haitian Revolution, the Polish-Lithuanian presence of Stanisław Moniuszko, and what went on "behind the scenes" of producing this complex project between Poland, Haiti and Venice.
Magdalena Moskalewicz is an art historian, critic and curator. She is currently Visiting Professor in International Art Histories at Carnegie Mellon University in Pittsburgh. In her scholarly, editorial, and curatorial work, Moskalewicz critically investigates local art histories and representations of national identities in order to reshape and revise dominant historical narratives. To that end, she led the Central and Eastern European branch of The Museum of Modern Art's (MoMA's) global research initiative, C-MAP, and co-edited the project's digital publication platform, post (from 2012 to 2015). Awarded a PhD in art history from Adam Mickiewicz University for her research into the Polish neo-avantgarde of the 1960s, Moskalewicz has published and lectured internationally on Polish abstract painting, assemblage, and conceptual art. She has also published on more contemporary practices, recently on the work of Kosovar artist Sislej Xhafa. Moskalewicz curated the Polish Pavilion at the 56th Venice Biennale, with the highly acclaimed Halka/Haiti 18°48'05"N 72°23'01"W, in collaboration with the artists C.T. Jasper and Joanna Malinowska. Currently, she is further exploring the issues of travelling, migration and displacement in relation to identity formation for her upcoming exhibition titled "The Travelers" scheduled to open at Zachęta–National Gallery of Art in Warsaw in May 2016.
The lecture is organized in the context of exhibition 'C.T. Jasper & Joanna Malinowska: Halka/Haiti: Return to Vilnius'.
The lecture will be held in English, entrance is free.