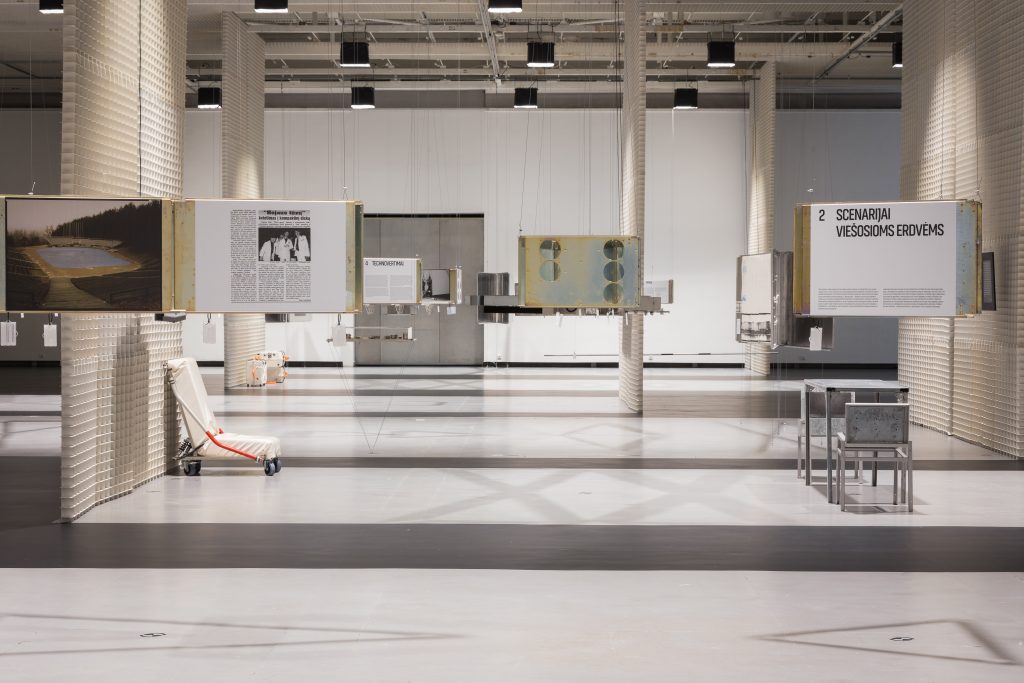 A retrospective exhibition of artist and architect Valdas Ozarinskas opens in Marseille, in Unité d'Habitation designed by Le Corbusier. The exhibition is organised by the Contemporary Art Centre and architecture and design gallery 213. It is a smaller, condensed version of the exhibition "An Architect Without Architecture?" staged at the Contemporary Art Centre in 2018.
VALDAS OZARINSKAS (1961–2014) was an architect and artist, and one of the most remarkable representatives of interdisciplinary art and conceptual architecture in Lithuania. Over the course of three decades, Ozarinskas was prolific and multifarious in his work; he designed exhibitions, interiors, private houses and public commissions, theatre and event productions, produced fashion collections, art installations and videos, edited publications, curated exhibitions of work by the Private Ideology group and organised music and art events.
In the context of Lithuanian design and architecture, Ozarinskas occupies a unique place as an artist with a distinct ideological and aesthetic vision, usually defined as brutal utilitarianism. This vision embodied the tendencies of interdisciplinarity and conceptualism that had been slowly seeping into the fields of art, design and architecture since the 1980s; on the other hand, it also transcended the boundaries between the disparate spheres and scopes of design, such as household décor and the war industry, thus also embodying the challenges faced by a country going through socioeconomic transition and the modes of operation determined by it. His best-known architectural works were the iconic Lithuanian pavilion for the international EXPO 2000 exhibition in Hannover, designed with the Private Ideology group, of which he was a member, and the stylised, rough militarised interiors for the bars NATO's and Full Metal Jacket.
His entry into the visual arts coincided with the rise of the process-based exhibition and video performance (that followed the first performance art events) and he went on to participate in the first large-scale curated group exhibitions, as an artist and an exhibition designer. The strong performative aspect of some of his most recent works – Romas Ubartas and The Black Pillow – helped establish his unique place in the history of conceptual and performance art in Lithuania. All in all Ozarinskas staged around ten solo exhibitions and took part in more than fifty group projects, and was a recipient of the Hansabank art prize in 2007.
The exhibition in Vilnius provided an overview of nearly three decades of this extraordinary artist and architect's work. It was the first opportunity to see his relatively recent work alongside some of his early projects, and a rare occasion to draw analogies between his work across various fields.
Illustration: Exhibition "An Architect Without Architecture? A Retrospective of Valdas Ozarinskas" at the CAC Vilnius, 2018. Photographer: Andrej Vasilenko.