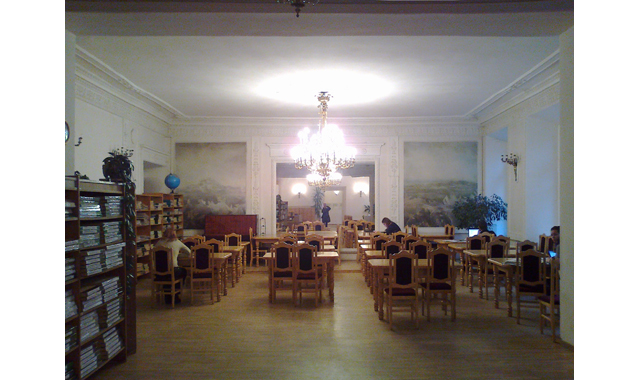 Exercises for 6 dancers
At A.Mickevičius Library (Reading Room), Trakų Str. 10
And so the seven arrows began to argue about how and why they arrived right there where they had fallen. They tried to remember, but memory talks too much, they said, memory likes to surprise, frighten, please, sick as she is of too much imagination. Then the arrows became convinced that to know where they come from would have been enough to go backwards like shrimp, and not sideways like crabs, and so they set their eyes in their arse and followed their pigeon feather tails. Wind, rain and even the flight of a bird changed their wicked way with indifferent malice, and the seven arrows held a new council. They said they were made for a target, made to kill, and if someone's hand shot them, that someone would return to take them back. Not if we are lost arrows, some said, and it really seems that none of us is stuck into the flesh of a deer, a bear or woodcock, pointed out the most cynical. Why wait? They discussed whether the future lay in the direction of their iron points or whether it was behind their tails. If they did not know which hand had shot them then the future had to stand unknown just behind them, because as some arrows say: the past is known. Then all of them darted forward, determined to find their origins, and soon were convinced that no hand had ever shot them, no arc was tense for them and therefore no one could be their master. They were so convinced of that they stopped believing themselves arrows and understood that they were dogs.
Together with Marija Baranauskaitė, Rytis Česaitis, Greta Grinevičiūtė, Sigita Juraškaitė, Agnietė Lisičkinaitė and Justina Miškauskaitė
.
The event is part of the exhibition Comrades of Fear and Wonder. Please find more information about the project here: http://cac.lt/en/exhibitions/future/5613
Partner of the project: Lithuanian National Opera and Ballet Theatre.
The exhibition is supported by the French Institute, Vilnius.
The exhibition has been carried out within the framework of Survival Kit with the support of the Culture 2007–2013 programme of the European Union.