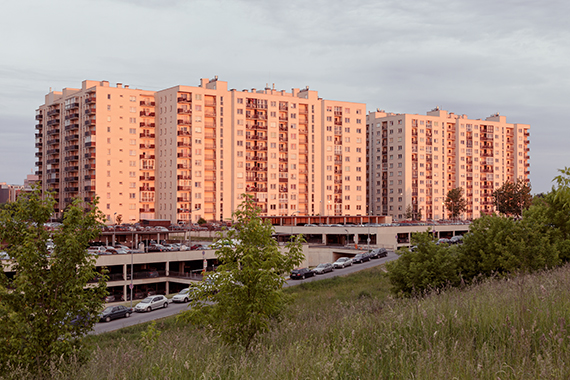 Andrej Vasilenko's new photobook is a presentation of his ongoing project, started in 2014, and his first solo publication. 'This is Vilnius' draws a portrait of the Lithuanian capital as a diverse city in constant flux. It captures Vilnius' multilayered history, laconically builds the storylines of its alternative versions, and test the possibilities of exposing the city's chimeric identity through artistic and investigative documentary. According to Gerda Paliušytė, one of the book's editors, in these photographs Vilnius, much like a drive around town without a definite aim, is just as personal as it is universal, and its definition, as well as the romanticism, humor or melancholy evoked thusly, rests not only on long-term social and cultural changes, but also on the daily individual experience of the city and the natural change of seasons.
Within the Lithuanian photographic tradition, Vilnius is as recognisable as it is mythologised: the 'Baroque city', a multicultural city of contested historical narratives, a rapidly growing and rejuvenating city of Socialist construction sites with remnant traces of past ages and archaic slums in its heart. All of these elements are present to some extent in Andrej's book as well, but it is evident that something has changed; the habitual exclusively architectural, social, or humanist context has given place to an attempt to make the city itself speak, giving it a voice without stereotypical preconceived notions.
Hence, Vilnius here is both familiar and somewhat unfathomable, and the presentation discussion will aim to find possible answers to some recurring questions about the city and its reflections in all kinds of images. Why is it important to not only experience, but also document the city, and what are the purposes of such records? How have those purposes and the aesthetic tools of urban photography changed over the last 100 years? Is Vilnius in the photographs and Vilnius in which we walk everyday the same city? How does photography reveal the city's 'eventfulness', and how does every shot become a unique event for the photographer himself? Finally, can urban photography change the city's fate in the face of crawling urban development processes?
The discussion will feature the book's author Andrej Vasilenko, the chairman of the Lithuanian Photography Association Gintaras Česonis, and architect, publisher and poet Tomas S. Butkus, and will be moderated by the culture researcher Jurij Dobriakov.
'This is Vilnius' was edited by Gerda Paliušytė and Gediminas G. Akstinas, translated by Monika Kalinauskaitė, and designed by Tadas Karpavičius.
The project was kindly supported by Lithuanian Council of Culture.
_
Andrej Vasilenko (b. 1985) is a Lithuanian photographer who currently lives and works in Vilnius. His works have been exhibited in various contemporary art centres including the Whitechapel Gallery in London and the CAC Vilnius. In 2017 for his project "This is Vilnius" Vasilenko won a creative residency at Diaphane, a photography centre in Beauvais, France. In 2018 Vasilenko's works were exhibited at the Photaumanles festival exhibition in Beauvais and were presented in two solo shows at the Kaunas' Old Town Library (as part of "Kaunas Photo" festival) and Martynas Mažvydas National Library of Lithuania.