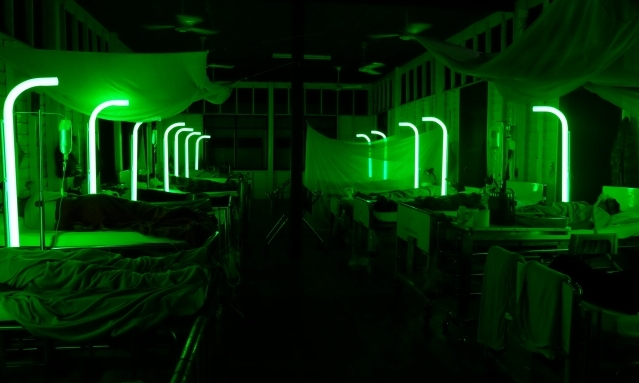 Contemporary art centre and Meno avilys present Luminous Shadows – exhibition of selected video installations and film retrospective of Apichatpong Weerasethakul. 8 feature-length films, 4 short film programmes and an exhibition in the Main Hall of CAC will be shown in Vilnius from February till April. The films will be screened in CAC Cinema and Skalvija cinema centre.
Film retrospective at CAC Cinema:
02 08 7pm Blisfully Yours
02 15 7pm The Adventure of Iron Pussy
02 22 7pm Tropical Malady
03 01 7pm Syndromes and a Century
03 08 7pm Uncle Boonmee Who Can Recall His Past Lives
03 15 7pm Cemetary of Splendour
The programme of screenings in Skalvija cinema centre can be found here.

Apichatpong Weerasethakul (b. 1970 in Bangkok, currently lives and works in Chiang Mai, Thailand) has been making films and videos since the early 1990s. Working independently of the Thai commercial film industry, he is active in producing and promoting experimental and independent filmmaking through his company Kick the Machine, which he founded in1999. Weerasethakul's film Tropical Malady (2004) won the jury prize at the Cannes Film Festival, and his film Uncle Boonmee Who Can Recall His Past Lives (2010) received the Palm d'Or at the same festival. His work has been presented widely in art and film contexts internationally, including the 11th Sharjah Biennial in the UAE (2013), dOCUMENTA (13) in Kassel, Germany (2012), Liverpool Biennial (2006), Busan Biennial (2004), the Istanbul Biennial (2001); and in solo and group exhibitions at art spaces including Tate Modern, London (2016); Haus der Kunst in Munich, Germany; Walker Art Center, Minneapolis; The New Museum, New York; Irish Museum of Modern Art, Dublin; and Musée d'Art Modern de la Ville de Paris among others. Since 2015, Weerasethakul has been developing his first theatre project Fever Room.
Tickets for screenings in Skalvija cinema centre can be bought in the cinema before the screenings or www.tiketa.lt; tickets for screenings in CAC Cinema can be bought before the screenings at CAC (ticket price – 4,5 EUR).
Image: a shot from the film "Cemetary of Splendour".