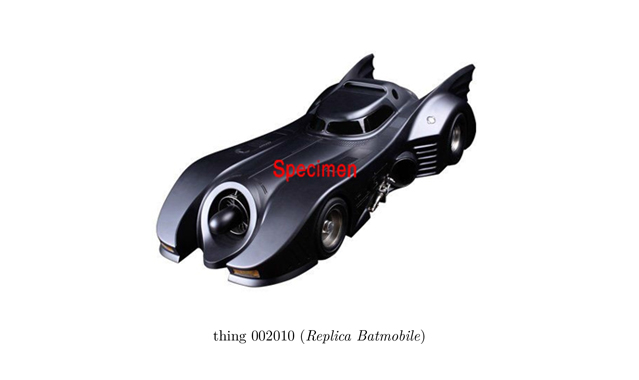 January 18th 3 pm at CAC
For the exhibition "Scripted by Characters" at CAC, Agency selected a series of controversies or "things" from it's "list" speculating on the question: "How can ideas become included within art practices?". As part of the exhibited "Assembly (Scripted by Characters)", Agency proposes to read during a series of gatherings more in detail some fragments of the discussions from the legal case reports of the controversies.
For the closing event, Agency calls forth "Thing 002010 (Replica Batmobile)" which concerns a controversy between Mark Towle and Warner Bros around replicas of the Batmobile. Towle made 1:1 replicas of the Batmobile vehicles from the 1966 and 1989 Batman films at his Gotham Garage. He also sold car kits that allowed others to customize their vehicles into the Batmobile. In 2003, an attorney from Warner Bros. called Mark Towle concerning these replicas. Warner Bros. found that the cars were copies of the Batmobile character in the film. During the court case "DC Comics and Warner Bros. v. Mark Towle" at the United States District Court of California, judge Ronald Lew, had to decide if the replica Batmobile was a copy of protected expression of a character in the Batman film or merely an idea and a means of transportation for Batman.
On January 18th 3 pm "Thing 002010 (Replica Batmobile)" will convene an assembly in order to bear witness. Agency invited different concerned practitioners: dr. Povilas Blaževičius (historian of toys), Jolanta Chockevičiūtė (lawyer), dr. Auridas Gajauskas (philosopher), Robertas Daskevičius (ex- car builder), dr. Remigijus Šimašius (lawyer and politician ) and Julijonas Urbonas (artist and designer).
The language in which the assembly will take place will be English.