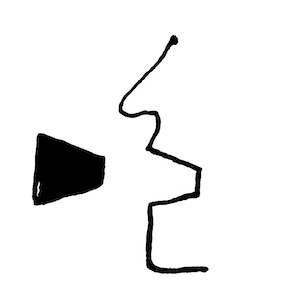 November 24, 2013
Guided performances – 40min
At 1pm, 3pm, 6pm, and 7pm
Meet at the entrance stairs
Karaoke Police is a storytelling excursion throughout the building of CAC based on a game of opposition.
Led by: Monika Lipšic, Marija Olšauskaitė, Styrmir Örn Guðmundsson, Jurgis Paškevičius, Davíð Bernštein. Including the participation of: peepandtom.tumblr.com (Vytautas Gečas, Marija Puipaitė), GRIFE.
Burnelė is a series of three gatherings at the Contemporary Art Center (CAC), Vilnius organized by David Bernstein in collaboration with different invited guests. "Burnelė" (literally – "a small mouth", but also a "shot", as of vodka) is one of the words in Lithuanian that mean both a container and the thing that fills it; the mouth and the drink become extensions of each other by way of measure and by direct engagement. Burnelė is also an occasion for a social gathering, in this case – an occasion to see and discuss how things have the potential to extend into other things, thoughts, and stories.
—
The event is held in English. Admission is free.
Following the last performance, GRIFE will give a special performance in the basement of the CAC.
For further information please email [email protected]