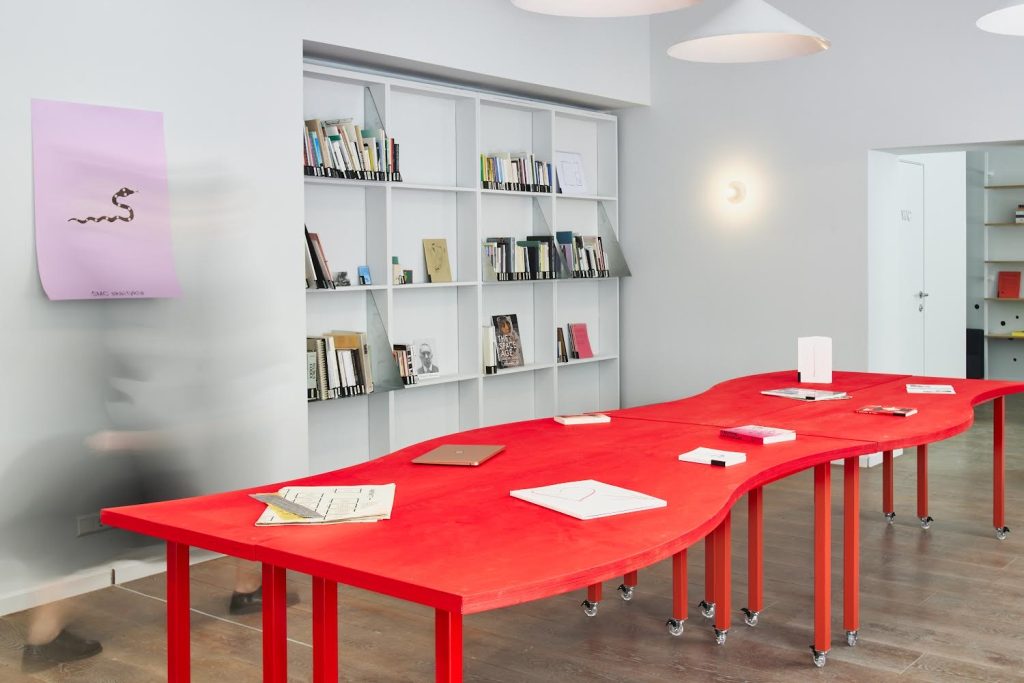 On the 14 of June, the Contemporary Art Centre (CAC) Reading Room will open doors to its new space, located on Pasažo St. near the National Philharmonic. "As the building of the CAC is currently closed for reconstruction and exhibitions are being held in other spaces, we wanted to ensure that the Reading Room, which is an integral part of CAC, also remains open and accessible. The relocation of the CAC Reading Room is intended to enable visitors to continue to enjoy contemporary art reviews from Lithuania and around the world, latest critical theory, publications reviewing Lithuanian contemporary art, and a programme of events curated specifically for the Reading Room. We look forward to welcoming our loyal readers in this new space, and at the same time, we invite all those who are curious and have not yet discovered the intricacies of the CAC Reading Room",– says Kęstutis Kuizinas, Director of the Contemporary Art Centre.
Since its opening in 2009, the CAC Reading Room has been offering collections of recommended books compiled by invited guests, such as art critics, graphic designers, writers and contemporary art institutions. On the opening night of the new reading room, Vilnius-based graphic designer Gailė Pranckūnaitė will share just such a selection. From A Season in Hell, a collection of poems by the 19th century French poet Arthur Rimbaud, to the volumes of the 1989-1999 collections of the Belgian fashion house Maison Martin Margiela, published at the invitation of Tokyo's Street magazine, visitors will find a varied selection of interesting publications. As Pranckūnaitė says, this collection is like one big collage, interweaving printed images and fictional images created by texts. Alongside the book collection, she will also present her creative archives, which focus on experimental typography. The theme of graphic design will be continued later this year by the Publication Studio Vilnius, a several-week-long self-publishing studio that will be housed in the CAC Reading Room. During this project, artists will have the opportunity to print samples of their own paper works, to implement self-publishing projects, and to get acquainted with printing and distribution possibilities.
We invite you to follow the programme of further events on our website and social media accounts, and to add a reading tan to your summer days by visiting our new urban space. "When designing the new CAC Reading Room, we wanted to create a place that would not only offer an open and comfortable access to contemporary art books and CAC's impressive archives of publications, but at the same time it to be a particularly cosy, stylish and empowering space. The tongue-in-cheek archipelago of red tables and the witty S-shaped snake used in CAC's new graphic sign will, we hope, encourage the city's residents to stop by, take a look around, and start or continue their acquaintance with contemporary art literature," – says Reading Room's curator Justina Zubaitė-Bundzė.
The new interior of the reading room was entrusted to designer Kotryna Gurskaitė, who applied nature-friendly creative principles: combining the details of the new space with the objects of the previous CAC Reading Room and bringing a large part of the interior details to life again. We invite you to see all this with your own eyes this Tuesday at 7 pm at Aušros vartų st. 5 / Pasažo skg. The musical atmosphere of the event will be provided by friends of the CAC Reading Room – community radio 'Radio Vilnius'.
CAC Reading Room opening hours:
I, II, IV, V – from 11:00 to 19:00
(lunch break 13:00-14:00)
III – from 14:00 to 21:00
(lunch break 16:00-17:00)