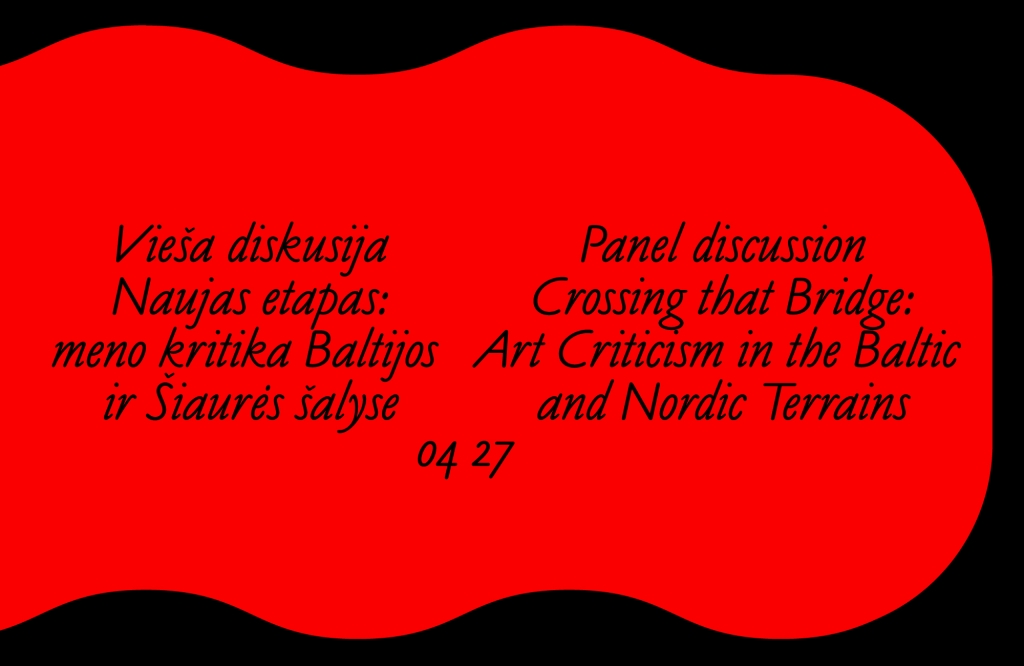 Event venue: National Gallery of Art, Konstitucijos ave, 22, Vilnius
A public panel discussion with editors of magazines on visual arts and culture covering the Baltic and Nordic region: Kaarin Kivirähk and Keiu Krikmann (A Shade Colder, Estonia), Šelda Puķīte and Santa Hirša (WunderKombināts. Latvian Art Yearbook, Latvia), Mariann Enge (Kunstkritikk, Norway/Nordic countries), and Monika Krikštopaitytė (7 meno dienos / 7 Days of Art, and Association of Cultural Periodical Publications, Lithuania). The panel will be moderated by Vaida Stepanovaitė (Artnews.lt) and Vitalija Jasaitė (Echo Gone Wrong).
The panel will start with introductions to two brand new magazines on visual arts and culture in the Baltics: A Shade Colder covering Estonian lands, and WunderKombināts. Latvian Art Yearbook. On the occasion of these magazines of national focus hitting the shelves, the discussion will raise questions on the local, national, and regional relevance of visual art criticism in the present (geo)political and cultural milieus.
How is the role of art criticism and cultural reflection understood in the Baltic and Nordic regions? How is this role picked up by the cultural periodicals throughout the politically, socially, and economically tumultuous times?
How much do art critics and writers shape the national cultural body in their respective countries and within the international terrain? What is expected by the institutional and individual participants of the art field and the broader readership from the publishers reflecting upon nationwide landscapes?
This wide-reaching discussion will nevertheless be imbued with a rich variety of outlooks and points of pressure from arts and culture magazines of different profiles – long-running and just starting, institutionally-backed and self-initiated, published yearly and daily – albeit connected at the joints of regional (art) history and present-day conditions.
Participants' bios and the magazines they represent:
KAARIN KIVIRÄHK and KEIU KRIKMANN (A Shade Colder, Estonia)
KAARIN KIVIRÄHK is the editor-in-chief of A Shade Colder and head of communication at the Estonian Centre for Contemporary Art. As an art critic, she has written for major Estonian cultural publications and has an art column at the newspaper Postimees, focusing on current issues in contemporary visual culture. Kaarin was the editor of the CCA's Estonian language online magazine from 2014 until 2021. She is one of the co-curators of the Sequences XI art festival, which takes place in October 2023 in Reykjavik, Iceland.
KEIU KRIKMANN is a writer, translator, and curator based in Tallinn, Estonia. She is also the managing editor of A Shade Colder, published by the Estonian Centre for Contemporary Art.
A Shade Colder is a platform for discussions about and around art in Estonia and beyond. It seeks to draw connections between art in Estonia and elsewhere in the world – by doing this, it highlights shared stories, provides deeper analysis, and captures more short-lived occurrences. The fourth issue of A Shade Colder, titled Shifting Timelines (2023), looks at timelines as tools for (re)arranging narratives about the past and for creating future projections. The magazine explores how timelines are established and how we shift to new ones when the previous constructions are disrupted.
ŠELDA PUĶĪTE and SANTA HIRŠA (WunderKombināts. Latvian Art Yearbook, Latvia)
ŠELDA PUĶĪTE is a Latvian curator, publisher, and researcher living in Estonia. She studied art history at the Art Academy of Latvia, receiving both Bachelor's and Master's degrees. She has been working on several significant exhibition projects and art fair stands, curating educational programmes, creating catalogues for art festivals, participating in international conferences and symposiums, and writing reviews and essays for the Baltic press. Recently, she has also been working on several projects dedicated to Latvian and Estonian female artist history, especially early female photographers. Since 2020, Puķīte has workedg at Kogo Gallery (Tartu) as the international project manager and exhibition curator. In 2021, together with other Latvian art curators and critics, she founded the cultural institution WunderKombinat which began publishing an annual art publication WunderKombināts. Latvian Art Yearbook in 2022.
SANTA HIRŠA is an art historian and art critic who works and lives in Riga, Latvia. In 2021 she received the Normunds Naumanis Award in art criticism. She is the author of monographs on artists Krišs Salmanis (2018) and Andris Breže (2020), and the editor of multiple publications and collections of articles, including WunderKombināts I. Latvian Art Yearbook 2022. Since 2015 she has been the co-editor of Echo Gone Wrong.
WunderKombināts. Latvian Art Yearbook is a bilingual (LV/ENG) collection of non-academic research articles analysing the current processes in Latvian art and contemporary culture. It is currently the only research-oriented unacademic periodical publication on Latvian visual art, and predominantly focuses on developments in recent decades. It was launched in December 2022. ​​The name 'WunderKombināts' originated as an ironic response to the widespread beliefs about the creation and circulation of art under neoliberalism. By verbally refitting the cabinets of curiosities (Wunderkammern) into miracle-producing factories, the team behind the publication proposes a demystification of our understanding of works of art as objects of passive perception and endeavour to stimulate the study of art as a regular part of the local visual art scene. At the same time, WunderKombināts, as a neologism combining two languages, marks the geopolitical complexities which still, especially today, hold considerable weight in our collective self-perception and system of values.
MARIANN ENGE (Kunstkritikk, Norway/Nordic countries)
MARIANN ENGE, based in Oslo, Norway, is the editor-in-chief of Kunstkritikk, a leading Nordic journal of contemporary art with editorial offices in Oslo, Stockholm, and Copenhagen. Enge graduated with a Master's degree in Comparative Literature from the University of Oslo in 2000 and has since then been active as a writer and critic. Initially, she wrote mainly about poetry but turned to art criticism approximately ten years ago.
Kunstkritikk is the leading Nordic journal of contemporary art. Its emphasis is on criticism and commentary, but it also focuses on news, interviews, essays, and reportage. Kunstkritikk.no was created in the fall of 2003. In 2011, Kunstkritikk expanded and now includes four editions: kunstkritikk.no, kunstkritikk.dk, kunstkritikk.se, and kunstkritikk.com (International edition).
MONIKA KRIKŠTOPAITYTĖ (7 meno dienos / 7 Days of Art, Lithuania, and Association of Cultural Periodical Publications)
MONIKA KRIKŠTOPAITYTĖ has writtens art criticism since 2002. Her Ph.D. research focused on Lithuanian self-portraiture phenomena. Monika is also a curator and a member of AICA (Lithuanian branch), the Society of Lithuanian Art Historians, and the Lithuanian Artists' Association. She has published several books: a compilation of her publications (Atidarymai: Lietuvos dailės gyvenimo fragmentai 2005–2014 m., VDA leidykla, 2014), a story book for kids presenting main contemporary art keywords (Kultūringa pelė Stasė, Modernaus meno centras, 2016), a monograph (Konstantinas Bogdanas: Šviesioji nesėkmės pusė, VDA leidykla, 2018); and a compilation of women artists (What took you so long, Lewben Art Foundation, Lietuvos išeivijos dailės fondas, 2018). Since 2011, she has been Chief Editor of the cultural weekly 7 meno dienos. With colleagues in 2018, she founded the Association of Cultural Periodicals, which represents most of the leading cultural periodicals: Dailė, Literatūra ir menas, Nemunas, Metai, 7 meno dienos, Šiaurės Atėnai, Židinys-Aidai, Kinas, Krantai, Artnews.lt.
7 meno dienos (7 Days of Art) was founded in 1992, responding to the restored state's passion for freedom and culture. Every week, the editors of visual art and photography, theatre and dance, music, and film respond to art events (mostly) in Lithuania and abroad, share knowledge about cultural phenomena, and interview those who create it. Practical information and reviews of exhibitions, new performances, concerts, and festivals are authored by experts in the field. 7 meno dienos is released on Fridays (with the exception of July and August due to a pause in the cultural calendar and economic reasons) in print form (classic A3 newspaper format with 16 pages) with an everyday flow of articles published online. It is currently published in Lithuanian only.