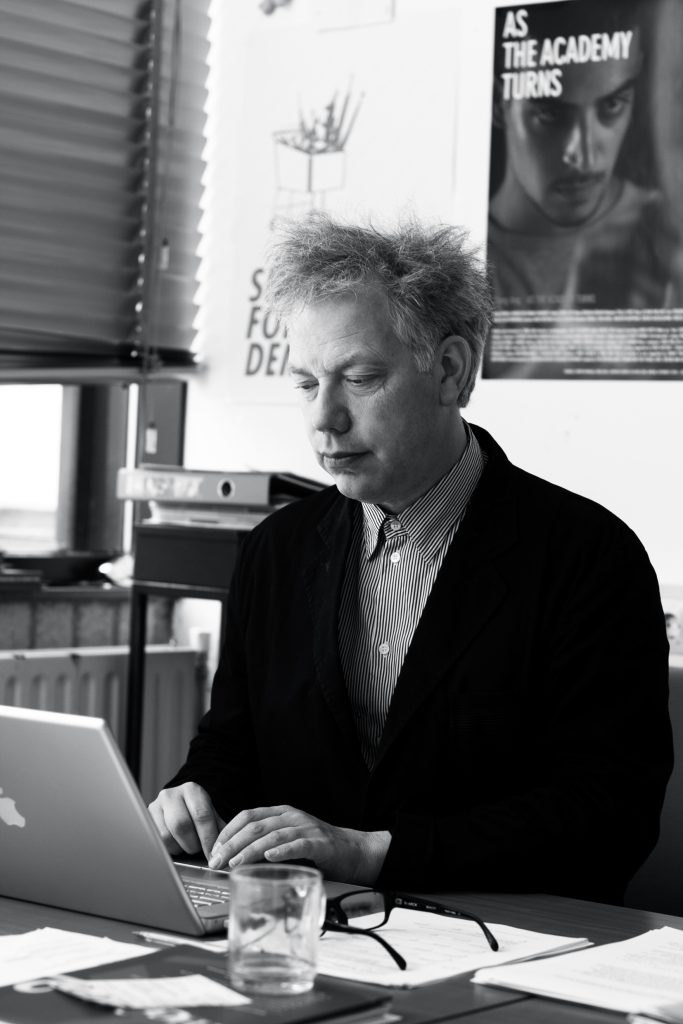 You are cordially invited to join us on 27 February 2020 at 18.00 in the CAC Reading Room for the Henk Slager lecture "Post-Research Turn".
Referring to this year's Bucharest Biennial, it's curator Henk Slager will give a presentation about future scenarios for the as yet undisciplined domain of artistic research. To this end, he will propose a series of propositions based on a recomposition of three conceptual spaces (creative practice, artistic thinking, curatorial strategies) that intersect when artistic research takes place. These thoughts – as well as their significance for renegotiating the conditions of the contemporary – will underline the curatorial narrative of the 9th Bucharest Biennale (Farewell to Research, June 2020), where an experimental, process-based trajectory will be developed, consisting of a series of keynote presentations, research labs, performative events, curatorial seminars, symposia, and publications. As Professor of Artistic Research (Finnish Academy of Fine Art 2010-2015) and as Dean of MaHKU Utrecht, Henk Slager has made significant contributions to the debate on the role of research in visual art. In 2004, Henk Slager – together with Jan Kaila and Gertrud Sandqvist – initiated the European Artistic Research Network (EARN), a network that investigates the impacts of artistic research on current art education through symposia, expert meetings, and presentations.
Departing from a similar focus on research, he has also (co-) produced various curatorial projects, a.o. Flash Cube (Leeum, Seoul, 2007), Translocalmotion (7th Shanghai Biennale 2008), Nameless Science (Apex Art, New York, 2009), As the Academy Turns (Collaborative project Manifesta, 2010), Tamara Kvesitadze: Any-medium-whatever (Georgian Pavilion, Venice Biennale, 2011), TAR – Temporary Autonomous Research (Amsterdam Pavilion, Shanghai Biennale 2012), Doing Research (dOCUMENTA 13, 2012), Offside Effect (1st Tbilisi Triennial, 2012), Joyful Wisdom (Parallel Project, Istanbul Biennial, 2013), Modernity 3.0 (80 WSE Gallery NYU New York, 2014), Aesthetic Jam (Parallel Project Taipei Biennial) and Experimentality (1st Research Pavilion, Venice Biennale, 2015), Asia Time (5th Guanzhou Triennial 2015-16), To Seminar (BAK, Utrecht, 2017), The Utopia of Access (2nd Research Pavilion, Venice Biennale 2017), Freedom, What was that all about? (7th Kuandu Biennale, Taipei 2018), Research Ecologies (3rd Research Pavilion, Venice Biennale 2019), and 9th Bucharest Biennale (2020).
He recently published The Pleasure of Research (an overview of educational and curatorial research projects 2007-2014), Hatje Cantz, Berlin 2015.
Henk Slager is invited by Doctoral Programme in Fine Arts at Vilnius Academy of Arts. The talk will be moderated by head of the programme Vytautas Michelkevičius.