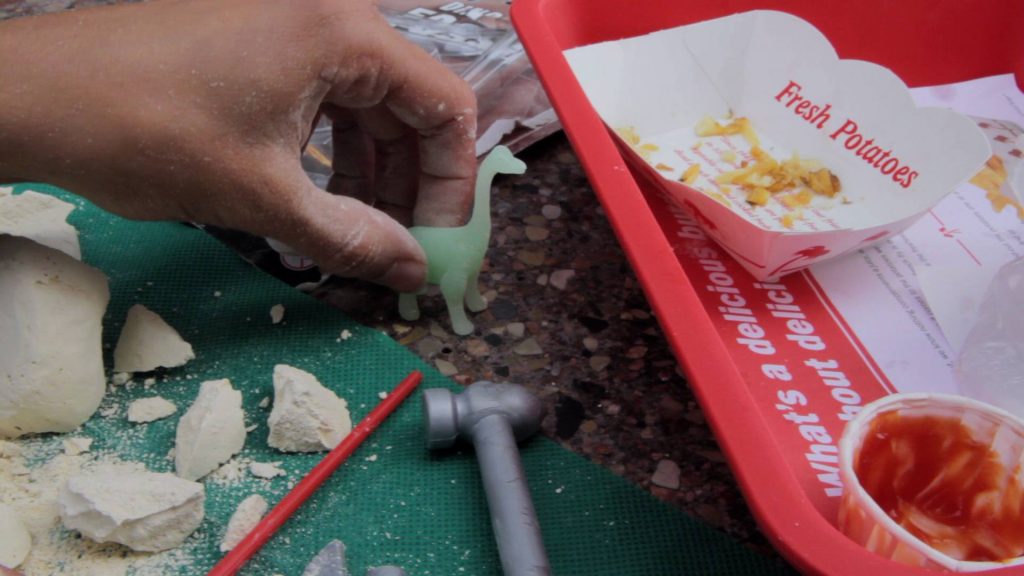 27th December, 6 pm at CAC Cinema
Curated by Pakui Hardware
Data carriers
Bearers of a distant past aren't only material snippets of the former world – they are characters in the canvas of history that's being constantly created and recreated by science, the canvas of science that has been dressed in comfortable colonialist wear for a long time. Today these characters are assuming a new shape by becoming data carriers. Precious and fragile surfaces of fossils or Mayan reliefs are turning into pixels and codes in digitalized archives and computer models. They are becoming data, copies that travel around the world together with the information flow or countless polyurethane resine casts. Data carriers have slipped out of science's pocket and finally reached those who historically had rights to them, or those who have been hunting them down for long. Technologies have tangled the narrative of progress, diligently created and maintained by science, into a mesch-up of speculation, desires, facts and copies.
Today's Mayan situation and their relationship to their own past could probably more accurately be expressed by science fiction rather than via the so-called 'objective' history documentaries. Ciudad Maya (24', 2016), a film by a Mexican director Andrés Padilla Domene, is a combination of these two genres. Set in Merida city, it follows a group of young citizens who carry out an archaeological research of an abandoned vicinity with the help of mysterious technological devices. What if what they're actually investigating is not the site, but themselves? Maybe they're investigating Western tourists, who keep looking for the remnants of the 'real' past in unstoppable hordes?
In This Unwieldy Object (47', 2014), a film by a German artist Anna Zett, a scientific inquiry also turns into a drama that has no decisive ending (which probably cannot be expected here). An artist who travels into the heart of the USA in order to explore dinosaur fossils and related stories encounters various paleontologists, fossil hunters, sculptors and native Americans, as each of them creates his/her very own narrative of the past. Here, the clumsy bodies of animated Hollywood-like dinosaurs are becoming less and less comical in the background of the brutal history of European settlement in indigenous territories.
___
Andrés Padilla Domene is a multimedia artist based between Mexico and France. He studied Media Arts in Mexico and in Le Fresnoy – Studio National des Arts Contemporains in France. His individual and collaborative work has been exhibited in various exhibitions and film festivals internationally. His projects depart from the development of technological devices implemented to produce the work. He is co-author of the project SEFT-1 Abandoned Railway Exploration Probe. He is also part of the artist collective Astrovandalistas.

Anna Zett is an artist and writer born in Leipzig and living in Berlin. Using video, radio, text and performance she struggles playfully with the embodied drama of making sense, unmaking sense. Her research-based practice revolves around science fiction, non-holy magic and other paradoxical genres of capitalist or modernist culture. Zett's video work has been presented at museums, galleries, festivals, among them Serpentine Gallery Extinction Marathon in London, Whitney Museum New York, Transmission Gallery Glasgow, National Gallery Prague and Sonic Acts Festival Amsterdam. She has written and directed two radio dramas for the German public radio and is co-hosting the participatory dance show Copy&Dance.
Pakui Hardware is the name for the collaborative artist duo Neringa Cerniauskaite and Ugnius Gelguda which began in 2014. They have participated and had their solo shows in various venues including Kunsthalle Basel (Switzerland), MUMOK (Vienna), MbDK (Leipzig), Bielefelder Kunstverein, Tenderpixel (London), Exile (Berlin), kim? Contemporary Art Center (Riga), National Gallery of Art (Vilnius), Contemporary Art Centre (Vilnius).
Film programme will be introduced by the curators. Entrance is free. Films will be screened in English (Anna Zett "This Unwieldy Object") or in Mayan with English subtitles (Andrés Padilla Domene). Total duration of the programe – 71 min.

Event is partially supported by Lithuanian Council for Culture.