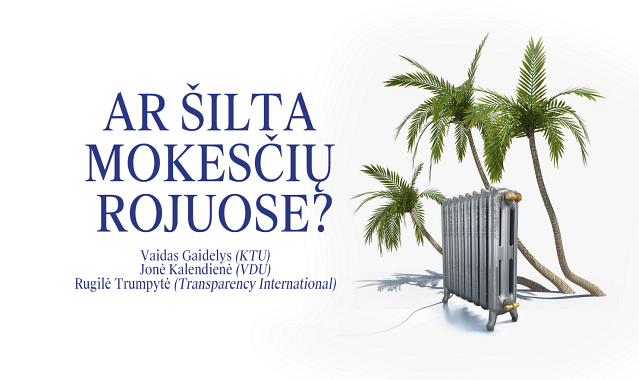 Wednesday 9 January at 6pm, CAC Reading Room
Artist collective Money Haven, which is currently participating in "Dignity", the JCDecaux Prize exhibition for 2019, and the CAC Reading Room invite you to a discussion panel dedicated to the problematics of international tax evasion and the structures that maintain it. In this panel, the artists invite professional political theorists to go over the key issues of this topic: what are offshore tax havens, what are their key facets and problems created on a global level? What response do they receive from the international community and what are the challenges of tackling this issue? How does offshore tax evasion affect the individual well-being of every one of us and does it receive enough attention in Lithuania? We invite you to talk about these and other issues on Wednesday, 9 January, 7 pm at the CAC Reading Room.
Discussion Panel:
Prof. dr. Vaidas Gaidelys (Kaunas University of Technology)
Doc. dr. Jonė Kalendienė (Vytautas Magnus University)
Rugilė Trumpytė (Transparency International)
Moderators:
Ieva Sriebaliūtė and Paul Paper – members of the Money Haven collective.
This discussion is part of the work by Money Haven which has received a special jury mention in the JCDecaux Prize competition. It functions as an expansion of the artists' spatial installation and publication Post Colonial Times, dedicated to the problematics of offshore tax evasion. The installation and the magazine are displayed in the JCDecaux Prize exhibition "Dignity", which is on view at the CAC until 13 January 2019.
MONEY HAVEN is a simulation of an offshore company, maintained by a team of three creative producers. Ieva Sriebaliūtė (b. 1993) is a political researcher and graduate of political sciences at Vilnius University International Relations and Political Science institute. She holds a Master's degree in European Politics at Lund University (Sweden); Paul Paper (b. 1985) is an artist, theorist and curator, working within the fields of visual culture and contemporary technologies; Mindaugas Gavrilovas (b. 1990) is a designer and founder of Studio Cryo, working actively in the cultural field.
Event will be held in Lithuanian. Entrance libre.