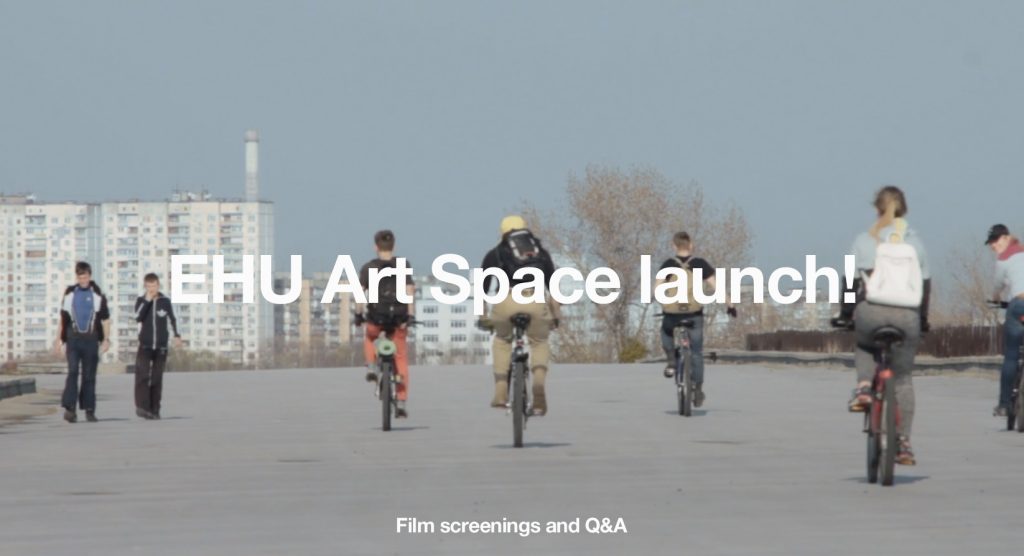 Tuesday, 6 December at 6 pm at the CAC Reading Room
Address: Aušros vartų st. 5  (entrance from Pasažo st.)
Entrance is free, the event will be held in English
You are cordially invited to the launch of EHU Art Space website night, which will serve as a reason for unexpected encounters between various Vilnius institutions, artists, and, of course, audiences. 
The EHU Art Space website is only getting its shape and will change during the forthcoming months. The website aims to serve as a user-friendly platform for archiving, documenting, and disseminating information about Belarusian art and EHU-related artistic activities with a broader focus on the region. The creators hope it will serve as a virtual exhibition space that will also encourage new events and realities in the near future.
PROGRAMME:
6:00 pm  Screening of a video by Valiantsina Fashchanka (EHU) Know Thyself, Hold A Camera (2022)
As Valiantsina writes 'To me, life is self-authored reportage and here you can see the pieces of my artistic research aimed to explore the intention for self-picturing and shift the connotation of narcissism in the era of digital selfies. I record life, I record feelings and these records become anything other than a visual diary.'
6:30 pm  Screening of The Film of Kyiv, Episode One, by Oleksiy Radynski (2017, 8 minutes and 15 seconds) as presented by Springs.video
This is an observational documentary focused on one of the biggest unfinished bridge projects in the world – Podilsky Bridge in the centre of Kyiv. Its construction started nearly 25 years ago, but was halted in the late 2000s due to lack of investment and overwhelming corruption. Currently, the locals have adapted the unfinished bridge to their own needs – from sports and leisure to risky parcour-style attempts at getting from one river bank to another. In the meantime, Kyiv's mayor Vitaliy Klitschko is trying to figure out a way to complete the unfortunate project – with a little help from German politicians.
6:40 pm Q&A session and further discussion

EHU is a student-centered University that promotes civil society development through Humanities and Liberal Arts for students from Belarus and the region by bringing them together and offering international experience in study quality. The University is oriented toward civically-minded students from Eastern Europe, distinguished by a commitment to European values and Liberal Arts as well as rich on-campus life and alumni network.