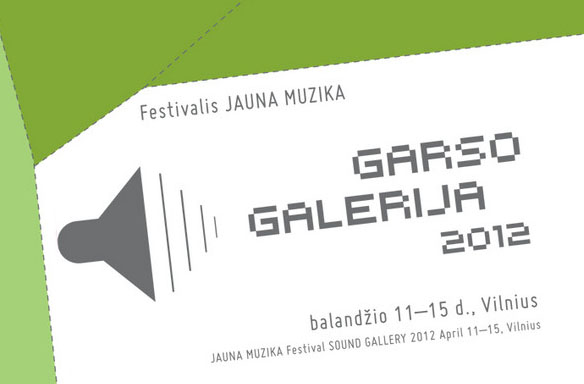 PROGRAMME
Wednesday, April 11
17.00 LCU Fireplace Hall
Festival's opening and press conference
With the participation of the festival's curator Antanas JASENKA, curator of the "SOUND EXCHANGE Day in Vilnius" Carsten SEIFFARTH (Berlin), and coordinator of the site-specific sound workshop "Vilnius Sound Locations" MaksimS ŠENTELEVS (Riga)
18.00 LCU Concert Hall
VENTA SOUND GALLERY
Tobias FAAR. Venta
Arnas STASIULEVIČIUS & Rolandas VENCKYS. Kelionė po lietuviško sintezatoriaus schemą (A Journey through the scheme of a Lithuanian synthesizer)
Admission free
Thursday, April 12
18.30 CAC Cinema Hall
ZIQQURATU SOUND GALLERY
Šarūnas NAKAS. Merz-Machine
Šarūnas NAKAS. Ziqquratu-3
20.00 CAC Cellar
FIELD RECORDINGS SOUND GALLERY
Yiorgis SAKELLARIOU. Mecha/Orga (Greece)
Arturas BUMŠTEINAS. Jakov
Tickets: 20 Lt
Friday, April 13
18.00 CAC Cinema Hall
RETROSPECTIVE 1: Tape Inventions
Mindaugas URBAITIS. Invencijos (Inventions)
Algirdas MARTINAITIS. Rojaus paukščiai (Birds of Eden)
Gintaras SODEIKA. Apparatus Exarchia
Faustas LATĖNAS. Albinoso judėjimai (Albino's Movements)
20.00 CAC Cellar
PROGNOSTIC SOUND GALLERY
Antanas JASENKA, Antanas KUČINSKAS, Džiugas KATINAS. Prognostikos (Prognostics)
Tickets: 20 Lt
Saturday, April 14
JAUNA MUZIKA presents: SOUND EXCHANGE* day in Vilnius
16.00 CAC Reading Room
Presentation of works developed during the site-specific sound workshop
VILNIUS SOUND LOCATIONS
Admission free
18.00 CAC Cinema Hall
RETROSPECTIVE 2: Phonosaurs
Giedrius KUPREVIČIUS. Fonozauro sugrįžimas (Return of the Phonosaur)
Osvaldas BALAKAUSKAS. Auletika-3
Antanas KUČINSKAS. Vlnava
Linas PAULAUSKIS. Paskutinės krikščionių apeigos (Last Christian Rites)
Zita BRUŽAITĖ. 0123424
Rytis MAŽULIS. Elektronika RM-15
20.00 CAC Cinema Hall
DIISSC ORCHESTRA SOUND GALLERY
DIISSC Orchestra:
Martynas BIALOBŽESKIS, Jonas JURKŪNAS, Antanas JASENKA, Vytautas V. JURGUTIS. Venta
21.00 CAC Cellar
GUEST SOUND GALLERY 1
Raul KELLER & Hello UPAN. LokaalRaadio – Symbolistica (Estonia)
22.00 CAC Cinema Hall
GUEST SOUND GALLERY 2
Frank BRETSCHNEIDER. Kippschwingung (Germany)
Tickets: Lt40
Sunday, April 15
16.00 LAMT, Building 2, Chamber Hall
ACADEMY SOUND GALLERY
Aistė VAITKEVIČIŪTĖ & Reda BARTKUTĖ. Po
Mykolas NATALEVIČIUS. Filtered String
Julius AGLINSKAS. The 38th Parallel North
Vytautas PAUKŠTELIS. Juoda – violetinė (Black – Violet)
Božena BUINICKA. Totem
Gediminas VENGELIS. Accolade Grand Prix
Can KAZAZ. Myrtus
Akvilė KALINAITĖ. Sūpuoklės (Swing)
Matthias KRONLACHNER. übersetzen-vertimas
Admission free
SOUND EXCHANGE* PROGRAMME +
April 11–15 (during the festival till the end of concerts), at CAC
EXHIBITION
SOUND EXCHANGE – Experimental Music in Central and Eastern Europe
Curators: Melanie Uerlings, Carsten Seiffarth, Golo Föllmer
More information at http://www.soundexchange.eu/#vilnius_exhibition_en
April 10–14, at various locations in Vilnius
VILNIUS SOUND LOCATIONS
Site-specific sound workshop (advance registration required by e-mail: [email protected])
Works produced at this workshop will be presented to the public on April 14th, Saturday, at 4 pm, at the CAC Reading Room, as part of the SOUND EXCHANGE DAY.
More information ar http://www.soundexchange.eu/#vilnius_workshop_en
* Sound Exchange is a project by DOCK e.V., Berlin and Goethe-Institut, supported by the German Federal Cultural Foundation.
Ticketing Information:
• Tickets are available at the venue one hour prior to the start of a performance.
• Tickets for all concerts at a 50% discount for students (appropriate cards to be shown).
Contact:
Antanas Jasenka, curator of the festival
tel.: +370 5 272 1727, +370 620 38097; e-mail: [email protected]
Veronika Janatjeva, public relations
tel.: +370 5 2726986, +370 612 52121; e-mail: [email protected]
Organised by Lithuanian Composers' Union
Main sponsor: Lithuanian Culture Suport Foundation