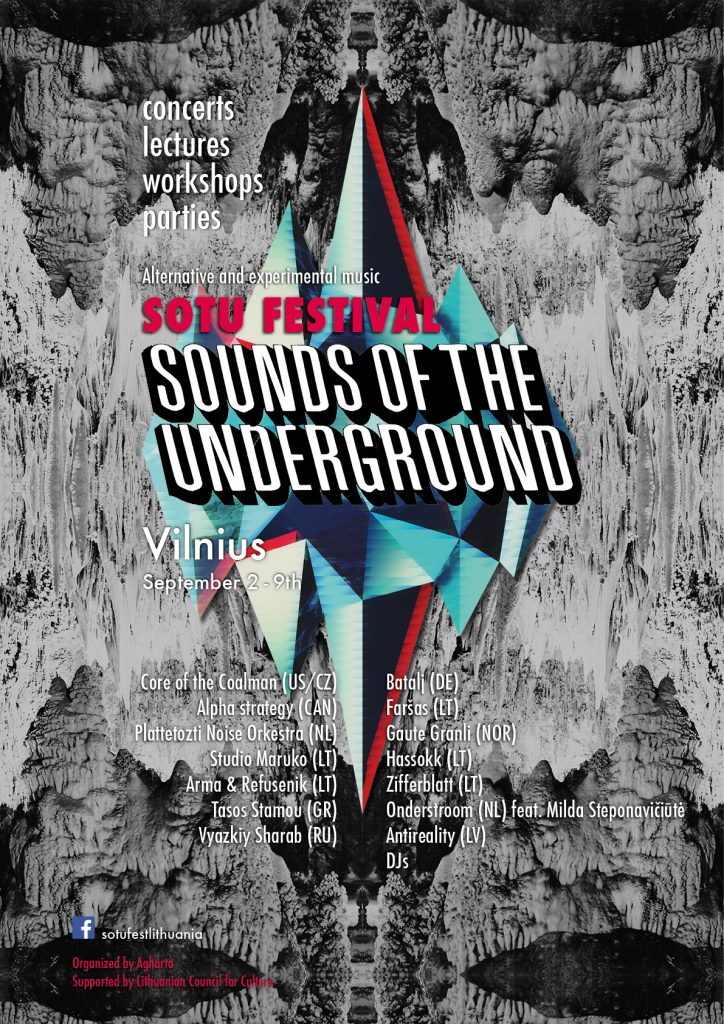 Festival SOTU 2014: massive sound of underground
"SOTU 2014" ("Sounds of the underground") – international contemporary experimental music festival which for the third time takes place in Vilnius and for the first time happens in Kaunas, Jonava and Ukmergė.
The festival is a collaboration between "Agharta" (Lithuania) and "SOTU foundation" (The Netherlands). It emerged from a festival "Vilnius noise week" organized in 2012-2013 by "Agharta" and "SOTU" festival which happens from 2012 in Amsterdam.
Experimental music in SOTU will be heard and seen through eight concerts, lectures and workshops. The goal of the festival is to present unique performers from Lithuania, Canada, Netherlands, Russia, LAtvia, Norway, Germany, Greece and the USA.
The list of the events which will take part in CAC:
September 6th.
16.30 lecture "Apie balsą. Skaitymai" – Tautvydas Bajarkevičius (in lithuanian language)
18.00 experimental music concert / 12 Lt
Onderstroom (Netherlands) feat. Milda Steponavičiūte
Antireality (Latvia)
Core of the Coalman (USA)
September 9th.
20.00. experimental music concert / 12 Lt
Zifferblatt (Lithuania)
Arma & Refusenik (Lithuania)
Tasos Stamou (Greece)
Vyazkiy Sharab (Russia)
Festival web:
http://www.sotufestival.com/2014-2
https://www.facebook.com/sotufestlithuania
Organized by: http://www.agharta.lt