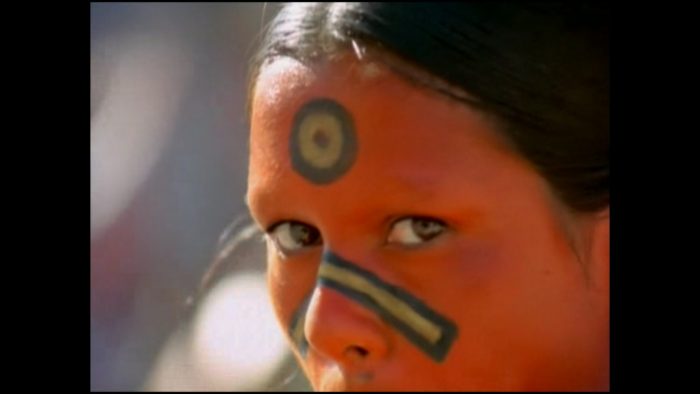 This evening is part of the Race Conversation event series, which so far mainly consisted of works by Lithuanian artists and discussed the issue of race awareness in Lithuania. This evening's films further extend the conversaton to a global context. The programme consists of three films by Brazilian artist and film director Ana Vaz, two of which were created in collaboration with other authors – Tristan Bera and Julien Creuzet.
A Film, Reclaimed (2015) is a 20-minute production by Ana Vaz and Tristan Bera. It is a cinematographic essay on the impact of cinema on the global climate crisis. According to the film's authors, the ecological crisis is first of all a political, economic and social crisis; however, it is also a cinematic one, as cinema coincides historically with the Anthropocene period, documenting and analysing its development. Cinema is not a neutral witness.
It is one of the films that helped articulate the aim of the event series – to contribute to the development of a language that would help discuss race issues in the Lithuanian context. "Slavery wasn't a crisis for the British and American elites until abolitionism turned it into one," the film claims; "Racial discrimination wasn't a crisis until the civil rights movement turned it into one."
Ha Terra! (There Is Land!) (2006) is a 13-minute piece that Ana Vaz created on a 16mm film, which the author herself refers to as cinematic poetry. A man's voice repeatedly shouting "Land! Land!" links the film's narrative to the colonial period. The film is set in the north of Brazil, where an ongoing conflict over the population's right to its land is keeping people in disagreement. "It's an encounter, a hunt, a diachronic tale of looking and becoming. As in a game, as in a chase, the film errs between character and land, land and character, predator and prey" (Ana Vaz).
Les Mains, Negatives (2012) is a 16-minute film by Ana Vaz and Julien Creuzet, which could also be described in terms of cinematic poetry. The film is a postcard found at a flea market in Saint-Ouen.
More about the Race Conversation event series: http://cac.com/en/exhibitions/future/9816
Iliustration: Ana Vaz & Tristan Bera, still from the video A Film, Reclaimed (2015). Courtesy of the artists. Taken from: https://terremoto.mx/