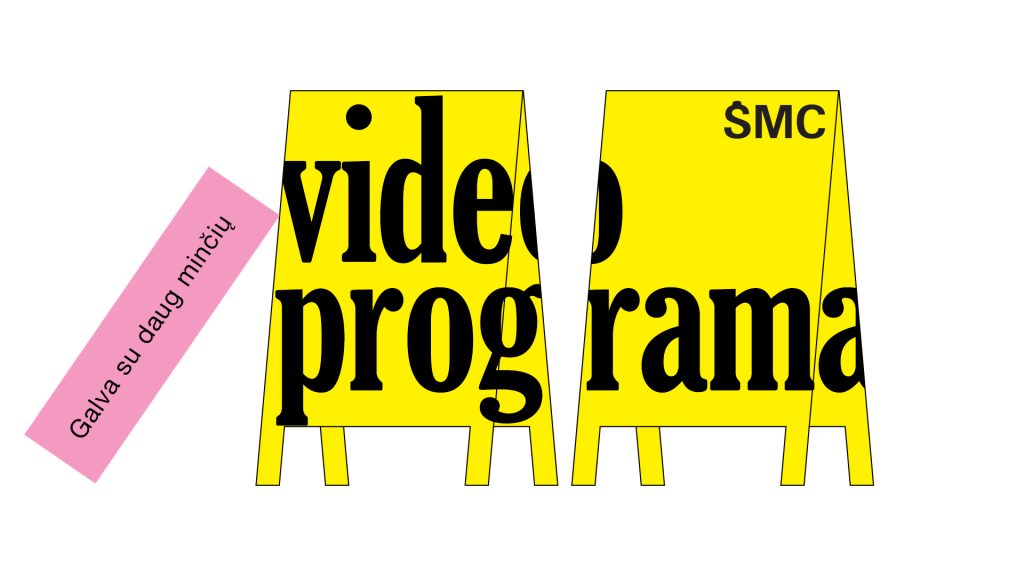 The video programme "Head With Many Thoughts" is a traveling version of an exhibition bearing the same title, which is currently open at the Contemporary Art Centre in Vilnius. The programme introduces several new films not yet presented to the public, most of them made by Lithuanian artists or in Lithuania. These films include both astonishing documentaries and funny jokes made out of anger, as well as a sensual dance film created together with several very different families living in Lithuania. Two of the programme's films reflect their authors' attempts to remotely speak on topics that are important to them; viewers are invited to indirectly become part of these conversations and, of course, to extend them.
Vidoe programme will be shown:
13th of March 7pm – Kaunas Artists' House (Kaunas, V. Putvinskio str. 56)
3th of April 4pm – Panevėžys County Gabrielė Petkevičaitė-Bitė Public Library (Panevėžys, Respublikos str. 14)
24th April 5pm – Šiauliai Art Gallery (Šiauliai, Vilniaus str. 245)
Klaipėda – to be confirmed
Films presented in the programme:
– Alarm Dance 1–4 (dir. Daniel Eatock, 2007, 5min)
– Eye Fall (dir. Mark Prendergas, 2019, 10min)
– Shadow Tongues (dir. Ellie Hunter and Anastasia Sosunova, 2020, 15min)
– Time. Familiar stranger (dir. Milda Januševičiūtė and Ignė Narbutaitė, 2020, 5 min)
– From Mother to Daughter (dir. Maria Saivosalmi and Vytautas Puidokas, 2020, 27min)
– Feedback (dir. Simona Žemaitytė, 2019, 74 min)
The exhibition "Head With Many Thoughts" will be open at the Contemporary Art Centre in Vilnius until April 15. In addition to the works included in the video programme, it also exhibits or otherwise presents works of nearly 50 Lithuanian and foreign authors. All of these artists responded to an open invitation to suggest works and ideas announced in the fall of 2019; more than 200 such submissions were received in a very short period of time. The curators of the exhibition called it "a small infinity, which for the last couple of months had been trying to test the limits of CAC."
"Head With Many Thoughts" is a multivoiced exhibition exploring time, endings, beginnings, transit and change. There is no single vision of the future – hopeful or threatening – or one direction of movement offered in it: the present tense is marked by the synchronisation of different trajectories and the possibility of multiple choices. Predicting what exactly our actions will change is not always possible; nevertheless, it is important and no less interesting to observe what is unfolding in front of your very eyes, and to act. If the exhibition does not lie, gentle attentiveness, intimacy and care are perhaps the best ways to overcome the anxiety of uncertainty, while in the all-encompassing obscurity being a pillar, a springboard and an adventure for yourself as well as for one another becomes the ultimate "glue".
More about the exhibition: http://cac.lt/en/exhibitions/current/9840
~~~~~~~~~~~~~~~~~~
Artists present their works:
DANIEL EATOCK
"Alarm Dance 1–4 ", 2007, 5min
On Tuesday 8th May 2007, I danced to the sound of a car alarm outside the CAC. At this point in time Vilnius had an interruptive soundtrack of car alarms polluting the city. I was staying in the residency apartment next to the art centre and was awoken most nights by alarms. I channelled my frustrations, and released them by dancing.
Daniel Eatock (b. 1975 in Bolton) lives in London. His multifaceted practice is informed by an education in graphic design and lateral, playful, visual, conceptual, absurd, complex, simple, satisfying: seeking solutions that make the viewer go "Of course!". His methodology involves stripping away the esoteric and being open to the world, the work and himself.
MARK PRENDERGAST
"Eye Fall", 2019, 10min
Eye Fall comprises a body of poetry about becoming distracted in an intensely focused way, about finding everything in the smallest gesture. These films mesh structural film strategies with the elastic potential of contemporary digital imaging technologies, thus pointing to their own construction in order to talk about the way moving images mediate and function in contemporary society. Mining disparate recordings for slippages in their language, Prendergast's films tease out and occupy overlooked moments of lyricism.
Mark Prendergast (b. 1988 in York, England) now lives and works in Amsterdam.
MILDA JANUŠEVIČIŪTĖ, IGNĖ NARBUTAITĖ
"Time, familiar stranger", 2020, 5 min
Time, familiar stranger is a video exchange and walk through time zones. A work that lasts four minutes, but needs twenty hours to be told. A song-length interval. The amount of time that can fit in a story about winter, which is as hot as summer and volatile as spring. In short, it is a story. A story of deferred projects and priorities. A story about a quote and a book nobody has read. A story about the time you spent reading this description. A story about long-distance friendship.
Ignė Narbutaitė (b. 1993) and Milda Januševičiūtė (b. 1990) were desk mates at school, and now explore and search for ways to apply mechanisms of play in their artistic practice. A major source of inspiration in their work is the use of everyday autobiographical circumstances.
Sound: Miša Skalskis
Music: Counted time by Milda Januševičiūtė, Miša Skalskis, and Tomas Narkevičius
Subtitle design: Monika Janulevičiūtė
ELLIE HUNTER, ANASTASIA SOSUNOVA
"Shadow Tongues", 2020, 15min
Shadow Tongues is a two-channel video about disorientation in a whirlpool of politics and technology. Purple and Green are two small people living between great powers. Each turns to language as a source of protection: Green collects tongues and languages, relishing in the overabundance and trying to ensure that no language is lost in all of the chaos. Purple, on the other hand, attempts to distance herself from codified ways of speaking. She moves to a city where she doesn't understand anyone and begins assigning new names to the objects she interacts with. When Purple goes to sleep, Green wakes up, and eventually they come face to face with the other's tactics. Shadow Tongues is narrated in a hybridised vernacular that only the two characters speak.
Ellie Hunter (b. 1989) is a visual artist based in New York working with sculpture, video and installation. Anastasia Sosunova (b. 1993) is a visual artist based in Vilnius working with sculpture, installation, video, and graphic art.
With production support from the CAC Vilnius
MARIA SAIVOSALMI, VYTAUTAS PUIDOKAS
"From Mother to Daughter", 2020, 27min
From Mother to Daughter depicts eight real families from different backgrounds (an immigration centre in Rukla, Saturday dances in Kirtimai etc) that perform in front of the camera. The choreographical propositions for the work were developed together with the families after discussing what lay at the centre of their family structures and generational chains. Through the families' suggested narratives the work closely examines the sensuality of lived kinesthetic experience and the possible translations of that medium to video art.
Maria Saivosalmi (b. 1980 in Finland) has been working broadly in the field of contemporary dance as a choreographer, performer and teacher since 2000. Vytautas Puidokas (b.1988 in Lithuania) is a documentary film director based in Vilnius who is currently finishing his second full-length documentary Borderline. This is Saivosalmi and Puidokas' first collaborative project. For this video they also collaborated with the Lithuanian cinematographer Vytautas Katkus (b.1991).
SIMONA ŽEMAITYTĖ
"Feedback", 2019, 74 min
The film is a glimpse into the personal video archive and creative work of the music lover Saulius Čemolonskas. The social and internal conflicts he encountered are presented in the context of migration and early digital music production. The protagonist of the film is a rebel and DJ of the Kaunas club "Senasis trestas" who emigrated from the Soviet Union before the restoration of Lithuanian independence and was based in London up until his death in 2017.
Simona Žemaitytė (b. 1984, Kaunas) lives and works in Lithuania and the United Kingdom.