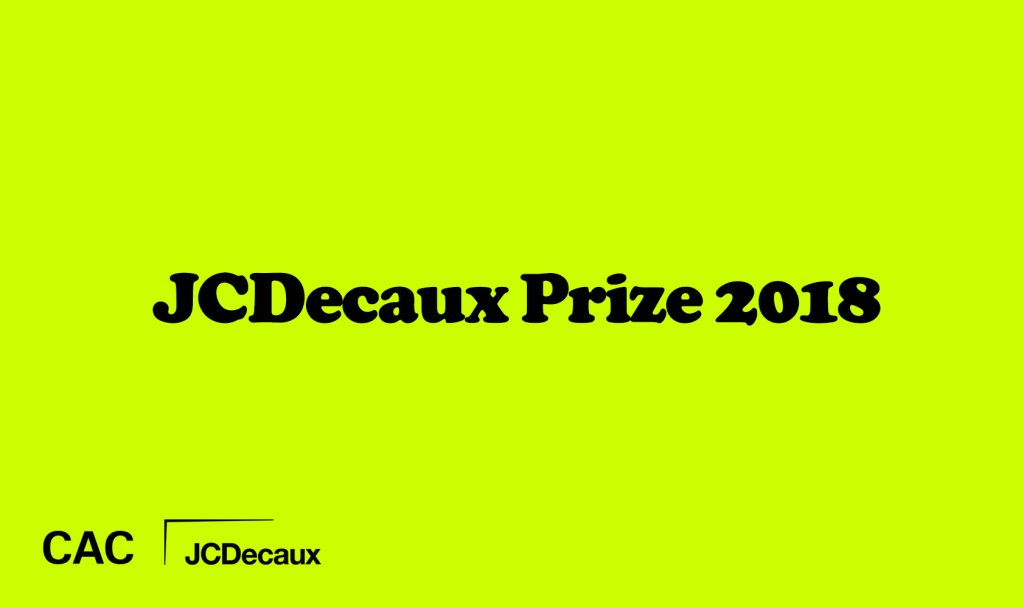 The Contemporary Art Centre (CAC, Vilnius) together with JCDecaux are happy to announce the results of the 2018 Open Call for young artists and present the participants of the upcoming exhibition – the nominees for JCDecaux Prize.
About the exhibition
JCDecaux Prize is a cycle of yearly exhibitions established in 2016 by the Contemporary Art Centre and JCDecaux, aiming to encourage young Lithuanian artists to create new works, facilitate their presentation in Lithuania and abroad as well as raise the interest of the society in contemporary art. The prize of 3000 euros, established by JCDecaux, is granted to one artist (or artist group), participating in the JCDecaux Prize exhibition, for the originality and relevance of artistic expression.
Participants of the JCDecaux Prize exhibition are selected through an open call. From all the received project proposals curators of the exhibition select five projects and form a conceptual group show. All five projects receive budget for production and curatorial assistance. The winner of the prize is selected by an international board, newly formed each year from artists, curators and researchers of art.
Results of 2018 Open Call
This year the exhibition curators Monika Kalinauskaitė and Adomas Narkevičius were delighted to receive an especially large amount of strong and intriguing proposals. Out of 45 submitted applications the curators selected 5 projects which, in their opinion, are not only the most relevant and visually, as well as conceptually sound, but also interact with each other in interesting ways. These projects will form the basis for a group exhibition and selection of the prize winner. This year's exhibition will feature young artists Gabrielė Adomaitytė, Matas Janušonis, Goda Palekaitė, Anastasija Sosunova and the creative collective "Pinigų uostas".
Gabrielė Adomaitytė (b. 1994) graduated from the Sculpture Department at Vilnius Academy of Arts in 2017 and is currently living and working in Amsterdam where she is participating in "De Ateliers" residency. The main medium used and explored by the artist is painting. The questions of boundaries of medium and its specificity, as well as the problematics of depiction dominate in her creative process, which often involves visuals obtained via analogue and digital devices. The work proposed for JCDecaux Prize will explore the consequences of painful personal experiences and the topics of loss and being within family, involving autobiographical details and creating a platform for rethinking identity and human relations.
Matas Janušonis (b. 1994) is currently studying for a Master's degree in the Sculpture Department of Vilnius Academy of Arts. In his work the artist rethinks the relationship between the surface and the spatial body, using ready-mades, as well as mundane, technical and archetypal objects, reconstructing the form and scale. In this way the artist produces kinetic sculptures and uses sound to explore how it affects form. For JCDecaux Prize exhibition Janušonis aims to create a sculptural installation from objects, analysing the problematics of space and sound and searching for something new while changing the established notions of elements and symbols of the world around us.
Goda Palekaitė (b. 1987) is an artist and researcher of contemporary theatre and performance, combining anthropological and artistic practices in her work. She works with long-term projects exploring the themes of historical narratives, collective imagination and creative conditions, producing performances, scenographies, installations and publications. Palekaitė graduated from Bachelor's program in Scenography in Vilnius Academy of Arts and obtained a Master's degree in Cultural and Social Anthropology from University of Vienna. She currently lives in Vilnius and Brussels, where she is participating in the programme of a.pass artistic research institute. Her proposal for JCDecaux Prize stems from her interest in a specific historical personality and the mechanisms of constructing and destroying history, touching upon an old and stigmatized invention – political anarchism as an archeological artefact worthy of dissemination.
Anastasija Sosunova (b. 1993) is a visual artist living in Vilnius. Her work consists of videos, prints, site-specific installations and sculptures, which revolve thematically around the laws of contemporary culture and biopolitics. The artist has a Bachelor's degree in printmaking and a Master's degree in Sculpture from Vilnius Academy of Arts and has also participated in Rupert Alternative Education Program. She participates actively in shows in different countries in Europe and the US, exhibiting her work in both artistic institutions and non-traditional urban and natural locations. For JCDecaux Prize exhibition Sosunova is planning to create a video installation, exploring the different paths leading members of contemporary society towards faith.
"Pinigų uostas" ("Financial Shore") is a collective of DJ $TOCKER, Ieva Sriebaliūtė (b. 1993) and Paul Paper (b. 1985). DJ $TOCKER is an anonymous producer of electronic music, using open source audio clips saturated with symbolic references to internet culture and practice of consumerism in his work. Ieva Sriebaliūtė is a political scientist with a Bachelor's degree from Vilnius University Institute of International Relations and Political Science and a Master's in European Politics from Lund University in Sweden. Paul Paper is an artist and curator working with relations between image and contemporary technologies. "Pinigų Uostas" is a fictional offshore company, offering a look at the global problem of tax evasion through offshore companies and such aspects of it as the silent inheritance of colonialism and the tense relationship between justice and personal gain.
The curators are eager to start working with selected artists and proceed with other tasks of forming the exhibition. They expect to offer maximum assistance for the young artists implementing their projects and introduce local and international audiences to the newest tendencies of local art scene.
We remind you that the prize winners of 2016 and 2017 exhibitions were Ona Juciūtė and a duo of Monika Janulevičiūtė and Antanas Lučiūnas, respectively. Please find more information about the former exhibitions in the website of the exhibition: http://www.jcdecaux-premija.lt/ (English version coming soon).
Curators
Curatorial team of the JCDecaux Prize exhibition changes every two years, thus aiming to maintain the originality of the exhibition, to ensure the novelty and dynamism of curatorial decisions and artistic processes. In 2018 and 2019 the exhibitions will be jointly curated by Monika Kalinauskaitė and Adomas Narkevičius.
Monika Kalinauskaitė is a writer and curator, the co-author of the graphic novel "The Great Outdoors", currently working at the CAC. Kalinauskaitė regularly publishes fiction texts and exhibition reviews in Lithuanian and international press and works actively with exhibitions of young artists.
Since 2017, Adomas Narkevičius is curator for residencies and education in Rupert centre for Art and Education. At Rupert, he also initiated and curated sound art and experimental music event. Narkevičius also works with exhibitions of young Lithuanian and international artists in Lithuania and curates the 6th programme of Alternative Education in Rupert. He is a member of the band Without Letters.
http://jcdecaux-premija.lt/
www.cac.lt
Kontaktai pasiteirauti:
[email protected]
[email protected]
(+370 5) 2121954