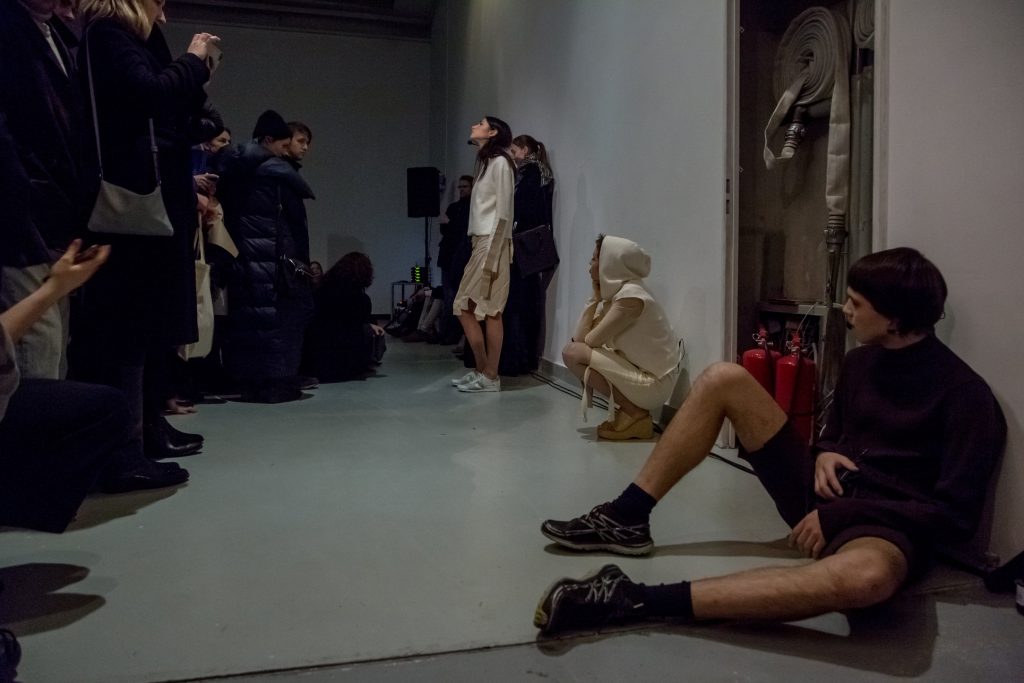 The Contemporary Art Centre (CAC, Vilnius) together with JCDecaux announces an open call for young artists to participate in the JCDecaux Prize 2018 exhibition and presents new curatorial team of two upcoming exhibitions of this cycle.
About the exhibition
JCDecaux Prize is a cycle of yearly exhibitions established in 2106 by the Contemporary Arts Centre and JCDecaux, aiming to encourage young Lithuanian artists to create new works, facilitate their presentation in Lithuania and abroad as well as raise the interest of the society in contemporary art. The prize of 3000 euros, established by JCDecaux, is granted to one artist (or artist group), participating in the JCDecaux Prize exhibition, for the originality and relevance of artistic expression.
Participants of the JCDecaux Prize exhibition are selected through an open call. From all the received project proposals curators of the exhibition select five projects and form a conceptual group show. All five projects receive budget for production and curatorial assistance. The winner of the prize is being selected by an international board, newly formed each year from artists, curators and researchers of art.
Curators of former JCDecaux Prize exhibitions Shallow, quick and not yet titled (2016) and Slow Schools (2017) Edgaras Gerasimovičius and Audrius Pocius have presented to the public new works created by 9 artists or artist groups. The winners of these exhibitions were Ona Juciūtė and a duo of Monika Janulevičiūtė and Antanas Lučiūnas. Please find more information about the former exhibitions in the website of the exhibition: http://www.jcdecaux-premija.lt/ (English version coming soon).
Open call
As every year, this year's theme of the JCDecaux Prize exhibition is not strictly defined. But curators Monika Kalinauskaitė and Adomas Narkevičius encourage young artists to not avoid complex social and personal topics, to plunge into problematic aspects of life, culture, technologies and history, to not be afraid of humour and to allow themselves to exaggerate in direct and indirect sense of this word. Genres, techniques or media are not limited.
The call is open for artists between 18 and 35 years that have Lithuanian citizenship (including Lithuanian citizens currently not living in Lithuania) and for foreign artists of the same age, constantly living and working in Lithuania. The application to participate in the exhibition is comprised of:
Project description (not longer than one A4 page)
Visual material of the project (sketches, visualisations)
Preliminary budget of the project
Artist CV in free form and portfolio
Please send applications till 8 June 2018 by email [email protected] with the subject line "JCDP18 Name Surname". Applications can also be provided or sent to the address:
JCDecaux Prize
Contemporary Art Centre
Vokiečių str. 2
01130 Vilnius
Selected participants of the exhibition will be announced in by the end of June.
Curators
Curatorial team of the JCDecaux Prize exhibition changes every two years, thus aiming to maintain the originality of the exhibition, to ensure the novelty and dynamism of curatorial decisions and artistic processes. In 2018 and 2019 the exhibitions will be jointly curated by Monika Kalinauskaitė ir Adomas Narkevičius.
Monika Kalinauskaitė is a writer and curator, the co-author of the graphic novel "The Great Outdoors", currently working in with the collection and programme of the CAC Reading Room. Kalinauskaitė regularly publishes fiction texts and exhibition reviews in Lithuanian and international press and works actively with exhibitions of young artists.
Since 2017, Adomas Narkevičius is curator for residencies and education in Rupert centre for Art and Education. At Rupert, he also initiated and curated sound art and experimental music event. Narkevičius also works with exhibitions of young Lithuanian and international artists in Lithuania and curates the 6th programme of Alternative Education in Rupert. He is a member of the band Without Letters.
The curators of the exhibition are happy to have the chance to work with this dynamic and live project and are eager to get acquainted with applications and start further works for this exhibition.
http://jcdecaux-premija.lt/
www.cac.lt
Inquiries:
[email protected]
[email protected]
(+370 5) 2121954
Image: "Girl on Fire", a performance by Antanas Lučiūnas and Monika Janulevičiūtė
Photo credit: Julijus Balčikonis