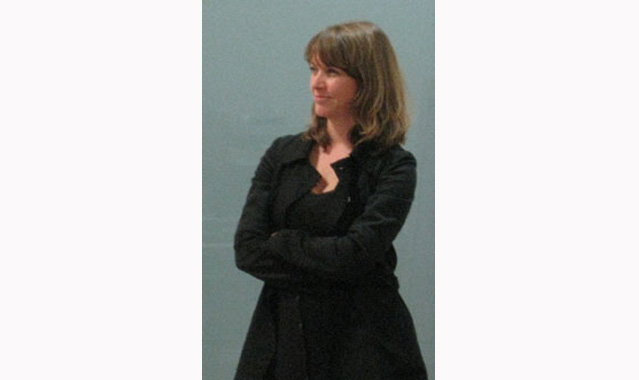 February 11 Friday at 6 pm, the CAC Reading Room
Kate Fowle. Curatorial Platforms & Networks
While the 1990s saw a boom in the creation of biennials across the world that opened up potential for dialogues between divergent practitioners, the last decade has seen the evolution of new models for institutions that enable the development of new networks and collaborations between artists, curators, and organizations regionally and internationally. These have established platforms from which to generate programming and accumulate research that goes beyond national or localized mandates, and encourages the accumulation of knowledge and projects through shared concerns based on experience and practice.
Kate Fowle, Executive Director of Independent Curators International (ICI), New York, will examine these developments, discussing new programs and exhibitions developed by ICI in the past year as case studies for thinking about extending international platforms and networks through exhibitions and discursive programs. Presenting new flexible and modular exhibitions, such as FAX, Project 35, and the Exhibitions in a Box series, as well as ICI's new program of talks, training programs, research projects, and online platforms, Fowle will explore the means by which the institution is responding to and thinking about new models for international engagement and networking today.
This talk series is part of a research trip by Kate Fowle to Central and Eastern Europe, made possible through the support of the Trust for Mutual Understanding (TMU).
Kate Fowle's talk will mark the last day of the presentation of "Harald Szeemann: Documenta 5" at the CAC Reading Room.
About Kate Fowle
Kate Fowle is the Executive Director of Independent Curators International (ICI) in New York. From 2007-08 she was the inaugural International Curator for the Ullens Center for Contemporary Art in Beijing, and from 2002-07 the Chair of the MA Program in Curatorial Practice at California College of the Arts in San Francisco, a program she co-founded with Ralph Rugoff in 2002. During her tenure as program director, Fowle built extensive international networks with over 100 artists, curators and writers from places as diverse as Chiang Mai, Paris, São Paulo, Johannesburg, Copenhagen, Beijing, Vilnius, Frankfurt, Tokyo, London, and Mexico City.
In 2005 she co-founded the backroom, an itinerant research-oriented project that provides access to over 70 international artist's source materials, which has been presented in Los Angeles, San Francisco, Paris, Mexico, and Orange County. From 1996-2002 she was co-director of smith + fowle, a curatorial partnership based in London, developing exhibitions and commissions with N55, Jeremy Deller, Dario Robleto, Kerry James Marshall, Jim Lambie, Henrik Plenge Jakobsen, Robin Rhode, Fiona Banner, and Richard Wentworth, among others. Prior to this she was the Exhibitions Curator at the Towner Art Gallery and Museum in Eastbourne, East Sussex.
Recent exhibitions include the Rotating Gallery for Greater New York, PS1, NY.; Quid Pro Quo: Works by Stephen Kaltenbach and Lee Lozano at Andrew Kreps Gallery, NY (2010); Matt Bryans, Jack Hanley Gallery, NY; Fia Backstrom, Mario Garcia Torres, Stephen Kaltenbach, Jack Hanley Gallery, NY (2009); Stray Alchemists, Ullens Center for Contemporary Art, Beijing; Our Future: Works from the Ullens Collection, Ullens Center for Contemporary Art, Beijing (2008); Real Life Magazine 1979-1990, Artists Space, NY (2007).