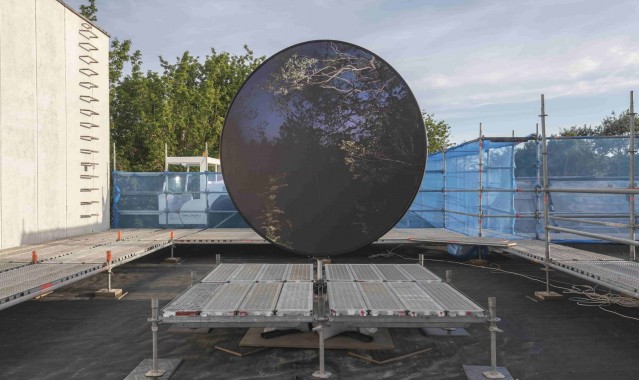 At the Contemporary Art Fair "ArtVilnius'20" the CAC Vilnius presents parts from one of its last productions – works by Kipras Dubauskas from his video installation "Daynighting". This installation was exhibited on the rooftop and the North Hall of the CAC building from July 10 to September 6. At "ArtVilnius'20" the artist's works will be presented in two spaces – his large-scale sculptures will be exhibited outside the Litexpo building, and in the project spaces area the viewers will have the opportunity to see Kipras Dubauskas' film program.
Kipras Dubauskas' works feature his dedication to the underground both geographically and urbanistically, as well as institutionally and politically. The artist explores little-known urban spaces and routes, such as underground tunnels of urban infrastructures that connect different parts of the city, or trails only known to specific groups or locals, or otherwise forgotten. In his practice, Dubauskas organises walks around these places, capturing film footage, which is later incorporated into his installations to create semi-fictional narratives and experiences. Underground territories are parallel urban spaces, which in the artist's work turn into the unique poetics of institutional and social criticism. Since 2010 Dubauskas has been particularly interested in the expression of analogue cinema, integrating his films into the characteristic architectural and sculptural environments he creates. Installation will consist of several architecturally separated spaces, corresponding to the different modes of night and day, the underground and the world, and the underground and public life. The exhibition includes architectural interventions, several new large scale works, a new 16mm film among new photographic works presented as transparencies in a lightbox.
KIPRAS DUBAUSKAS (b. 1988) lives and works in Vilnius. He studied Installation at the Royal Academy of Ghent and Sculpture at the Vilnius Academy of Arts. The artist's works have been presented in solo exhibitions at the CAC Vilnius (2020), the POST Gallery in Kaunas (2019), the Ex Elettrofonica Gallery in Rome (2018); and in the group exhibitions Waiting for Another Coming in Vilnius and Warsaw (2018), Some Pieces from a Cracked Sidewalk (through an intent gaze) in Gdansk (2017) and the 12th Baltic Triennial (2015), and Words aren't the thing at the Contemporary Art Centre in Vilnius (2015); he regularly participates in film festivals, self-organised events in public spaces, and in exhibitions by other artists. Kipras Dubauskas is the founder of the "Spongé" analogue film laboratory collective.