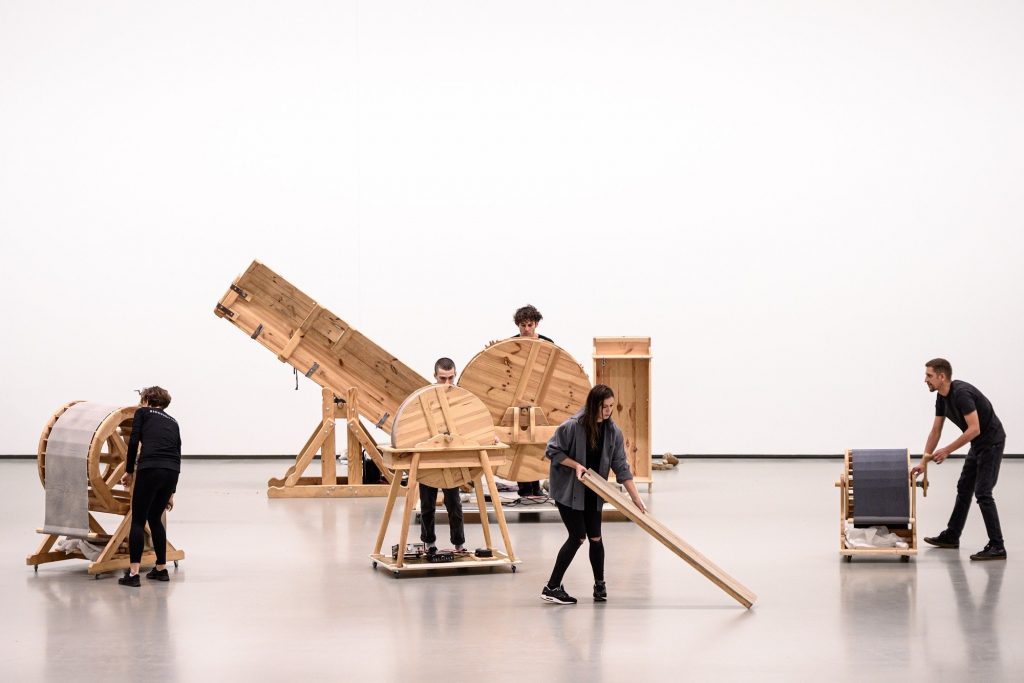 Thursday, June 18, 2020, 6pm & 8pm
Main Hall of the Contemporary Art Centre (Vokiečių Str. 2, Vilnius)

NAVIGATIONS
From the "Bad Weather" series
Baroque theatre noise machines performance
(gallery version)

Concept and composition by Arturas Bumšteinas
With the participation of Gitis Bertulis, Kristupas Gikas, Gailė Griciūtė, Greta Grinevičiūtė, Alanas Gurinas
Instrument maker: Ernestas Volodzka
Mariners oftentimes worked as stage hands in Baroque theatre. They coordinated stage machinery like they used to steer sailing ships. In the gallery version of "Bad Weather", Baroque theatre machines that simulate the sounds of rain, wind and thunder move within the large and empty space along the routes of tropical cyclones and leave traces of plant seeds that float on the surface of the ocean. Ancient weather conditions, viewed from constantly shifting perspectives, become transformed into multiple experiences – a ritual to revel in.
In 2019 Arturas Bumšteinas was awarded special prize for the innovative and original solutions at the Lithuanian professional theatre awards – Borisas Dauguvietis Earring for the integration of audible experiments into new theatre forms (for the performances Bad Weather and Olympian Machine).

"The performers are not making sound effects per se; what they are doing is more analogous to accomplished jazz musicians improvising their way through a well-known standard." (John Doran, The Quietus, 2017)
"And yet, even formally, we could consider this genre as the theater of mechanical machines – the direct successor of the exotic baroque art variety in today's studio, theater, gallery. Probably that's the main artistic intrigue of this play." (Tautvydas Bajarkevičius, Northern Athens, 2019)
Produced by Operomanija
In cooperation with Kala Sound System
Partners: Audiovisual Arts Industry Incubator, Kirtimai Culture Centre, CAC Vilnius
Supported by the Lithuanian Council for Culture
Duration: 40 minutes (no intermission)
Premiere: October 10–12, 2017 (Kraków, "Cricoteka", "Unsound" – theatrical version), September 19, 2019 (Vilnius, National Gallery of Art – gallery version)
Tickets: [10 Eur] are available at TIKETA