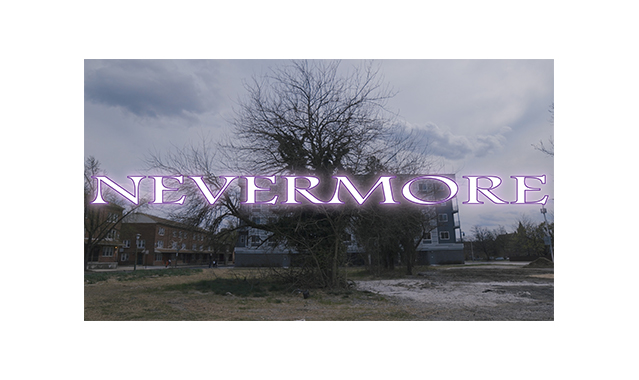 You're cordially invited to a screening of the latest film by artist Gerda Paliušytė, Nevermore, with the creative team present at the event. The presentation of the film will start at the CAC Cinema at 7pm on Thursday 21 November. The admission is free.
Nevermore can be viewed as a gothic tale set in present-day Baltimore. By tracing the legend of Edgar Allan Poe, a famous American writer who lived in Baltimore between 1833 and 1835, the film explores Poe's ghostly oeuvre in the popular imagination. It also depicts different communities and protagonists that are connected through Poe's legacy, as well as the social divisions between them.
The storyline departs from the Edgar Allan Poe House and Museum, which shares a common wall with Poe Homes—the oldest social housing project in Baltimore. By capturing the daily activities of museum workers as well as of the people living in the nearby government housing, the film concerns itself with the shared imagination of Baltimore's citizens as well as questions of urban alienation and racial division. However, instead of focusing on the monstrosity and dark romanticism associated with Baltimore as a city with high levels of crime, the film focuses on the mythology of phantasies and desires, which play out in the lives of its characters. These figures—from devoted fans of the Baltimore Ravens football team, named after Poe's famous poem, to a celebrated Michael Jackson impersonator and dedicated Poe fan who is an embodiment of the Gothic himself — are also coordinates on a map of Poe's continued existence. By depicting them, Nevermore examines how, in the words of Teju Cole: "cities are congested with traces of material history and the spiritual traces of those histories, including some very dark events."
Duration: 45 min
Director and producer: Gerda Paliušytė
Script: Gerda Paliušytė
Director of photography: Vytautas Katkus
Editing: Gintare Sokelytė
Sound design: Julius Grigelionis, Kipras Dominas
Co-produced by Contemporary Art Center
With an additional support by UAB Geri kadrai, Lithuanian Culture Council
Gerda Paliušytė (b. 1987) is a Lithuanian video artist and curator currently living in Vilnius. Her earlier video works include The Road Movie (2015), a hybrid documentary film that follows a hip hop duo ONYX in Vilnius; and A Desire for Things to Work that maps the voices of the phone sex workers in Amsterdam (2016). Paliušytė is one of the initiators of Montos Tattoo space in Vilnius. In her work Paliušytė is interested in cultural history, addressing its reliance on both stereotypes and antagonisms. Most of her work makes use of various documentary practices, including docufiction, and is concerned with studying overlapping and often contradictory cultural configurations and famous characters.
The evening is part of the Race Conversation event series.