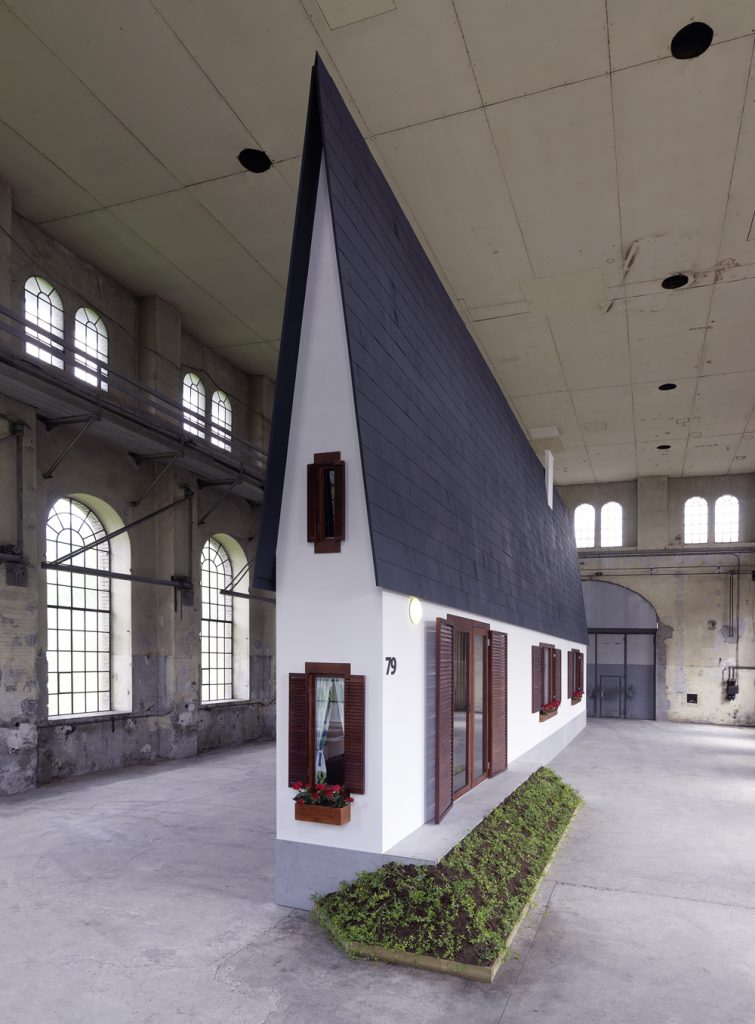 Exhibition opening: Thursday 11 June at 6 pm
Press conference: 5 pm
Austrian artist Erwin Wurm presents his sculptural object Narrow House at the Contemporary Art Centre. This is a to-scale model of his childhood home, a building typical of Austria's post-war suburban architecture, only the sculpture has been shrunk to 1 m width and pivoted at an unusual angle. "To show everyday life from a different perspective" is one of the artist's mottoes which he puts into practice by constantly challenging conventional sculptural concepts.
Wurm gained worldwide fame in the 1990s with his One Minute Sculpture cycle. These are 60 seconds 'tableaux-vivants' performed by the viewers according to the artist's instructions (e.g. hold these bottles against the wall with your own body; sit down on the platform, hold your breath and think of Spinoza). This way each time the sculpture is created using new sculptural 'material' shaped through a transmission of thought. The artist states that sculpture is first and foremost an art of volume, therefore any increase or decrease in volume – even that which occurs when a person loses weight – can be seen as a form of sculptural expression. In his works Wurm often uses everyday objects (clothes, cars and houses) but changes their scale, proportions and volume. Such transformations may at first glance appear comical, but upon closer inspection are critical commentaries on social norms and values, and metaphors for social context.
Narrow House has been modelled after a prototype of the artist's childhood home. In 1960s Austria, similar houses were being built on a massive scale for the middle class who sought to fulfil the dream of owning a private house. Wurm's father was a police detective, his mother a housewife; he recalls his childhood and teenage years as a period of strict limitations and constraints. At school children were not allowed to read American comics featuring Donald Duck, while in the 60s a ban on twist dance was declared in one of the Western parts of Austria. Thus the sense of individuality, that a concept of a private home was supposed to provide, in reality could only express itself in very limited forms, and by reconstructing them the artist is rethinking his and his generation's experience of living in a constrained and standardised environment.
Erwin Wurm was born in 1954 in Austria; he lives and works in Vienna and Limberg. His works are a part of collections of some of the most prestigious collections worldwide, including Solomon R. Guggenheim Museum (New York), Peggy Guggenheim Collection (Venice), Walker Art Center (Minneapolis, USA), Museum Ludwig (Cologne, Germany), Kunstmuseum St.Gallen (Switzerland), Museum of Contemporary Art Lyon (France), Museum of Old and New Art (Hobart, Australia), The Centre Pompidou (Paris).
Other sculptures by the artist will be on view at Vartai Gallery from 11 June.
Exhibition sponsors:
Lithuanian Council of Culture
Lewben Art Foundation
Media sponsors:
DELFI
Artnews.lt
Echogonewrong.com