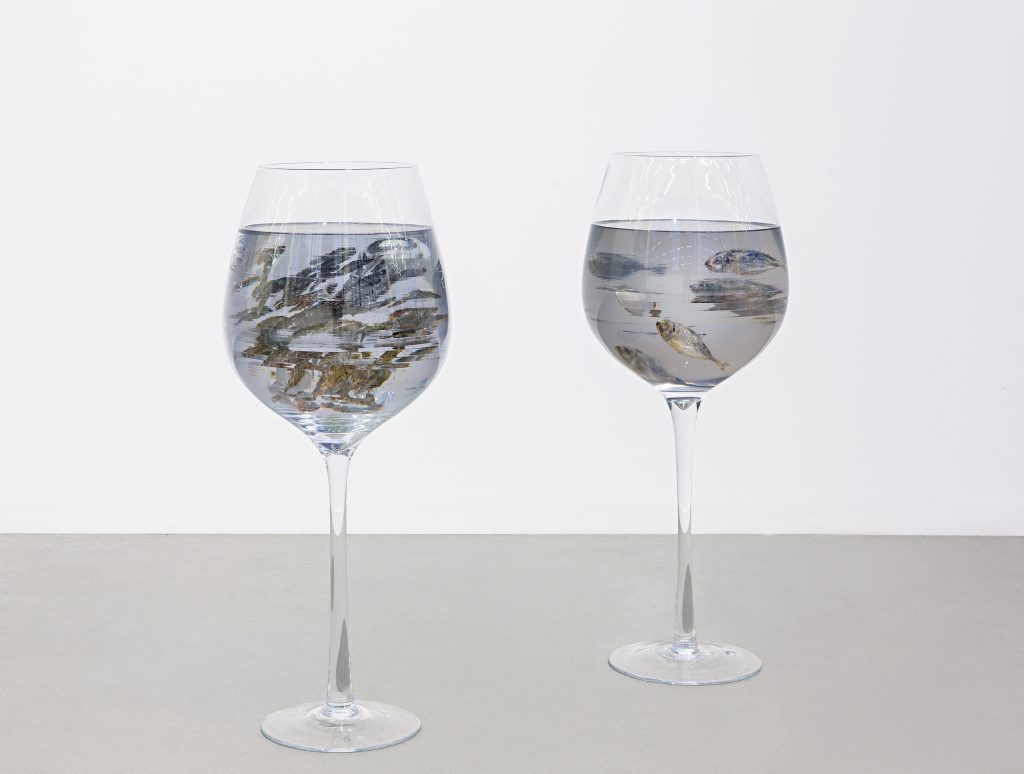 Opening: Friday 19 June, 6pm
In her solo exhibition at the Contemporary Art Centre the Danish artist Nina Beier presents a recent sculpture. It is a horizontal structure titled Tileables, which is especially adapted to the CAC premises and occupies inner courtyard of the building interfering with an existing milieu. The artwork was first presented on the occasion of the solo show by Nina Beier, curated by Vincent Honoré at DRAF (David Roberts Art Foundation), London in 2014.
Tileables (2014) is a 125 m2 mosaic of ceramic tiles, which were individually printed with texture patterns originally designed for 3-D modelling software to imitate concrete, marble, mud and other surfaces, takes the relationship between the digital and physical namesake to its absurd conclusion.
Tileables also functions as a base for the artworks from the series Plunge. The compositions of objects suspended in resin adopt motifs borrowed from the pictorial language of photographers working for online image banks. In this stock photography, objects such as minibar bottles, dried fish, pills, light bulbs and choker chains are often used to create open-ended metaphors that are brought out by individual use. Beier's incongruous combinations offer a network of signifiers crystallised in the translucent matter of the resin.
Beier's practice charts lines of flight through the social and political problematics of representation and exchange, uncovering and re-shrouding phenomena so as to identify moments of conflict and correlation. One of her primary fields of interest is that of tracing the fidelity of meaning through the convoluted relationships between objects and images, pinpointing the various ways mediation mutate information from things to representations and back again—how images subsume or discard their referents to become distinct objects in their own right.
Nina Beier (b. 1975, Aarhus, Denmark; lives in London) graduated from the Royal College of Art, London (2004). She has recently exhibited her work in solo exhibitions at Kunstverein in Hamburg, 2015, DRAF, London (2014), Mostyn, Llandudno (2014); Nottingham Contemporary (2014); as well as in group exhibitions at Kunsthalle Wien, Vienna (2014); Centre Pompidou, Paris (2013); Museum of Contemporary Art Detroit (2013); MuseionBozen, Bolzano (2012); The Artist's Institute, New York (2012); KW Institute For Contemporary Art, Berlin (2012); and Tate Modern, London (2012).
Organizers: DRAF and CAC
Exhibition sponsored by: The Lithuanian Council for Culture, the Danish Arts Foundation, Johnson Tiles
Media partners: www.artnews.lt, www.echogonewrong.com