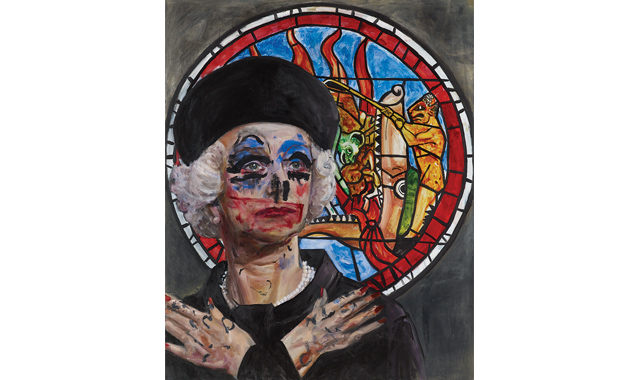 Exhibition opening: Friday, January 22 at 6 pm with performance Kim do the V by Sue Tompkins
As part of the British Council's touring exhibitions programme, this group show presents a selection of recent works by fifteen British artists who demonstrate the richness and vigour of contemporary painting in the UK. Premiering at the Contemporary Art Centre it features new acquisitions to the British Council Collection alongside generous loans. The Painting Show includes works by Merlin Carpenter, Stuart Cumberland, Dexter Dalwood, Kaye Donachie, Michael Fullerton, Celia Hempton, Morag Keil, Fiona MacKay, Lucy McKenzie, Dawn Mellor, Alan Michael, Michael Simpson, Sue Tompkins, Neal Jones and Pádraig Timoney.
The underlying narrative of The Painting Show is inspired by the foreword in Unlawful Assembly (2013) – a book written by artists Lucy McKenzie and Alan Michael. This text proposes that the meticulous plot constructions of crime novels, designed to lead the reader on a journey that questions the stability of truth and fiction, are representative of the way in which a particular demographic of painters manipulate their medium, its history and the audience's understanding of it.
The artists have been selected because of the different ways in which they can be perceived as manipulating their own individual status as a painter; be it by denying the romanticism imposed upon the act of painting, aping historical styles to communicate personal agendas, aggravating the museum collection by inserting subversive figures or rejecting and manipulating the male gaze.
The Painting Show is accompanied by a new full-colour catalogue, designed by The Bleach Room, London, featuring commissioned texts by art historian John-Paul Stonard and exhibition curator Linsey Young.
Exhibition is organized by the British Council and Contemporary Art Centre, Vilnius
Supported by the Lithuanian Council for Culture
Image: Dawn Mellor, Claire as Madam as Queen Elizabeth II, 2013. Courtesy: British Council