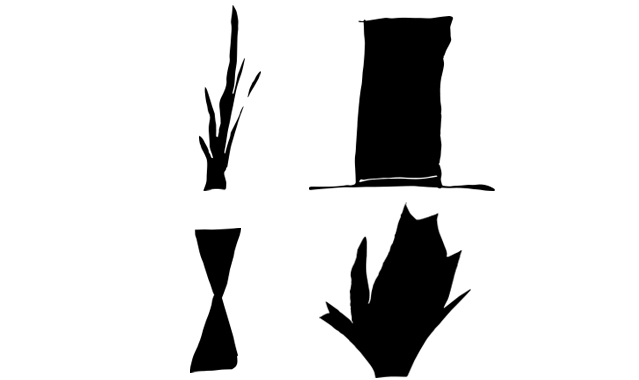 Žilvinas Landzbergas. Crown Off
2015 04 17–05 24
Curator: Asta Vaičiulytė
Exhibition opening: Friday, 17 April, 18:00
Live music performance by New World Vulture (Norway) 19:00
Žilvinas Landzbergas' exhibition Crown Off could be introduced in the artist's own words as a musical album in 3D (minimal ambient post-punk new folk neo-gothic?). In the exhibition, a 'white cube' located within the modernist building of the CAC – an abstract space –becomes a place with its own time and possibility for duration. The CAC spaces are taken apart and transformed; the exhibition stretches through them as a drawing,as an appendix to reality, as a dedication. By knitting together apparent materials, abstract forms, and fiction, it draws onto reality and exposes its missing parts and cracks – that which is invisible, immeasurable, unnamed.
The physical body of Landzbergas' sculptures is initially a dotted line; it is a trace, a condition, or a circumstance of a past, present, or future event. This phenomenon is subject to our own exhibition/sound-copying bodies that perhaps move, linger, perceive or hesitate. A particular sculptural object, a thing, exists in a space and in relation to it and to us in it; residing in the pre-verbal experience, before (mis)recognition and definite meaning. Asin nature: 1+1=3 and more.
Žilvinas Landzbergas (b. 1979 Kaunas) lives and works in Vilnius. In 1998–2004 he studied sculpture at the Vilnius Academy of Arts and in 2005–2007 he was a resident at the De Ateliers in Amsterdam. Since 2003 Landzbergas has been exhibiting in Lithuania and internationally andhas hadsolo exhibitions at Galerie Fons Welters (2007 and 2013), kim? Contemporary Art Centre, Riga (2011), Contemporary Art Centre, Vilnius (2008) and Modern Art Oxford (2005), among other places. The artist's work has been exhibited in a number of international group shows including Revisiting footnotes I at the Latvian Centre for Contemporary Art, Riga (2013), curated by_vienna: EAST by SOUTH WEST, Vienna (2011), City Without Walls: Vilnius at the Liverpool Biennial (2010), Lunar Distance at the Museum De Hallen, Haarlem (2009) and Urban stories, the X Baltic Triennial of International Art at the Contemporary Art Centre, Vilnius (2009). In 2008 Landzbergas receivedthe Thieme Art Award (the Netherlands).
Curator: Asta Vaičiulytė
Exhibition supported by:
Lithuanian Council for Culture
Ministry of Culture of the Republic of Lithuania
Media sponsors:
Lietuvosrytas
JCDecaux
www.artnews.lt
www.echogonewrong.lt
Thank you to:
UAB "Glasma Service"
UAB "Unipuras"
Illustration: Drawing by Žilvinas Landzbergas, 2015