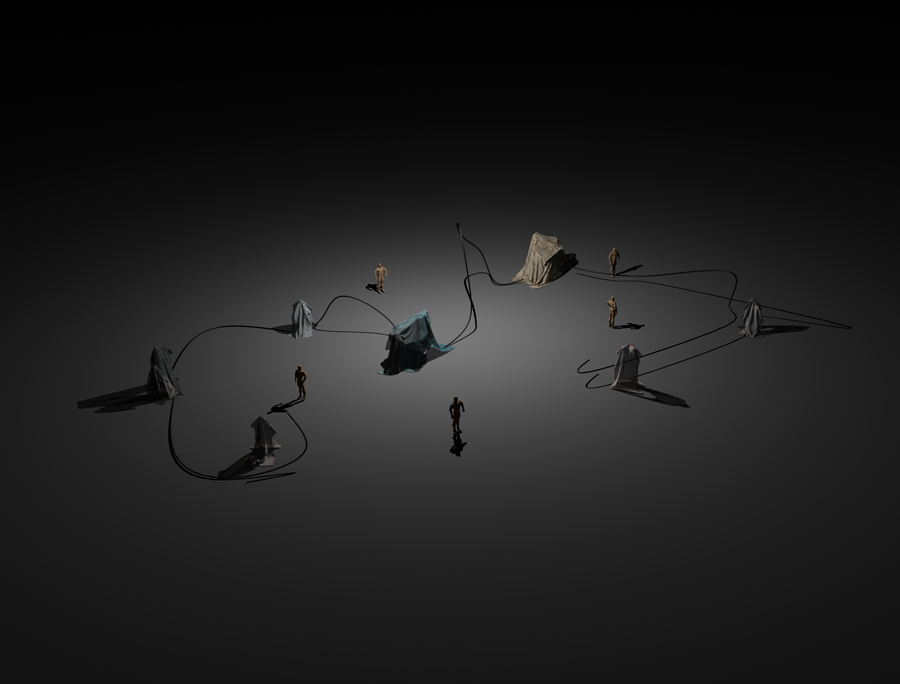 World première
Thursday, April 19, 6 PM and 9 PM
"Honey, Moon!" is a workout by musical astronauts. A wedding of human being, honey, and the Moon. The opera is an exhibition of live sculptures, where everything is moving on a different scale. From micro- to cosmo- one. The resonating vocal chords are responsive to muscular contractions of the bodybuilders. The surfaces of the performers' bodies and instruments evolve into planetary landscapes. The latter are rotating in the orbits of soundscapes that the listeners can engage in at any time. It is an open interplanetary route. Honey, the Moon, honeymoon… Honey, Moon!
Director and author of installation Julijonas Urbonas:
"What will happen to the genre of the opera when we catapult it into space? Or onto the Moon? Before answering, we first need to authorize a neologism combining the terms "interspecific" and "interplanetary". This opera is a staging of such a neologism".
Librettist Gabrielė Labanauskaitė-Diena:
"It is a contemporary, mystical dramatic journey, an allegory of the search for a person's other side and the discovery of himself/herself in any possible form – love, self-acceptance, illumination – on the Moon. "Honeymoon" is like a regular journey, like hitch-hiking that involves wearing a wedding dress and getting into cars of different experiences."
Composer Gailė Griciūtė:
"The opera score includes electro-acoustic and live music. The chamber ensemble, the collage of records of the atmosphere, the modular synthesizer, the vocal ensemble, and the readers are like modules, or audio-planets that exist together and separately. Each of the sound sources builds a particularly fragile layer of musical texture, they interweave with each other and come together into a single flashing musical fabric of changing repetitiveness."
Librettist Gabrielė Labanauskaitė-Diena
Composer Gailė Griciūtė
Stage director and author of installation Julijonas Urbonas
Sound architect Arturas Bumšteinas
Illustrator Célestin Krier
Electrical machinery engineer Julijonas Urbonas
Biomedicine engineer Dmitrij Snegin
Platform electronics engineer Vladas Kaškonas
Production manager Paulius Vitkauskas
Sound analysis programmer Sebastin Lexer
Graphic designers of the surtitles: Gailė Pranckūnaitė, Marek Voida
Translator Viltė Gridasova
Producer OPEROMANIJA
Performers: Darius Jurevičius (narrator), Viktorija Damerell (narrator), Edvardas Šumila (narrator), Ieva Skorubskaitė (soprano), Kristina Jurevičiūtė (mezzo-soprano), Vaidas Bartušas (counter-tenor), Jevgenijus Kovalčukas (bass), Kristupas Gikas (flute), Artūras Kažimėkas (clarinet), Toma Bandzaitytė (violin), Arnas Kmieliauskas (cello), Marta Finkelštein (piano), Ignas Juzokas (modular synthesizer), bodybuilders
Instructions for the spectators: At the show, please watch out for the moving platforms and remain within the marked area. It is necessary to keep a close eye on the children.
Duration: 60 mins.
In Lithuanian with English surtitles.
Purchase tickets here.