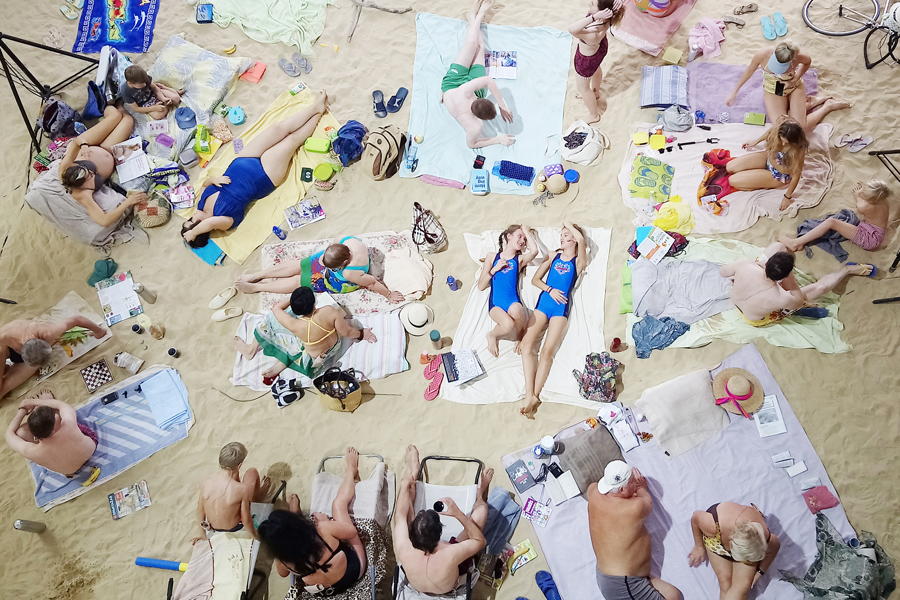 Screening
Saturday, April 21, 3 PM
CAC cinema

A sandy beach in bright summer light is covered by vacationers lying on their colourful towels. A mosaic of their different stories, narrated by singing bodies, gradually grows into a global chorus of a single ecosystem. The beach is observed from the solar perspective, from above, as if humans were bugs. Under the topology of lazy holidays – the burning time and burning skin – there lurks intuition of an ending: the temporality of human bodies, as well as the very body of Earth.
In their collaborative opera, the authors of "Sun and Sea" have placed special attention on the relationship between documentation and fiction, realism and poetry, as well as on crossover of theatre, music and fine arts. Their first work – contemporary opera "Have a Good Day!" (2013) – has got 6 prestigious awards and has been shown at international music, theatre and opera festivals in USA, China, Germany, Switzerland, Netherlands, Portugal, Estonia, Latvia, Russia, Ukraine and more than 10 international theatre festivals in France; the opera was also broadcasted on Lithuanian National Radio and BBC3 Radio. The "Sun and Sea" project was supported by Akademie Schloss Solitude on the occasion of artists' residencies in 2016 / 2017. In 2018, the artists were invited to work at Staatsschauspiel Dresden theatre.
Director and set designer Rugilė Barzdžiukaitė
Librettist Vaiva Grainytė
Composer and music director Lina Lapelytė
Soloists: Alyona Alymova, Svetlana Bagdonaitė, Auksė Dovydėnaitė, Saulė Dovydėnaitė, Leona Kairienė, Artūras Miknaitis, Eduardas Paciūnas, Vytautas Pastarnokas, Eglė Paškevičienė, Violeta Savickaitė-Paciūnienė, Ieva Skorubskaitė, Jonas Statkevičius, Alfredas Tamulynas, Lukas Vaičiūnas, Eglė Valčiukaitė, Povilas Vanžodis, Šarūnas Visockis, Stasė Žaltauskaitė-Malūnavičienė
Keyboards Tomas Dičiūnas
Sound director Valdas Karpuška
Translator Emilija Ferdmanaitė
Production manager Dovydas Korba
Production assistants: Vaida Stepanovaitė, Vaiva Martišauskaitė
Cameramen: Eitvydas Doškus, Vytautas Plukas
Producer A laukas
Co-Producers: Münchner Kammerspiele, Akademie Schloss Solitude, Staatsschauspiel Dresden, Goethe-Institut
Partners: National Gallery of Arts, Arclights, Nida Art Colony
Sponsor Lithuanian Council for Culture
Première: October 1, 2017, National Gallery of Art.
Duration: 60 mins.
In Lithuanian with English surtitles.
Purchase tickets here.