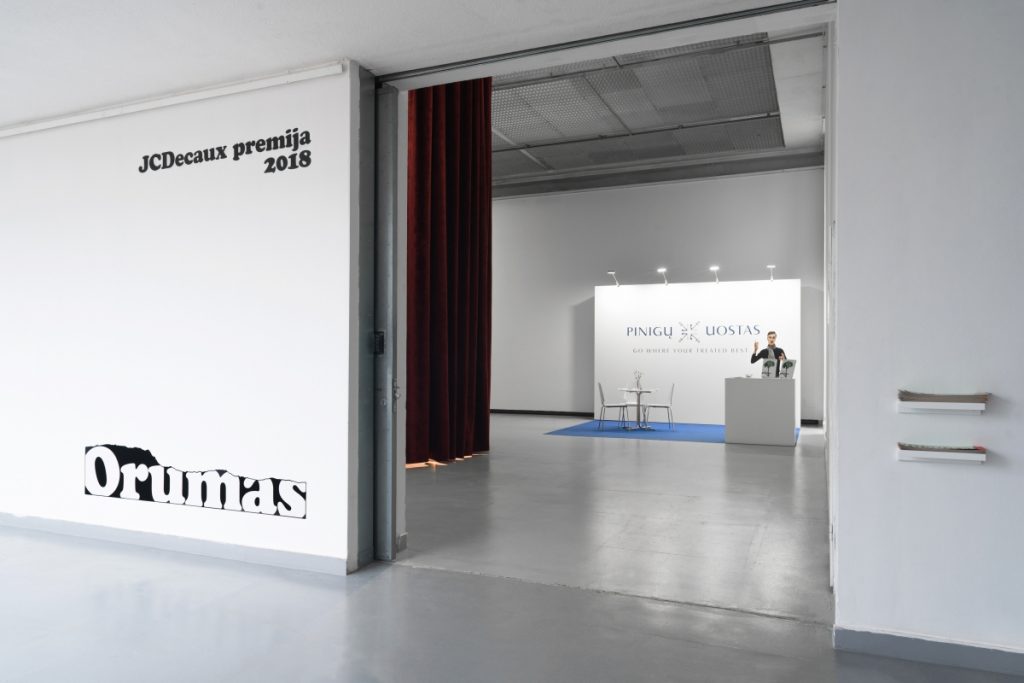 Contemporary Art Center and the company of outdoor advertising "JCDecaux Lietuva" creates a platform for young talented artists to get noticed and appreciated for the fourth time already. Curators of conjointly organized exhibition "JCDecaux prize 2019" Adomas Narkevičius and Monika Kalinauskaitė selected five young artists to participate in this years' project.
From September to November new works of these young artists will be displayed in the Contemporary Art Center and one of them will be chosen by international jury and granted a prize of 4000 EUR and a possibility to exhibit his or her works in the spaces of outdoor advertising.
Interest in the exhibition was incredibly vast this year. There were 75 applications and curators picked out the most relevant, visually and conceptually interesting projects. According to the organizers, public invitation to participate throughout advertising spaces belonging to "JCDecaux" in five biggest cities of Lithuania was one of the reasons of such a big number of applications.
"Geography of our project is expanding every year, more artists working in Lithuania and abroad get involved. Likewise ever year we bring together more and more partners from business and culture fields thus supporting the careers of beginner artists even more", – says Žaneta Fomova CEO at "JCDecaux" .
"The prize is not only a great evaluation of the work, but also an encouragement to continue further projects or an impulse for a new stage in a career. We invite everyone to visit the exhibition in autumn and take notice of the names of the artists and then continue following and appreciating their further works", – says CAC director Kęstutis Kuizinas.
Participants of the exhibition in 2019:
Agnė Jokšė (born 1993) now lives and studies in Copenhagen in the Royal Academy of visual arts. Her works include texts, sound, performances and communal activities and also social contexts like feminism and LGBTQIA. Using methods of autoethnography in the exhibition of "JCDecaux prize" she will present a script and a performance analyzing platonic friendship between women and it's detailed, varying everyday life full of magical elements and obstacles, which you can overcome together.
Arvydas Umbrasas (born 1986) lives and works in Vilnius. He studied in the University of Applied Arts of Vienna in Austria and in Bergen Academy of Art and Design in Norway. Specifics of his works are the aesthetics of minimalism balancing between signs of abstract and corporeality. In the exhibition of "JCDecaux prize" he will present and object inspired by astronomical phenomena, fantasy and sexuality.
Nancie Naive (Emilė Skolevičiūtė, born 1997) soon to become superstar of pop culture, contemporary art and cinema, persona of social networks, embodied artistic alter ego, a piece of art herself, product, commodity and advertisement. In the exhibition she will take a look at her fame and will confront the following of every celebrity – paparazzi and their flashes.
Gabrielė Vetkinaitė (born 1996) studies sculpture in Vilnius Academy of Arts and creates sound and video installations reflecting and shifting stories that look comprehended and ordinary. In "JCDecaux prize" exhibition she will present a piece of music inspired by personal experiences and lyric impressions for an intimate and attentive listener.
Milda Januševičiūtė (born 1990) ir Miša Skalskis (born 1994) – artist duo living in Lithuania and Netherlands working in the fields of sound installations and video art. In the exhibition of "JCDecaux prize" they will present their work based on sociological research and personal experiences reflecting on vulnerability and common human values in the context of healthcare systems.
"JCDecaux prize" is an annual competition for artistic projects organized by Contemporary Art Center and "JCDecaux" encouraging young artists to introduce their works to the society in Lithuania and abroad, increasing the accessibility and interest in contemporary art. It is the project for students of art or artists who finished studies not earlier than two years before the exhibition.