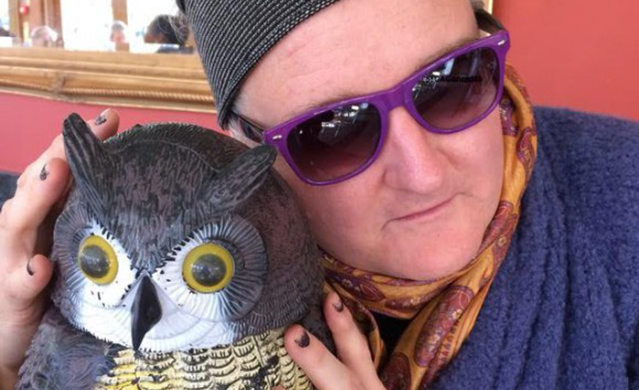 Saturday 16 and Sunday 17 September between 1pm and 5 pm at the CAC Reading Room
Please note: You can take the East and West workshop whether you participated in the earlier workshop or not. Participation is free of charge but we kindly ask you to register by sending an email to [email protected]
The author of nine books of poetry and essays, CAConrad returns to Vilnius for the third time to take part in the Prelude of the 13th Baltic Triennial on Thursday 14 September and to lead the final workshop in the Mapping Dimension 27 series.
The poet practices what he calls somatic writing – writing under the influence of various rituals of his own making, often seemingly absurd or uncomfortable. For instance, in the Resurrect Extinct Vibrations ritual the writer uses recordings of animal species that have become extinct during his lifetime to recall their vibrations through the cells of his own body so as to recreate a lost soundscape. According to CA, "When I was born over half a century ago my cells were formed on a more complex, organic vibration than the cells of children being born today." Every day during the ritual, while driving across the States, regardless of where he is at that time, he lays down and lets the sounds of the extinct animals wash over him. Notes for poems are taken during the ritual or right after.
CAConrad's poetry and public speeches aim to provoke and resist the self-destructive, narrow minded, hateful and ignorant aspects of culture. He stresses that in order to create a future that would be sustainable at least to some extent, creativity is necessary in every step and on every day, but it can be summoned in even the most unlikely or banal circumstances. Celebrating openness to the world, CAConrad feels ethically obliged to notice the violence that occurs in it. His latest book, "While Standing In Line for Death" (Wave, 2017) is a collection of eighteen rituals and their resulting poems that mourn the violent death of Earth, the poet's lover. It is an example of a persistent belief in poetry's ability to reconnect us and help put an end to our alienation from the planet.
For the two-day workshop he will use handmade maps and a reconfigured version of Jason Dodge's sculpture A golden lightning rod pointing north to study the many aspects of our planet's directional points of East and West. He will use these references to explore life and death, as the known and the unknown forces of our world and how these directional archetypes help and hinder our lives. This is a love letter to the Future Wilderness of our world.
—
The workshop Mapping Dimension 27 of CAConrad takes place in the framework of Corpus, network for performance practice. Corpus is Bulegoa z/b (Bilbao, ES), Contemporary Art Centre (Vilnius, LT), If I Can't Dance, I Don't Want To Be Part Of Your Revolution (Amsterdam, NL), KW Institute for Contemporary Art (Berlin, DE), Playground (STUK Kunstencentrum & M-Museum, Leuven, BE), and Tate Modern (London, GB). Corpus is co-funded by the Creative Europe Programme of the European Union. www.corpus-network.org
Contemporary Art Centre's participation in Corpus is partially funded by the Lithuanian Council for Culture.
Image: Portrait of CAConrad taken by Beatrice Gibson