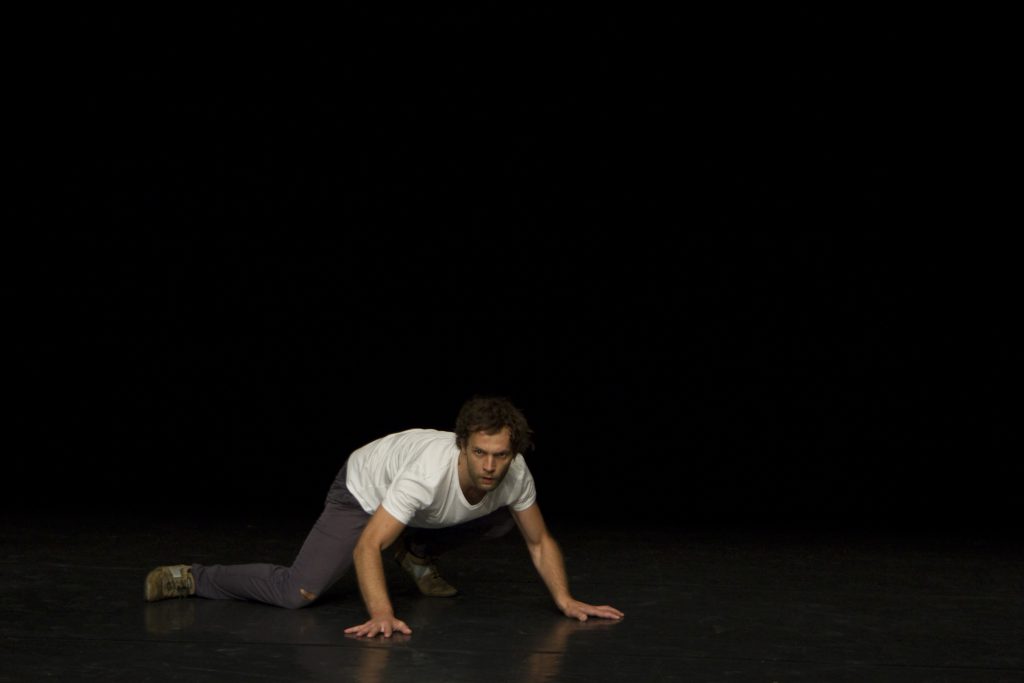 The 11th edition of the Baltic Triennial of International Art was taking a 12 day event focused exclusively on performance and film. Countering the general tendency of biennials to be pluralist, all-encompassing multi-platforms, the curators chose to channel the contributions of artists through a radically minimized vessel – one human being. The Triennial was entitled after its medium who in his own right carries one of the most common Lithuanian names, Mindaugas.
During the day, Mindaugas (the name alludes to 'daug menąs' – much wisdom, 'daugiamintis' – the one who has many ideas, or 'daugio minimas' – much fame) was operated by a number of artists by way of a set of instructions, script, score, scenario etc. to be played out by Mindaugas during the course of one particular day in the city of Vilnius or nearby surrounding areas.
In the evening, Mindaugas was resting, and the ideas that he had embodied during the day were appearing on a stage at the CAC where a different artist presented a performance each night. The stage represented a dream-state of Mindaugas, a site for even more possibilities. It was called Charismateria.
The performance programme was accompanied by Cinema of the Self, a daily 8-hour programme of contemporary artists' films dedicated to notions of selfhood and the construction of the self.
Mindaugas Triennial was curated by Defne Ayas, Director of Witte de With, Center for Contemporary Art, Rotterdam; and Benjamin Cook, Director of LUX, London. By invitation of Defne Ayas the curatorial concept and program was developed together with New York-based artists Ieva Misevičiūtė and Michael Portnoy.
The perspective of time gave us yet another insight into the whole program and its content, as well as artists' individual projects and here we are, three years after, handling the catalogue of Mindaugas triennial.
Curators
Defne Ayas
Benjamin Cook
Ieva Misevičiūtė
Michael Portnoy
ARTISTS AND PARTICIPANTS
Ed Atkins
Alexandra Bachzetsis
Eric Baudelaire
Neïl Beloufa
Eglė Budvytytė
Aslı Çavuşoğlu
Steve Cosson (The Civilians)
Moyra Davey
Oskar Dawicki
Ivo Dimchev
with Emiliyan Gatsov
Tim Etchells
Luke Fowler
Goodiepal
Krõõt Juurak
Ragnar Kjartansson and David fiór Jónsson
Adam Kleinman
Valentinas Klimašauskas and Morten Norbye Halvorsen
Ursula Mayer (with Valentinj de Hing, Gediminas Gelgotas and orchestra NI&Co)
Michael Portnoy
Benjamin Seror
Rania Stephan
Catherine Sullivan and Farhad Sharmini
Marianne Vitale
Mark Aerial Waller (with Smiltė Bagdžiūnė, Monika Bičiūnaitė, Gediminas Žukauskas)
Claude Wampler (with Šatrijos klubas)
Miet Warlop
Hu Xiangqian
Project manager
Virginija Januškevičiūtė
Catalogue Publisher Contemporary Art Centre
Editor Monika Lipšic
Design Goda Budvytytė
Translation Marius Burokas, Rimas Užgiris
Proofreading Renata Dubinskaitė
Photographers Akvilė Anglickaitė, Ieva Budzeikaitė, Rasa Juškevičiūtė, Robertas Narkus, Linas Vasiliauskas, Audronė Vaupšienė
Printed by Petro Ofsetas
Edition 500
© Contemporary Art Centre, the artists, the photographers