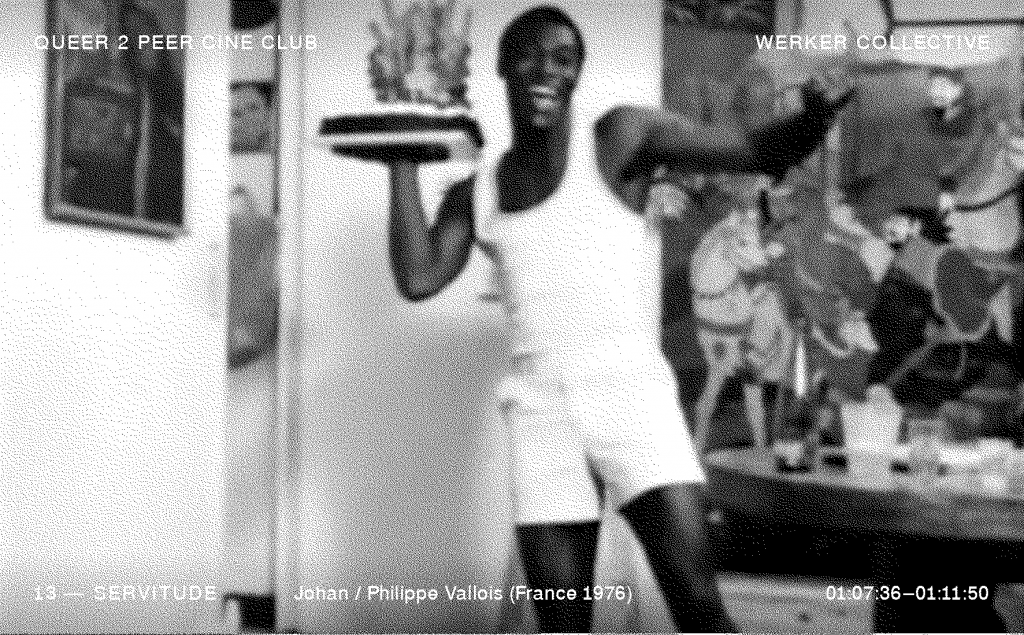 On 5-9 November at the CAC Reading Room
Queer 2 Peer Cine Club is an open platform initiated by Amsterdam based Werker Collective, exploring the intersection between peer-to-peer and queer cultures through experimental essayistic filmmaking, media analysis and togetherness. This is a space for meeting, viewing, discussing, reading, researching, filming and editing. Throughout the space one can find archival material which can be used to consult, to study or to work with in any desired, yet careful way.
Werker Collective looks into collaborative ways of producing a 'knowledge of dissent' through the making of (moving) images. We invite anyone interested to join a collective process towards the articulation of a series of short essay films focusing on different materialist aspects from our queer realities that demand urgent attention; housing, reproductive work, family, labour, mass-media, sports, revolution and desire. How can filmmaking support our political imagination and emphasize queer modes of being in the world?
For five nights at the CAC Reading Room and Vilnius Academy of Arts Werker Collective invites everyone to the sessions of screenings and discussions, that each consists of about 20 fragments from different films that have been selected from Gay Torrents (non-porn) film archive and are structured in groups of Housing & Care Work, Media & Sports, Family & Labour, Revolution & Desire.
On Tuesday 6 November Werker Collective organises a one day practical workshop where we will explore the potentialities of non-heteronormative filmmaking.
SCHEDULE:
Monday 5 — 19:00 Housing & Care Work (screening & debate)
Tuesday 6 — 14:00-18:00 Queer film Workshop
Wednesday 7 — 19:00 Media & Sports (screening & debate)
Thursday 8 — 19:00 Family & Labour (screening & debate)
Friday 9 — 19:00 Revolution & Desire (soup, drinks, screening & debate)
Werker Collective came into being in 2009 in Amsterdam, on the initiative of Marc Roig Blesa and Rogier Delfos. It investigates representations of work, everyday life, forms of dissent and non-professional documentary practices. Its initial point of reference was the Worker Photography Movement, a group of associations of amateur photographers that appeared in Germany in the 1920s, following in the steps of the first socialist photography experiments in the USSR which then expanded to the rest of Europe, the United States, and Japan.
The collective takes interest in methodologies based on self-representation, self-publishing, image analysis, and collective learning processes. Each edition of Werker addresses a specific issue that has occurred in historical or contemporary times within the domain of labour. Werker operates using context, exploring different forms and strategies of interaction with a variety of audiences, such as fine arts academies members, museum visitors, neighbourhood dwellers, Internet users, etc.
Reserve your seat for the workshop by e-mailing [email protected] . Entrance to all the events is free. Screenings, discussions and the workshop will be held in English.
Project is partially funded by the Lithuanian council for culture and Stimuleringsfonds. Special thanks to Vilnius Academy of Arts.