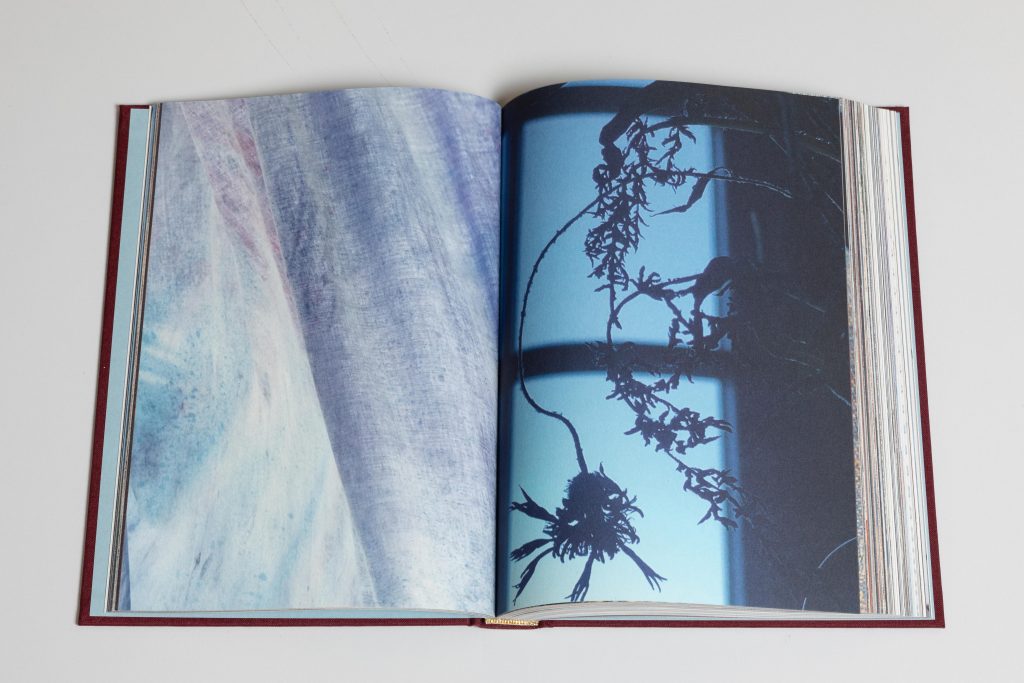 Tuesday, 6th June at 6 pm at the CAC Reading Room (Aušros vartų st. 5, entrance from Pasažas str.); please RSVP
As the artist Derek Jarman wrote: "it's diversity, it's individuality, and the way that one book opens another".
During this Reading in Conversation event/meeting we will open a book ANSKA by painter Agnė Juodvalkytė. By moving through the pages of this book we will share the written thoughts of other artists relating to Juodvalkytė's oeuvre, painting movements and everyday thinking. Gathered around one red snaky tongue you will meet Derek Jarman, Etel Adnan, Brad Feuerhelm, Morta Jonynaitė, Julija Matulytė, Nele Jackson, Joan Retallack, Lisa Robertson, Valentinas Antanavičius, Mark Rothko and Helen Frankenthaler, Lukas Mykolaitis, Ngoc Nau, Philippe Gerlach and and Agnė Juodvalkytė.
ABOUT THE BOOK ANSKA: Through photographs of the studio process and visual sketches the first publication ANSKA by artist Agnė Juodvalkytė offers an overview of the artist's studio practice from the past years while creating a sensory world of recollection. The book marks the conclusion of this cycle in her work.
The event will be in English and is open for everybody. Happening at the same time as Agnė Juodvalkytė's solo exhibition "Omen" at the Drifts gallery. The event is a search for alternative ways to present books and artist's practice, attempting to encourage an interplay between them. The aspiration being that these readings will create a conversation, and this conversation will create something else.
Reading in Conversation events are initiated and created by Marija Repšytė. It was previously presented at Hordaland art centre, Bergen (2014) and Bergen Kunsthall (2015).
MARIJA REPŠYTĖ is an artist operating in words, exhibitions and exhibitions' architectures. After studying painting at the Vilnius Academy of Arts, she received Fine Art bachelor and master degrees at Willem de Kooning academy and Bergen Academy of Art and Design. She has recently curated exhibitions "Timemaker" with Žilvinas Landzbergas in LNMA Pamarys gallery (2020) and Jurga Barilaitė's exhibition "Lines and Wrinkles. Dreams of Living and Delusions of the Dead" in Atletika gallery, Vilnius (2021). She is art editor of the magazine "Sphairos", published by Lithuanian Culture Research Institute and founder of art/artist's book publishing platform "12:15".
AGNĖ JUODVALKYTĖ is a visual artist currently based in Berlin and Vilnius. Her practice is focused on abstract painting and textiles mostly. She received a BA in Painting at the Vilnius Academy of Arts, Lithuania. Her recent shows include solo exhibitions at the Galerie Bernau, Blake & Vargas gallery in Berlin; group exhibition Sweet Dreams Foundation, Nida Art Colony in Lithuania; Pamario gallery in Juodkrantė, Lithuania; Enter Art Space in Aarhus, Denmark; AV17 gallery in Vilnius, Lithuania.
An event image is from Agnė Juodvalkytė's book ANSKA