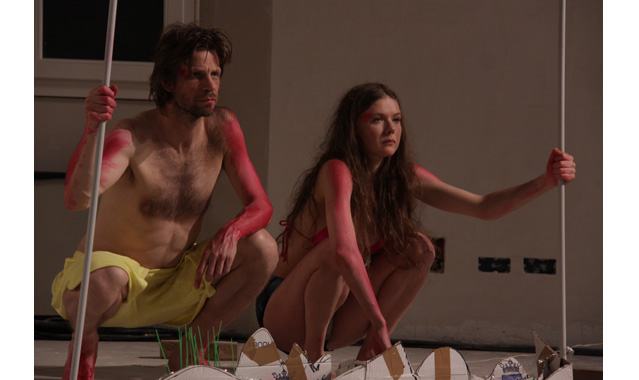 February 12 Saturday at 7 pm at the CAC
Ride the Wave Dude performs a drive to redefine central concepts such as crisis, representation, wild-life, city or success and the notion of starting from the beginning. To start from a place where nothing has been started implies a certain kind of risk management, where possible failure refers to reality-status rather than entertainment. RTWD is willing to take that risk and invites the spectator to share journeys in expression, thought and structure. One single issue is shared: the irreversible activation of decision. A decision that regulates liberty – that eliminates freedom – and gives up choice, in favor for an unconditional refusal to negotiate. Ride The Wave Dude understood as a mode of production is an absoutely blank wave, void of probability.
Krõõt Juurak has studied choreography at the Arnhem Institute for the Arts and visual arts at the Gerrit Rietveld Academy Amsterdam. Born in Tallinn, she currently lives and works in Vienna. She collaborates with the projects EVERYBODYS, Multiplex Fiction and Chicks on Speed. Is a choreographic coach at MA Fashion department of Elisava Design Academy Barcelona. Current projects include Autodomestication, Gate Hysteria with Pelican Avenue, scripts for smalltalk (Tanzquartier Wien), Naked Performers with Chicks on Speed.
Mårten Spångberg is a performance related artist living and working in Stockholm. His interests concern choreography in an expanded field, something that he has approached through experimental practices and creative process in multiplicity of formats and expressions. He has been active as performer and creator since 1994. With the architect Tor Lindstrand he initiated International Festival, an interdisciplinary practice merging architecture and choreography/performance. Since 2008 director for the MA program in choreography at the University of Dance in Stockholm.