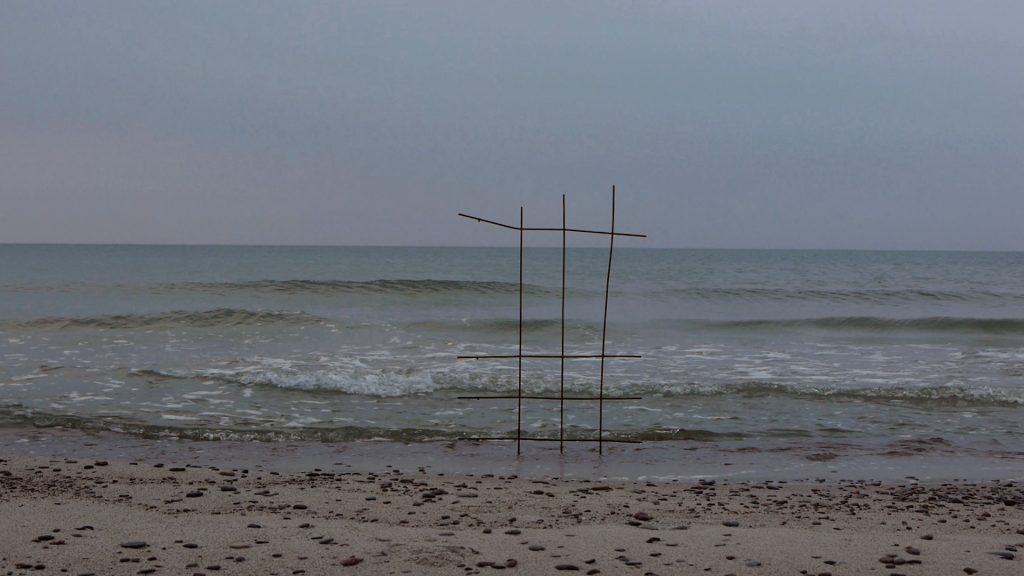 Wednesday 18 March, 6 pm at CAC Cinema Hall
'Listening in Context', 19 min., 2014, Latvia/Estonia, with English subtitles
In our persistent obsession with the image of our cities we often overlook them as audible environments. The film "Listening in Context" is a result of a project that investigates the intimate role sound plays in perception and the connections we make to our surroundings through what we hear. The project involves making 'portraits' of people in public space, encouraging them to become focused 'listeners' at specific places of their city, in this case Riga. Those who agree to stop and listen are filmed while they 'monitor' a recording and are then asked to make short comments about their experience. The resulting material is a series of personalized portraits of local listeners and their reflections on the audible perspectives of their environment.
'Curonia', 42 min., 2015, Lithuania/Estonia
'Curonia' takes us on an audio-visual journey through the landscape of coastal Lithuania using the ears of the author as our guide. The film explores the notion of how one can establish a relationship to a specific environment through an artistic process that involves multi-sensory interactions revolving around sound. Elements of natural environment and materials and objects found on location provide a rich palette for exploration through both passive observational and active engagement. This film continues the authors aim to forge a unique cinematic language that uses image to reinforce a primarily sonic driven "narrative".
The film 'Curonia' was created during two month artist's residency at the Nida Art Colony in November and December 2011. "During the residency I made daily excursions into the landscape to collect objects, research acoustic phenomena, create temporary installations that respond to the environment and carry our performative actions. By the end of the residency I collected enough recorded material to develop a film project. 'Curonia' took its initial form my previous film 'Sound Aspects of Material Elements' yet works with an editing style that reflects the environment and material I felt I captured."
Since the early 1990s John Grzinich works as a freelance artist and cultural coordinator of various artistic practices combining sound, image, site, and collaborative social structures. His primary interest is working with sound, combining such divergent methods as field recording, filmmaking, electro- acoustic composition, performance, spatial perception and acoustics, workshops and exercises in listening. He lives in Estonia and works as a program coordinator for MoKS, a nonprofit artist-run centre.
Filmography:
'Mimema' (2010, HDV, 23min)
'Sound Aspects of Material Elements' (2010, HDV, 57min)
'Listening in Context' (2014, HD, 23min)
'Curonia' (2014, HD, 42min)
Tomas Grunskis is a profesional an architect, lecturer and urban field researcher, who also creates sound and architectural installations. Tomas works and lives in Vilnius.