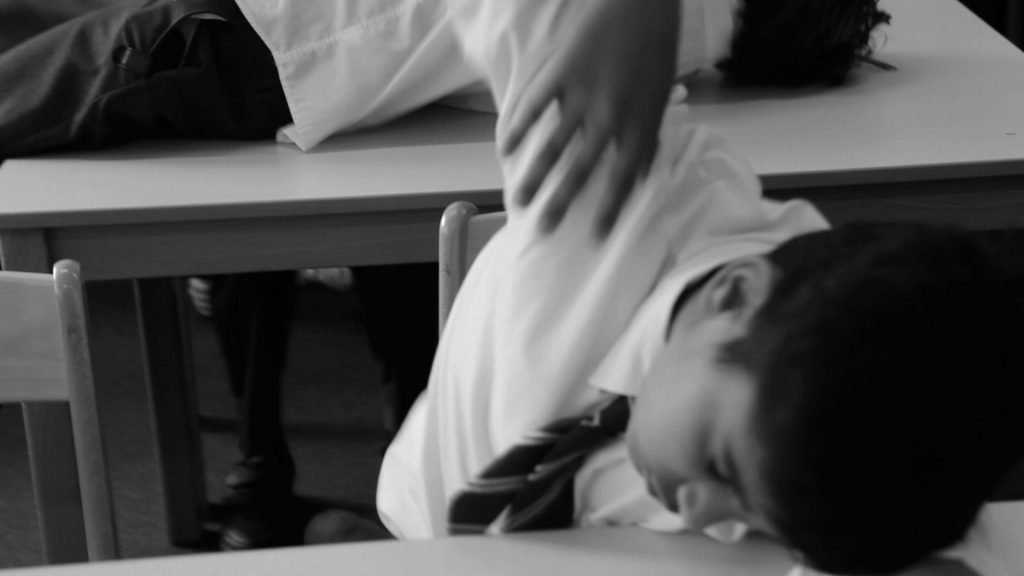 Thursday 19 May, 7pm at CAC Cinema
On the occasion of Eglė Budvytytė's solo exhibition Skateboard Prayer, or Head Below the Heart, the Contemporary Art Centre invites you to a screening of the artist's films at the CAC Cinema.
The films will be presented by the artist in company with the exhibition curator Rūta Junevičiūtė. The presentation will be held in Lithuanian. All films are in English without Lithuanian subtitles. The event is free of charge.
Leap, 2009, 05'50, HD video
The film features a community of half-birds, half-humans, who believe, that 'only thoughts reached by jumping have value' and who practice the escape from Google love by misusing the architectural surfaces.
Magicians, 2011, 05'56, HD video
Magicians is a short film featuring owls, old men, swamps and children. They all gather together in the narrative which, by using the logic of radical misreading of the urban surfaces, connects places and events that would not have met otherwise.
As if You Are Catching the Bomb, 2013, 16 min, HD video, collaboration with Bart Groenendaal
From the series of Psychomagic acts for the city: a badly injured victim manipulates bankers in a financial district to strike poses derived from recent popular revolts.
Shaking Children, 2013, 5'30, HD video, collaboration with Bart Groenendaal
From the series of Psychomagic acts for the city : shaking workshop for school children. Shaking is a technique for triggering a disobedience through the body. Shaking workshop is a symbolic proposition to transgress the grid of time and space and the mechanisms of social control which are present at school.
In the Absence of Miracles: the Twilight and the Loop, 2015–2016, approx. 35 min, HD video, collaboration with Bart Groenendaal
When a family, traveling by car, lose their way on the edge of the city, a series of unlikely events unfold: a man with a fish-mask joins them, sharing his apocalyptic vision; old people with masks of the faces of long-dead movie stars have a violent dance party around a bonfire and hallucinogenic plants block their way in a park at night, until two naked dancers, who supposedly know the way to a garage, come to demand water from them and end up stealing their car.
This is an absurdist road-movie with the structure of a fragmented myth, that carefully omits real dramatic build-up and instead forms a tongue- in-cheek comment on cinema itself, while at the same time being an homage to David Lynch, Jean-Luc Godard and Bertolt Brecht.
Eglė Budvytytė (b. 1982) creates performative and cinematographic situations in which she explores the body's ability to challenge conventions of conduct formed by public spaces. Authentic movement contrasts with the rational, homogenised layout of the city. Her work maneuvers between scripted and ordinary behaviour, and searches for unseen gaps where groups of unusual codified behaviour can be found. In resisting documentary (both the clichés of film language and the realities of the city or social groups born out of urban processes), she creates poetic commentaries through her films and events that defy the usual expectations of the audience, and reminds us that the potential for change lies in the imagination.
Eglė Budvytytė lives in Brussels and Amsterdam. In 2000–2004 she studied photography at Vilnius Academy of Arts and fine arts in 2006–2008 at Piet Zwart Institute, The Netherlands. She has recently exhibited her work at 11th Performance Project by LISTE, Art Fair Basel, Switzerland (2015); STUK Art Centre, Leuven, Belgium (2015); Sculpture International Rotterdam, The Netherlands (2015); Moderna Museet Malmö, Sweden (2014); 19thBiennale of Sydney, Australia (2014); Contemporary Art Centre, Ohio, United States (2014); Palais de Tokyo, Paris, France (2012) and Baltic Triennial of Contemporary Art in Vilnius.

Image: Eglė Budvytytė and Baart Groenendaal 'Shaking Children', 2013, film still.