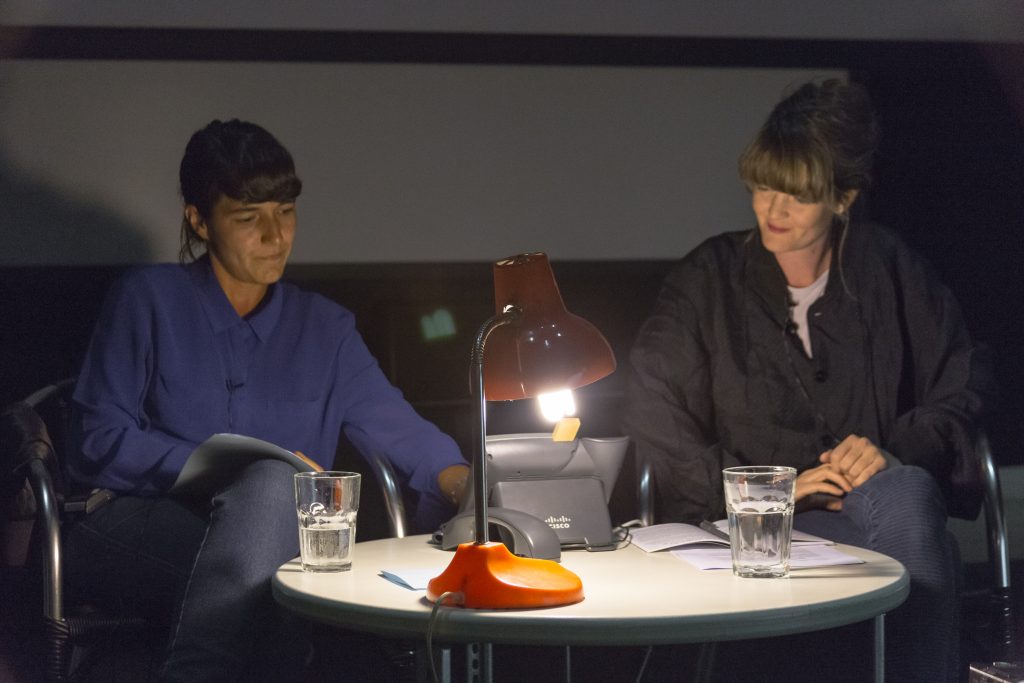 TWWWO Voice Archive is a growing archive of recorded phone conversations between the curators of The World in Which We Occur series, Margarida Mendes and Jennifer Teets, and an array of contemporary artists, scientists, philosophers, and scholars across disciplines. Developed for the XII Baltic Triennial, the archive continues to be accessible online and the series is intended to continue.
Embarking on modern day issues rooted in the history of materiality and flux, as well as pertinent politically enmeshed scientific affairs shaping our world today, the series' premise is one of interrogation and epistemic search. Loosely inspired by, and set in the legacy of hybrids growing out of artist James Lee Byars' 1969 project World Question Centre, The World in Which We Occur underlines the necessity for inquiry over an assertiveness of responses. 'Could you offer us a question that you feel is pertinent in regards to your own evolution of knowledge?' asks Byars at the end of the line. The World in Which We Occur unveils incentives or queries so as to generate further questions to build upon. It also aims to open up other areas of knowledge and speculation stemming from the core exercise of explicating one's relationship within the current state of nature, in an era of erratic climatic behaviours.
The speakers recorded in the five sessions are Nabil Ahmed, Carolina Caycedo, Cormac Cullinan, Ashlee Cunsolo Willox, Fran Gallardo, Lori Gruen, Clive Hamilton, Stefan Helmreich, Pedro Neves Marques, Barbara Orland, Joana Rafael, Rory Rowan, Jenna Sutela, Paulo Tavares and Etienne Turpin.
Each conversation took place over the telephone, and was formulated around questions addressed by speakers across the world. The sessions are always public; in case of the conversations included below, the recordings were made during public events at the CAC Cinema.
PROTOTYPE SESSION:
THE WORLD IN WHICH WE OCCUR
Speakers: Etienne Turpin, Nabil Ahmed, Rory Rowan
Recording: https://archive.org/details/TWWWOPrototype
Duration: 1h 11 min
Recorded on Saturday 29 November 2014, 12–14 pm
A prototype of the event was organised by the CAC as part of a likeminded series titled Pharmacokinetics of an Element in November 2014 (in the context of one of the pilot exhibitions of the XII Baltic Triennial, Prototypes). The event focused on the global climate change debate classifying our era and its wide ranging consequences.
Etienne Turpin is a philosopher studying, designing, curating, and writing about complex urban systems, political economies of data and infrastructure, visual culture and aesthetics, and Southeast Asian colonial-scientific history. He lives and works in Jakarta.
Nabil Ahmed is a researcher, writer and educator. He teaches at the School of Architecture, London Metropolitan University. He is co-founder and director of Call & Response, a sound arts organization based in London.
Rory Rowan is a postdoctoral researcher at the University of Zurich's Geography Department, where his current research focuses on the geopolitical and philosophical dimensions of the Anthropocene and earth systems management. He is co-author with Claudio Minca of the recent 'On Schmitt and Space' and contributes writing on art, philosophy and politics to a number of publications including e-Flux, Mute and Society & Space.
SESSION 1:
THE PHARMAKON
Speakers: Barbara Orland, Carolina Caycedo, Pedro Neves Marques
Recording: https://archive.org/details/TWWWOsession1
Duration: 1 hr 3 min
Recorded on Saturday 5 September 2015, 6:30–8pm
The body and the earth as a remedy and poison. How to heal the partition in the modern age and within our crisis with nature?
Barbara Orland is a historian of science, technology and medicine and Affiliated Senior Researcher at the History of Pharmacy Museum at the University of Basel, Switzerland. Her current research interests range from the history of the life sciences and biomedicine, for example, scientific concepts of fertilization and pregnancy, nutrition and metabolism, and biomaterials like blood and milk.
Carolina Caycedo is an artist whose practice questions economic, cultural and social values through bartering, the use and appropriation of rural and urban public space, and the construction of collaborative and collective critical discourse. As part of the movement Ríos Vivos Colombia she is researching the effects that hydroelectric dams have over natural and social geographies.
Pedro Neves Marques is a visual artist and writer. He is the editor of the anthology on 'Antropofagia', anthropology, and indigenous cosmologies in Brazil, 'The Forest and The School/ Where to Sit at the Dinner Table?' (Archive Books, and Akademie der Kunste der Welt, 2015) and the author of the short-story collection, 'The Integration Process' (Atlas Projectos, 2012).
SESSION 2:
MOLECULAR COLONIALISM IN THE REIGN OF MICROORGANISMS
Speakers: Stefan Helmreich, Fran Gallardo, Jenna Sutela
Recording: https://archive.org/details/TWWWOsession2
Duration: 45 min
Recorded on Sunday 6 September 2015, 6:30–8 pm
This session will inquire into how the study of organic networks helps redefine biological frontiers and reconceives our very notion of planetary scale. Waves, mud, and filtering organisms such as fungi, are examples of organic entities that register minor changes in our environment. Taking into consideration the behaviour of microorganisms as pivotal agents operating towards the mutation and evolution of living systems, we aim to think about the realm of molecular cartographies, and address their potential impact on bio and social structures. What are the limits of our instrumentalisation of scientific tools, representation regimes, and their impact upon our perception of life?
Stefan Helmreich is Elting E. Morison Professor of Anthropology at MIT. His research examines the works and lives of biologists thinking through the limits of "life" as a category of analysis.
Fran Gallardo is a cultural "thingker" and imaginative technologist whose work explores the interface between ecology, technology and society. He is currently leading the project Talking Dirty: Tasting mud, networks of organisms (including humans) and post-environmental politics at the Mouth of the Thames.
Jenna Sutela is an artist and writer whose recent projects explore the interrelations and breakdowns between body time, technological time and deep time, as well as related phenomena such as bio-inspired computing.
SESSION 3:
GRIEF AND CLIMATE CHANGE
Speakers: Clive Hamilton, Ashlee Cunsolo Willox, Lori Gruen
Recording: https://archive.org/details/TWWWOsession3
Duration: 1h 7 min
Recorded on Wednesday 9 September 2015, 1–2:30 pm
An investigation into the methodologies of approach to 'climate deniers' and their reasoning, as well as the flipside of grief: how to psychologically adapt to the repercussions of natural disasters today? This session identifies the psychological response in an era of global warming on both the climate denier side of the equation, as well as victims who have weathered a natural catastrophe and the effects thereafter. What is the mournable body beyond the human? Are non-human entities fellow vulnerable beings capable of our mourning? What kind of concerted political action exists for these beings?
Clive Hamilton is Professor of Public Ethics at Charles Sturt University in Canberra and the author of 'Requiem for a Species: Why We Resist the Truth About Climate Change'.
Ashlee Cunsolo Willox is a Canada Research Chair in Determinants of Healthy Communities and an Assistant Professor in the Departments of Nursing and Indigenous Studies at Cape Breton University in Unama'ki/Cape Breton, focusing on climate change and mental health, Indigenous health and cultural resurgence, and environmental mourning.
Lori Gruen is the William Griffin Professor of Philosophy at Wesleyan University in Connecticut where she is also Professor of Environmental Studies. She is the co-editor of 'Ecofeminism: Feminist Intersections with other Animals and the Earth'.
SESSION 4:
STATES OF RESERVE – THE LEGALITY OF INVISIBLE REGIMES
Speakers: Cormac Cullinan, Joana Rafael, Paulo Tavares
Recording: https://archive.org/details/TWWWOsession4
Duration: 1h 7 min
Recorded on Thursday 10 September 2015, 6:30–8 pm
This session investigates the impact of legal frameworks developed around the phenomena of territorial and resource fetishism, speculating on the interplay between physical and legal systems, and their impact over the debate of property and life. Inquiring into the influence of climatology and earth sciences on international affairs and the development of transparent policies, we aim to address new models of agency resulting from the dispute of biological domination.
Cormac Cullinan is a practising environmental lawyer in South Africa, the author of Wild Law and an active member of the Global Alliance for the Rights of Nature.
Joana Rafael is an architect and a theorist with a PhD from Goldsmiths, University of London. Her work spans the disciplinary boundaries of architectural practice and theory, science and technology studies, ecological thought and political philosophy. Current research investigates crises of the Earth and Architecture through acts of reservation, built on techniques that address and assemble different variables of an end condition.
Paulo Tavares (Quito/London) is architect and urbanist. Recent projects deal with the relations between environmental violence and law in the case of the internal armed conflict in Guatemala and the colonisation of the Amazon during the military dictatorship in Brazil.
—
Jennifer Teets is a curator, writer, and researcher based in Paris, France. Her research and writing combines inquiry, sciences studies, philosophy, and ficto-critique, and performs as an interrogative springboard for her curatorial practice.
Margarida Mendes is a researcher, curator and cultural instigator based in Lisbon. She has directed the project space The Barber Shop, where she hosts a programme of seminars and residencies dedicated to artistic and philosophical research since 2009.
XII Baltic Triennial is curated by Virginija Januškevičiūtė.
Photograph above is by Andrej Vasilenko.