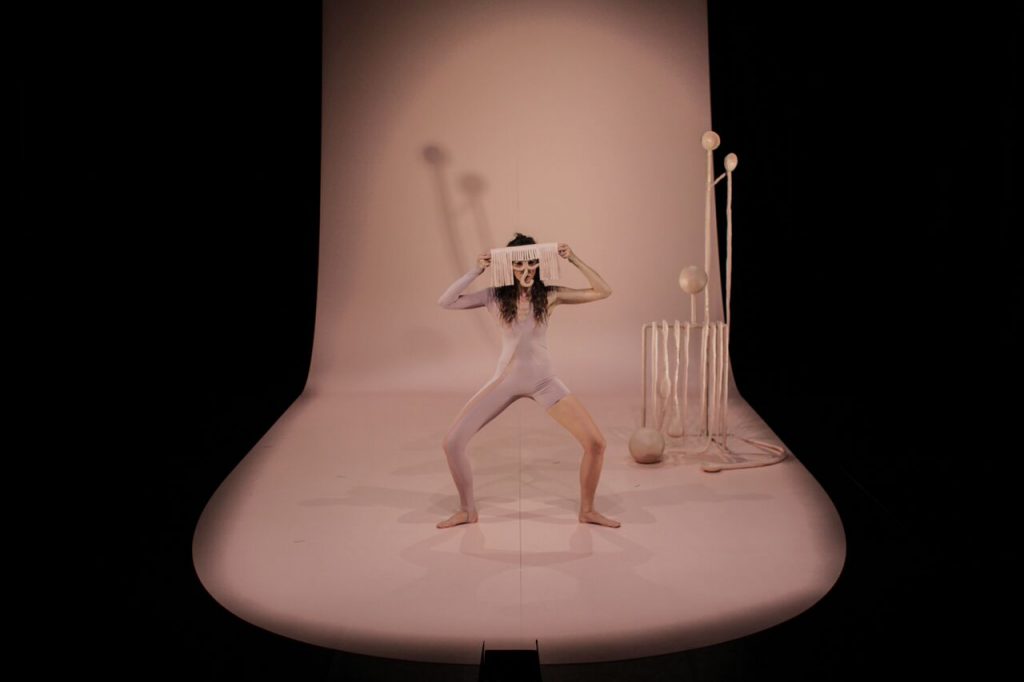 The piece will only be shown once at 7pm on 4 June 2016, at the Black Room of Arts Printing House (Šiltadaržio Str. 6, Vilnius, entrance from the back yard)
The tickets are available at the front desk of Contemporary Art Centre (Vokiečių Str.2, Vilnius) and at the venue on the day of the performance. Ticket price: 4,64 euro.
Contemporary Art Centre presents the Lithuanian premiere of a new solo piece by New York based artist Ieva Misevičiūtė. This is Contemporary Art Centre's first production in the frame of Corpus international network. Its European premiere took place at Playground performance festival in Belgium in the autumn of 2015, and US premiere was shown at the legendary New York venue dedicated to a variety of disciplines and forms of art, The Kitchen. In the meantime, just a few weeks ago Vilnius audience had an opportunity to see one of Misevičiūtė's earlier solo pieces, Lord of Beef, at the new Baltic Dance Festival'16.
Tongue PhD by Ieva Misevičiūtė is an eclectic stage performance structured in the format of a PhD dissertation. Its ten chapters each investigate a different metaphoric lens of the tongue.
Contemporary art critic and curator Natalia Valencia wrote in the French magazine 'Crash' in December 2015: "A practicing clown in her youth, and later trained in various techniques such as Butoh, physical theater, dance, stand-up and every imaginable in-between, Misevičiūtė's acts distort social characters and behaviours by imbuing them with animality, existential contortions, philosophical slapstick, and hallucinogenic cleverness." The article appeared in the column "10 Up and Coming Artists From The Americas"; that same year the leading international art magazine 'Artforum' listed Misevičiūtė in the performance chapter of 'Best of 2015'.
"The tongue bares the memory of the animal, the instinctual, but also is the main tool with which we express our humanness," read presentation of the piece in the programme of Playground festival. "Ieva Misevičiūtė, Master in Political Science, Master in Cultural Analysis, will finally get her PhD, in one hour, right in front of you, granted by her tongue!"
Ieva Misevičiūtė (b. 1982) is a New York based performance artist mainly showing in visual arts and theatre. According to the artist, PhD dissertation defence is one of the most exciting performances of the academic world. Today the geography of her appearances is wide; she has performed in such venues as MoMA PS1 and The Kitchen and New York, as well as New York's Performa 09; Time-Based Art Festival, Portland; Beursschouwburg theater, Brussels; dOCUMENTA (13), Kassel; de Appel Art Center, Amsterdam; Center Pompidou, Paris; Swiss Sculpture Exhibition Biel-Bienne, Le Mouvement: Performing the City, and more.
Concept, text, choreography and stage design: Ieva Misevičiūtė
Artistic advisor, Outside eye, Butoh training and Movement development: Vangeline
Producers and coordinators: Monika Lipšic and Maaike Gouwenberg
Light design: Eugenijus Sabaliauskas
Sound composer: Gediminas Žygus
Music: Gediminas Žygus, Sebastian Butt and Charlie Murray
Costume: threeASFOUR
Script co-writer: Michael Portnoy
Scenography development: Arts Centre Buda
Duration: 1 hour
Tongue PhD is commissioned and produced by Contemporary Art Centre (Vilnius) and co-produced by Playground (STUK Kunstencentrum & M-Museum, Leuven) as part of Corpus, network for performance practice. Corpus is Bulegoa z/b (Bilbao), CAC (Vilnius), KW (Berlin), If I Can't Dance (Amsterdam), Playground (STUK & M, Leuven), and Tate Modern (London).
Corpus is co-funded by the Creative Europe Programme of the European Union.
Tongue PhD is co-funded by the Lithuanian Council for Culture.