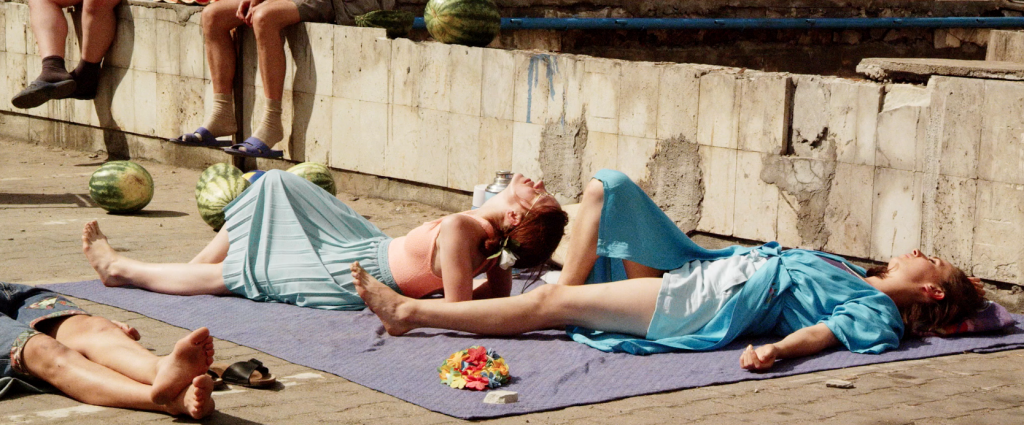 CAC Cinema Hall
18 & 23 September 2018
screening programme of young Lithuanian female directors
The intersection of film and contemporary art forms a solar image of the future. Typing the Future presents a selection of films by four emerging Lithuanian filmmakers, which, while produced in different countries, share a similar cinematic language and subject matter: long, slow shots and contemplation of a near future in which relations between humans and non-humans are seen as transfigured or questioned. Thus, the program introduces such topics as different narratives on global warming: an examination of the rapid changing of the Earth's present condition and its reciprocal relationship with oppressive military structures; the study of present economy, the seduction of low cost entertainment, the politics of desire and the surreal fantasies that follow. It is an open invitation to discuss the way the structures of the past transform into a future which we are seeing today.
Typing the Future Programme:
Gerda Krutaja, All is Nature, 2016, 20:00
Gerda Paliušytė, A Desire for Things to Work, 2016, 12:26
Emilija Škarnulytė, Sirenomelia, 2017, 12:04
Jurga Zabukaitė, Une chambre á soi, 2016, 23:10
Screening times:
Tuesday, September 18 at 6 pm at the CAC Cinema Hall
(with an introduction by artist Gerda Paliušytė and film historian Lina Kaminskaitė-Jančorienė)
Sunday, September 23 at 6 pm at the CAC Cinema Hall
Gerda Krutaja
All is Nature, 2016, 20:00
Elderly, bald, reserved – one of those characters in one of those Eastern European towns. Nothing too peculiar about him. But his wife becomes suspicious. Perhaps the neighbours would notice it too. Were they not permanently glued to their TV screens, they would notice the outcomes of his secret plan – a personal mission against Nature. In fact, precisely the kind of Nature advertised on TV and eco-packages. The Nature of everybody's dreams.

Gerda Paliušytė
A Desire for Things to Work, 2016, 12:26
An essay film on contemporary flāneurship that follows a one-night trip through Amsterdam, a city famous for its low-cost entertainment. As the city appears to be empty, the flāneur – an unidentified non-human traveller – explores the city's nocturnal architecture, which is reminiscent of the pre-given desires and different forms of seduction that embrace us all. Accompanied by pre-recorded voices of phone-sex operators, the trip is dedicated to the libidinal economy and the escaped fantasies that emerge from it.
Emilija Škarnulytė
Sirenomelia, 2017, 12:04
A woman born with so-called mermaid syndrome investigates a Cold War Arctic submarine base. The location opens to the cosmos, listening to the earth and to the sounds of quasars. Sirenomelia exposes a future liberated from the military and economic structures that oppress the present; a future in which relations between humans and nonhumans have been transfigured; a future in which the cosmic dimension of earthly coexistence is woven into the texture of the social. "In the words of philosopher Timothy Morton, 'We're all mermaids already, we just don't know it yet'".
Jurga Zabukaitė
Une chambre á soi, 2016, 23:10
A tribute to Virginia Woolf's poetic vision that elevates the ordinary, the everyday routine into virtual meetings: two characters meet online and their reality opens as a fantasy, an erotic, artistic symptom, a research into their desires and projections which culminates when they meet for real. This film is suspended in the tension between imagination and reality, in which a loss becomes a gain.
Jurga Zabukaitė (born in Vilnius, Lithuania, lives and works in Paris) is a Lithuanian film artist and curator. In 2012, she completed her post-graduate studies in École Européenne Supérieure de L'image in Poitiers, France. In 2014 she took part in Filmfactory, Sarajevo, Bosnia and Herzegovina, founded by film director Béla Tarr, whom she currently assists on retrospectives in Lima and Buenos Aires, and whose documentary, based on his first theatre piece, she is developing. Jurga works exclusively in film, shooting on a variety of film stock, including 8 mm, 16 mm, digital video, and HD video. Her creations are distributed throughout alternative spaces, galleries and festivals across the globe, with soundtracks conceived specifically in cooperation with different dark new wave musicians and moody DJs. These are atmospheric narratives with ambiguous and unresolved storylines, revolving around the complex interrelations between sexuality, love and architecture, and transgressing conventional representations of femininity. Her most recent film, Une Chambre a Soi, is distributed by l'Agence du court métrage and will be shown at Palais de Tokyo in Paris, France, 2018.
Lina Kaminskaitė Jančorienė is a cinema and media historian, a coauthor of two books, associate professor of film studies at Lithuanian Academy of Music and Theatre, media research project curator at NGO Meno avilys (Hive of Arts), postdoctoral fellow at Lithuanian Culture Research Institute. Her following research projects "Women in Lithuanian film industry" (Meno avilys) and "Cinema and Baltic Societies" (LCRI).
Gerda Paliušytė is a Lithuanian video artist and curator currently living in Vilnius. Her last projects include The Road Movie, a documentary film that has been commissioned by XII Baltic triennial in 2015, more not yet – an ongoing series of exhibition documentaries and the latest film A Desire For Things To Work that maps the voices of the phone sex workers in Amsterdam. Since 2016, Paliušytė have been researching the longevity of the TV series The Wire and its social and cultural impact in today's Baltimore. She is now working on her new film, based on her thesis project at the Amsterdam University: "The Wired Pessimism: Baltimore, Blackness and Utopian Imagination" .
Free entrance. The conversation before the screening on 18 September will be held in Lithuanian.
Image: A still from Gerda Krutaja's All is Nature, 2016.