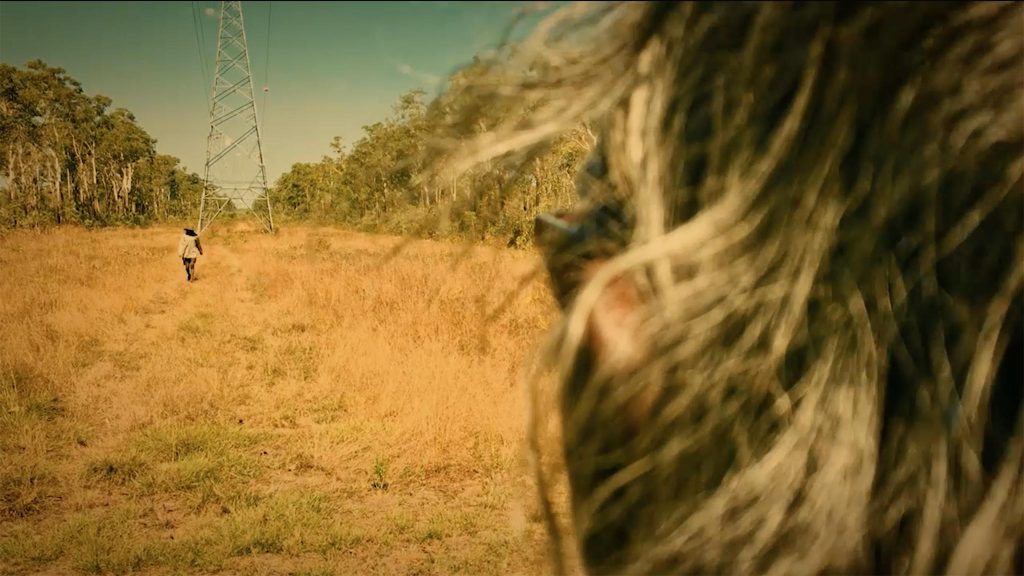 KARRABING FILM COLLECTIVE is an indigenous media group formed by approximately 30 members, most of whom are based in the Northern Territories of Australia. Initiated in 2008 as a form of grassroots activism, they approach filmmaking as a mode of self-organisation and a means of investigating contemporary social conditions of inequality. With their films and installations, the collective exposes the long shadow and different shapes cast by colonial power.
THE MERMAIDS, OR AIDEN IN WONDERLAND, 27', 2018
In the not so distant future, Europeans can no longer survive for long periods outdoors in a land and seascape poisoned by capitalism, but Indigenous people seem able to. A young Indigenous man, Aiden, taken away when he was just a baby to be a part of a medical experiment to save the white race, is released into the world of his family. As he travels with his father and brother across the landscape he confronts two possible futures and pasts.
NIGHT TIME GO, 31', 2017
On September 19, 1943, a group of Karrabing ancestors escaped from a war internment camp and walked over 300 kilometers back to their coastal homelands in Northern Australia. Night Time Go is an exploration of the settler state's attempt to remove Indigenous people from their lands during the Second World War using truck, train and rifle and the refusal of the Karrabing ancestors to be detained. The film begins by adhering closely to the actual historical details of this ancestral journey but slowly turns to an alternative history in which the group inspires a general Indigenous insurrection driving out settlers from the Top End of Australia. Mixing drama and humor, history and satire, Night Time Go pushes subaltern history beyond the bounds of settler propriety.
DAY IN THE LIFE, 32', 2020
Day in the Life explores the ordinary obstacles Indigenous families face as they move through an ordinary day. Across five chapters –– Breakfast, Playtime, Lunch Break, Cocktail Hour and Dinner Time –– and a audioscape directed by its younger members, Day in the Life is a visual and sonic landscape that dramatises and satirises the settler forms of governance and extractive capitalism that Karrabing members encounter over the course of a day.