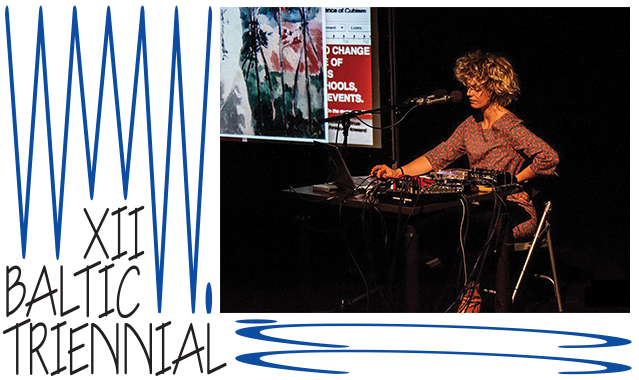 Friday, September 4 at around 7pm
(part of the opening programme of the XII Baltic Triennial)
Be as It May (2014) is a lecture, in songs. It analyses an impressionist canvas titled Sisters by Kazimir Malevich, dated 1910 by the artist but actually executed in the late twenties. Unsatisfied with art history's account of Malevich's overall gesture of predating many of his late works, Perrine Bailleux analyses Sisters and venture into its conceptual depths.
Being more of a theory art piece than a lecture of art theory, Be as It May exposes in music and images the plausibility of a late figurative Suprematist oeuvre by Malevich about Time.
"We are dreaming of something else. It is something that we cannot quite remember, cannot exactly phrase in words that you will be able to read and understand. But we ask each other, are dreams for other people to understand? Partial memories leading to improper questions… Like all points of departure, when one, in this case two, sit down to write about the paintings of Kazimir Malevich, the beginning is a place where clarity is always close at hand. It is not, however, clear where the beginning will lead, how it will continue, or even if that initial clarity was actually there. The thereness of clarity… something like this dream envisioning fields, vast fields, and sky, more sky than you can imagine. The absence of places and the prominence of ideas drifting above the fields, held below the sky, just in reach of the probing, leaping and keeping gaze of minds that want to know only what pictures will permit.
If an anecdote about the complexity of the paintings of Kazimir Malevich could contain in condensed, enigmatic fashion the wealth of thinking they incite, then _ if you believe in such stories _ then indeed, it would be told. But no such anecdote is available to the authors at the present time. And because of this deficiency, we must take a longer path _ an approach which is dense, involved, and at times leads into unknown territory."
Extracted from Kazimir Malevich: The Climax of Disclosure by Rainer Crone and David Moo, 1991
Perrine Bailleux is a French artist whose practice ranges from music and song-writing to performance, lectures, teaching and writing. Since 2007, she's been developing Perrine en morceaux, a difficult pop solo music project which has been touring all around Europe and gave birth to two albums. She is now leading her song-writing towards the direction of what she enjoys calling 'theory art', an art practice in theory making. Besides Be As It May, she contributed to the programme of the XII Baltic Triennial with the series of workshops on breathing and voice, Your Voice Doesn't Need You. The first workshop will take place on Saturday, September 5 at 4 pm.
Perrine Bailleux is based in Performing Arts Forum (PAF, St-Erme, France).
http://perrinebailleux.tumblr.com/
www.perrinenmorceaux.com