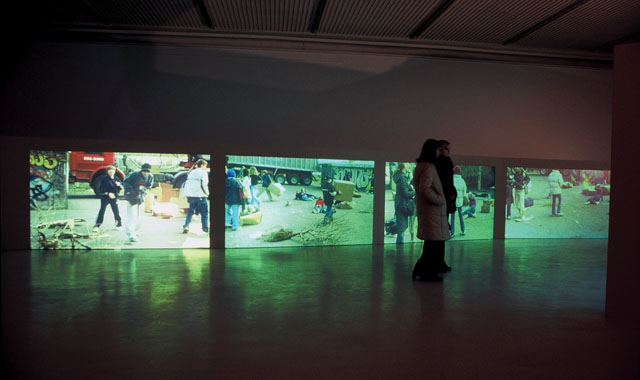 Aernout Mik:
The Contemporary Art Centre presents Aernout Mik, the leading figure of the video art scene. Born in Groningen, the Netherlands, in 1962, Aernout Mik lives and works in Amsterdam. Since 1987, he has been presented in solo exhibitions throughout Europe including Institute of Contemporary Arts, London and Van Abbemuseum in Eindhoven, the Netherlands. Mik has even twice represented the Netherlands at the Venice Biennale, participated in the Biennales of Berlin, Yokohama and Sao Paulo.
Project in Vilnius:
The exhibition in Vilnius is one of the largest presentations of Mik's work, both in scale and in the range of the artist's videos shown. For this show, the Aernout Mik will create a video installation, constructing an impressive architectural environment for the 1000 square metres of the Main CAC Hall.
Aernout Mik's presentation in Vilnius will consist of four video works, presented on seven different size back-screen projections. The huge architectural setting will take the form of an asymmetric room, shaped by the organically curved and bent walls, with the inside space being left for the spectator. Constantly changing light conditions will present Mik's first effort to include light in his compositions.
Apart from the two older works – 3 laughing and 4 crying (1998) and Middlemen (2001), in Vilnius Aernout Mik will introduce his brand new pieces Park and Zone (2002). All the works circle around a certain ecstatic and mute despair, thus creating a combination of different dynamics of the same theme.
In his thematically and stylistically consistent compositions of video and architectural settings, Aernout Mik focuses on the human behavioral patterns. His meticulously staged videos depict the humdrum of everyday situations. However, Mik has made them very strange by distorting the normal space and filling it with groups of people, deprived of any interaction and of any cause, whose behaviour is inexplicable. The artist distorts both physiological and social codes, deviating from the settled structures of the cultural common sense.
Mik researches this topic while interrogating the organisation and the use of space, both the produced space of his videos and the 'natural' space of the spectator. By choreographically twisting the ordinary human mechanics, and visually enlarging the produced pictures and approximating them to the spectator, the artist confuses sensations and draws into his odd situations, these needless repetitions with no reasonable meaning, no beginning and no end; thus examining the dynamics of the social, political and aesthetic relationships of the everyday.