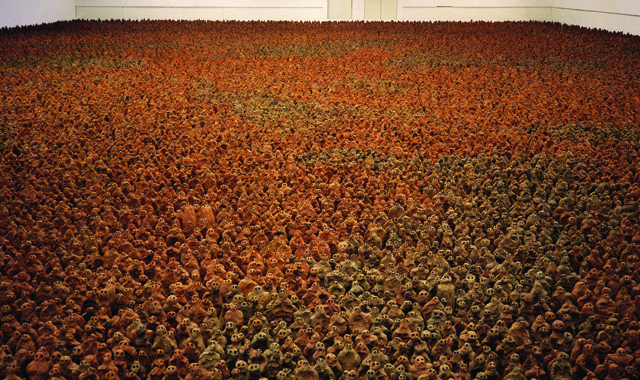 Organisers:
The British Council Baltic States,
Contemporary Art Centre
Antony Gormley belongs to the middle generation of British sculptors and already before creating Field was widely recognised on the international art scene. He was born in 1950 in London. Between 1968 to 1970 he studied archaeology, anthropology and art history at the Trinity College in Cambridge. Later, having spent three years in India, Gormley studied sculpture in various London art schools for six years. He lives and works in London.
Field is a work that brought fame for Gormley. In this work the sculptor continues his interpretation of the human figure, which has always been the main motif of his sculptures. The spectator visiting the large hall of CAC that accommodated this installation was met by 35 thousand hand-sized clay human figures. Their look was directed to the audience and created, in the sculptor's words, the all-subsuming 'eye landscape'.
One of the main ideas asserted by the installation, according to the artist, was the 'globalisation of culture'. Reacting to Stephen Bann's remark that Field was reminiscent of the Last Judgement, Gormley asked: 'But who is being judged?'