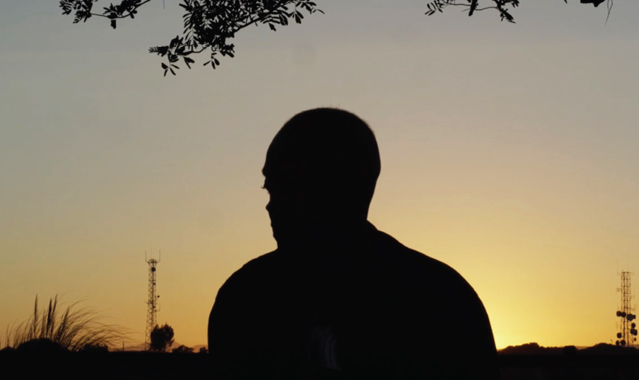 Arthur Jafa was born in 1960 in Mississippi, U.S. After studying in Washington D.C., and living in New York for a long time, Jafa moved to Los Angeles a few years ago. In his creative process, the artist explores painful issues of racial politics and identity. The core of his work are various cultural phenomena, beliefs, and power dynamics formed on a racial basis in the public sphere and pop culture.
Having studied architecture and worked in the film industry for many years, Jafa became world-famous quite suddenly – right after the release of his 2016 film Love Is the Message, The Message Is Death. The soundtrack of this short film is dominated by American pop culture icon Kanye West's hip-hop song Ultralight Beam, inspired by the gospel tradition. Just a few minutes long, the film immerses the viewer in an impressive collage of archival video and sound recordings (from TV and cinema, police cameras, the artist's personal recordings, etc.), created, according to the artist, by drawing "power, beauty, and alienation" from Black music. In 2019, Jafa won the Golden Lion at the Venice Biennale for his film The White Album (2018) presented at the Biennale's main exhibition. One of the artist's most recent works, created in July 2020, is a music video for Kanye West's song Wash Us in the Blood. Just like many other music clips created by Jafa, multiple interviews and conversations with the artist can be found online.
Arthur Jafa's work is influenced and surrounded by the affect enriched contemporary pop culture. His works can be recognized by a uniquely compelling and suggestive touch. In order to maximize the potential of his works, the artist never shows his films in film screenings – they are presented in exhibitions as video installations, where the viewer can look at them for as long as they need. These films are designed and shown in constant repetition, thus responding to the economics of pop culture cravings and the words of James Baldwin, a U.S. writer and chronicler of African American culture who claimed that African American history must be told over and over again, relentlessly. The daily repetition of the films in the exhibition allows the viewer to immerse themselves in a stream of strong impressions, and then return to it again.
"This shit is really really deep," says artist Wangechi Mutu, one of Arthur Jafa's interviewees in his film Dreams Are Colder Than Death (2013). "America doesn't feel that scary. It is scary, but it doesn't feel that scary, and I think that's actually the problem. So the things that are really frightening here are huge, but they are made not to feel that way, so people kind of linger. It stops you from understanding that this shit is really really deep."
The film slowly and patiently tries to answer the question of what it means to be Black in the 21st century. Hyper-realistic images of the sun or other celestial bodies freeze on the screen once in a while – a common yet always unexpected motif recurring throughout Jafa's work. Astrological imagery represents "the proper scale in which to consider Black Americans' lives. Our shit is some epic shit. It's on this level. That's how we should appreciate it, try to comprehend it, apprehend it," the artist has said in a conversation with Greg Tate.
In his interviews, Jafa often talks about how violence, which in his films is constantly testified, alluded to, and documented, as not so much a creative strategy but a given that is inevitable when it comes to discussing African American culture. "What they do to Black people … and what we turn it into" – that is perhaps the main subject of the artist's work. "They beat us – we turn it into art." In one of Jafa's films, a shot of just a few seconds depicts a black man performing a kind of uncontrollable movement on the dance floor, very similar to what is seen in filmed testimonies of police brutality. "It looks like falling, it is falling, but more than anything it's about falling. It's an essay on falling. It's a profound dissertation on falling," the artist comments.
Jafa's film akingdoncomethas could also be called a dissertation about communal rites of music and religion born of violence, pain, and resistance – an ecstatic gospel culture with no single author or one addressee. This film is also full of constant falling and rising. Each jazz solo is an emanation, says the artist, referring to Fred Moten's proposed way to talk about sound: it's "an ascending, a solar flare: it's a singularity, but it's clearly not disconnected from the Sun." Jazz, gospels, twerking, intimate family moments – everything is as great as anything, nothing is low, everything is the Sun.
Jafa's films have a very clear and impactful political charge, but the artist does not call himself an activist – rather he is an alchemist who creates differences that may not even exist yet. His films embody the complexity of the African American experience and culture, but in a broader sense it is also a critique of Western civilization, destroying and impoverishing the planet and humanity. "I suspect that we are being quarantined on Earth, until to some respect we as a species have grown to the point that we have some sort of collective capacity to process the other. And until we do, we will be isolated. … [But after,] all the galaxies will be open to us."
The text uses excerpts from Arthur Jafa's conversations with bell hooks, Carrie Scott and Greg Tate.
Films in the exhibition: Akingdoncomethas, 2018, 100', and Dreams Are Colder Than Death, 2013, 52'. Courtesy Gavin Brown Entreprise