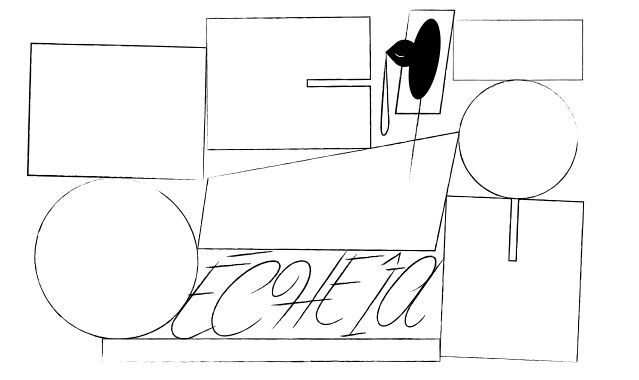 The Contemporary Art Centre is proud to present Ēcheîa, a sound installation by the composer and sound artist Arturas Bumšteinas. It is the artist's first show at the institution in which a considerable portion of his artistic career started in 2002 and continued back and forth to this day. In a way, his practice has been situated in-between the fields of contemporary art and music ever since – one can often hear people talking about shows that Bumšteinas participates in as being works of a musician, and yet he employs pure sound, composing it in the manner of a conceptual artist. Therefore, the show addresses a very specific set of questions, such as: "How does sound function as sculpture?"; or "Is the fate of sound pieces necessarily confined to a box called a "speaker"?"; or "How do we greet a viewer, so reliant on her eyes, with a piece of sound that cannot be grasped all at once? Considering that time is money, is it a justified expense?"; or "How do we tell a manifold and non-linear story if time is continuous and flows in only one direction? And which one is it?".
For the show Arturas Bumšteinas has invited five sound enthusiasts and audiophiles – Gitis Bertulis, Antanas Dombrovskis, Ričardas Dubaka, Rytis Urbanskas and KALA Soundsystem – to design a speaker each. The speaker itself is not a complete work, but rather a part of a bigger, even if hypothetical, sound system: one is tweeting with nothing beneath it, the other buzzing like dancing bees, the third one is bassy like the cheeks of Balzac and the fourth – a middle-man, a clerk who knows what the others possess and how to tinker with that; I forgot about the fifth, but can feel it piercing through my bones.
The artist considers these speakers as birdhouses that are yet to be inhabited with sound. But there is a lot more that they could fit. Each engineer has provided the artist with pieces of sound, usually recorded or gathered by themselves, corresponding to the speakers. Using these samples, Arturas Bumšteinas composed a specific audio track, which can be played only through its corresponding speaker, turning it into a sound sculpture. These sculptures, collaborative pieces in their own right, become a chorus when combined, interacting with and complementing each other and turning the room into a vessel of amplified and resonating sound: echeia.
As a result, the sound-emitting speakers in the show turn not only into mouths, but also ears, allowing the listener to experience and participate in a carefully crafted acoustic experience, mediated by the work of the aforementioned artisans, the artist and the listener herself.
Arturas Bumšteinas is a composer/sound artist working in the fields of electro-acoustic and instrumental music, radio art, installations and experimental electronic music (under the pseudonym Refusenik). He is the founding member of Quartet Twentytwentyone, Works & Days, Zarasai and Wolumen ensembles. Since the year 2000 he has collaborated with many international musicians and artists. His interdisciplinary projects were presented in dozens of events around Europe. Festivals where his music and art projects were showcased include The Holland Festival, Sensoralia / Romaeuropa, Angelica, Vilnius Jazz, Kody, Skanumezs, Cut & Splice, amongst others. His music is published by labels such as Bolt, Cronica, Unsounds, Con-v, Sangoplasmo and others. In the year 2013 he was awarded the "Palma Ars Acustica" prize for radiophonic arts. Bumšteinas is selected as an artist-in-residence at DAAD Berliner Kuenstlerprogramm for the year 2017.
ESTONIA. A SERIES OF EVENTS
On the occasion of the show the artist has curated a series of events called Estonia, referring to a piano of this brand, which has been standing in the premises of the CAC since its foundation.
Friday 17 November at 7pm Maya Dunietz (Israel)
Maya Dunietz is a composer, performer and sound artist performing internationally for the past 20 years. She investigates the interconnections between music, visual art, performance, technological research and philosophy. Her works are commissioned by renowned performers and ensembles and she has created site-specific sound performance works for institutions such as Palais de Tokyo Paris, Arnolfini Gallery Bristol, Reykjavik Arts festival and many more. In 2015 she was guest professor at CALArts LA, as part of the Schusterman residence program. Dunietz received the Prime Minister Composers award in 2015.
Saturday 18 November at 8pm Rie Nakajima (Japan)
Rie Nakajima is a Japanese artist working with installations and performances that produce sound. Her works are most often composed in direct response to unique architectural spaces using a combination of kinetic devices and found objects. She has exhibited and performed widely both in the UK and overseas and has produced Sculpture with David Toop since 2013. With Keiko Yamamoto she has a music project O YAMA O which explores music with no genre. She also has a collaborative project Dead Plants/Living Objects with Pierre Berthet.
Sunday 19 November from 12am to 5pm Gailė Griciūtė (Lithuania)
Gailė Griciūtė is a composer, sound artist and improviser. She graduated from The Sibelius Music Academy in Helsinki, Finland in 2011 and Lithuanian Academy of Music and Theatre in 2015, and participated as a guest student at Douglas Gordon's film class at the Städelschule in Frankfurt am Main in 2014. Griciūtė is a member of an art collective Technologies of Non|Self. Their works were shown in Frankfurt, Chicago and Hanoi. Festivals and concert series where Gailė Griciūtė's music, art projects and performances have been presented include: Ahead, Jauna Muzika, Soundscape, Counterflows, Sound Art Festival, Unsound and Labor Sonor.
Sunday 19 November at 8pm Sven-Åke Johansson and Theresa Iten (Germany)
Sven-Åke Johansson works as a composer and musician, poet and visual artist, writer and initiator of several music and performance art productions, exhibitions and publications. A major stylistic forerunner within improvisational music, he developed a European form of freejazz in the 60s and, together with Norbert Eisbrenner and Werner Goetz, established M.N.D. (Moderne Nordeuropäische Dorfmusik) in 1969. Johansson is also engaged as an actor in the Burgtheater Vienna and performs as a singer and narrator.
Teresa Iten studied at the School of Design in Zürich and the Akademie der Bildenden Künste in Munich. She lives in Berlin and works with photography, graphic design, and video.
Daily warm-up will be performed by Ivan Cheng (Australia)
Ivan Cheng is an Australian curator and artist whose practice focuses on modes of reading, often gesturing toward systems of power and reproduction. He also works as a performer, clarinettist, and dramaturg in multiple contexts, specialising in contemporary scores. He recently completed an MFA in Critical Studies (Sandberg Instituut), having previously studied at the Royal Academy of Music and Sydney Conservatorium of Music. Text-based performances have been presented in Sydney, London, Amsterdam, Tokyo, Berlin and New York. He recently worked on Bad Weather with Arturas Bumšteinas at Krakow's Cricoteka, and initiates project space bologna.cc in Amsterdam.