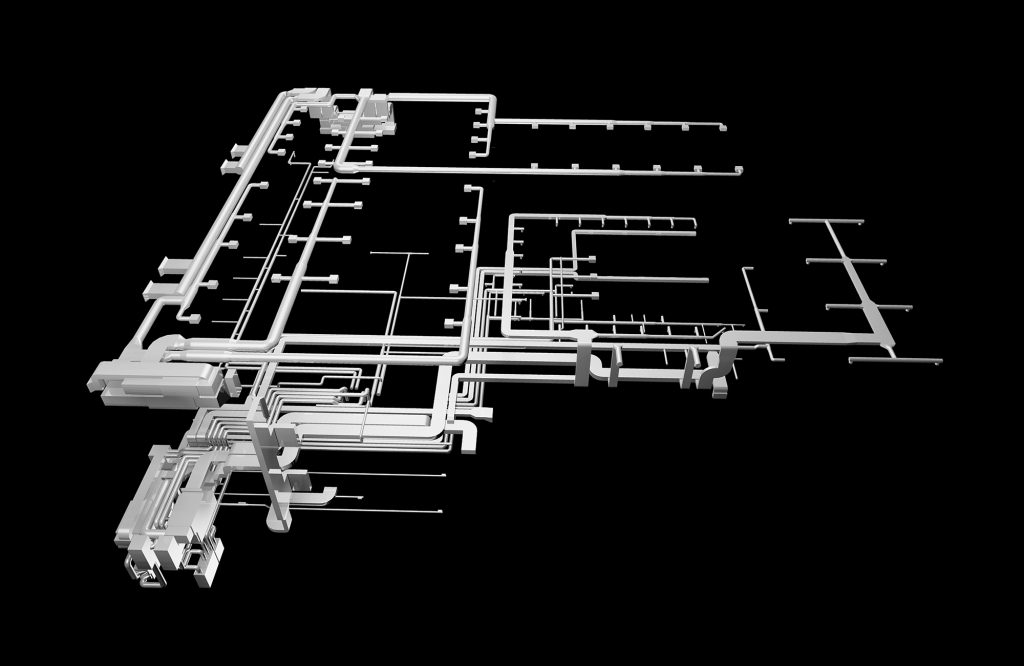 On 13-15 October, the contemporary art fair ArtVilnius'23 took place at the Lithuanian Exhibition and Congress Centre LITEXPO (Laisvės Ave. 5, Vilnius). In addition to the main programme of exhibitions organised by multiple art galleries, the event featured the Project Zone curated by Valentinas Klimašauskas, where the Contemporary Art Centre (CAC) presented the installation VAC by artist and architect Audrius Bučas.
Built in 1967 in the heart of Vilnius Old Town, the Art Exhibition Palace (the Contemporary Art Centre since 1992) is undergoing renovation. In progress for the second year now, the overhaul is taking care of improving the building's energy efficiency, replacing engineering networks, and carrying out other repairs or reconstruction works to ensure a full-fledged functioning of the art institution. During this period, the Contemporary Art Centre is going through a certain recreation – a process of total recovery and renewal, involving both the physical body (the building, the technical base) and the methods/programme of operation.
Audrius Bučas's installation VAC is the first hint of the CAC's return. According to the institution's director Kęstutis Kuizinas, the 3D-printed installation is like a fragment of an X-ray of the building's lungs, inviting viewers to take a closer look at what is otherwise invisible to the naked eye.
AUDRIUS BUČAS (b. 1962) lives and works in Vilnius. Between 1980 and 1985, he studied at the Faculty of Architecture of the then Vilnius Engineering Construction Institute. In 1991-1993, Bučas worked in an architectural atelier in Salzburg, Austria. In 1999, together with some like-minded colleagues, he founded the creative group PI (Private Ideology). Alone or with co-authors, he has designed and realised multiple buildings and interiors in Lithuania and abroad, as well as created furniture and brand identities. He has held solo and group exhibitions of contemporary art in Vilnius, Paris, London, Naples, Gdansk, Tallinn, Prague, Stockholm and elsewhere. In 2005, Bučas was awarded the LT Identity Innovation Laureate Diploma for promoting Lithuania worldwide.