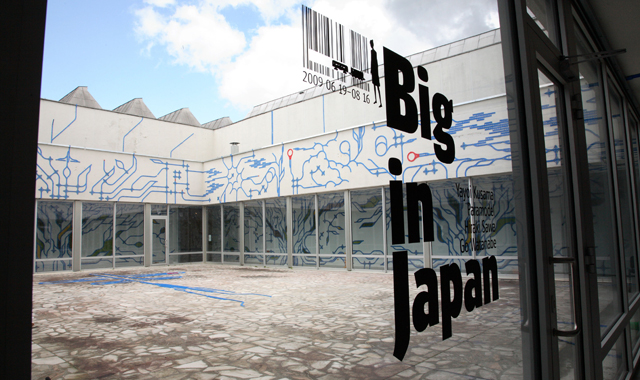 Participating artists: Yayoi Kusama, Paramodel, Hiraki Sawa, Go Watanabe
Curated by: Renata Dubinskaite and Kestutis Kuizinas
Opening: Friday 19 June at 6 pm
Film screening: Saturday 20 June at 9 pm
Yoji Yamada's feature Kinema no tenchi (Final Take: The Golden Days of Movies, 117 min., 1986, English subtitles) in the CAC Cinema Hall. The screening is supported by the Embassy of Japan in Lithuania.
On Saturday 20 June, as part of the 'Vilnius – European Capital of Culture 2009' project 'Let There Be Night!' the exhibition 'Big in Japan' will be open until 10 pm. Free Admission from 7 pm to 10 pm.
The Contemporary Art Centre is proud to launch the first major exhibition of Japanese contemporary art presented in Lithuania. "Big in Japan" continues the CAC's dynamic Vilnius culture capital year program – showcasing the latest developments in contemporary art from around the world.
The curators of 'Big in Japan' have imagined the exhibition as a set of four discrete solo-projects; affording the artists to produce large-scale installations that the audience can truly immerse themselves inside. Each exhibition space is made over as a distinctive artistic world or dream space and is reflective of the powerful visuals present in contemporary Japanese culture and art.
Yayoi Kusama has been producing all encompassing environments since the 1960s and at the CAC presents an installation that couples one of her classic mirror chambers with her recurring allover polka dot motif Dots Obsession – Infinity Mirrored Room (2008). The dots that recur in her work are a visualisation of an illness that Kusama (who is now in her eighties) has suffered from since childhood that occludes her vision in a field of spots. While her work is emblematic of this sad affliction her use of colour, and inflatable sculptures, that retain a naive and playful quality, makes her work a joy to experience.
Paramodel, an artist duo from Osaka, has transformed the upstairs transition spaces of the CAC into a 360 degree fantastical toy railroad – with plastic tracks, and painted decorations, running up the walls and across the ceiling in what looks like garden of tendrils. The work, titled Paramodelic – Graffiti (2009), takes its allover and dispersed properties from graffiti's aesthetics. The organic sprouting of the tracks makes the space into what seems to be an artificial hothouse environment; or a wonderful toyshop from children's fiction. Of course, references to artificial nature, mass transit, and trains, are also imbued with more critical meanings that the audience can reflect upon.
London-based artist Hiraki Sawa, in his synched six-screen video installation Hako (2007), slowly merges images of one of Japan's nuclear power plants, a forest preserved by Shinto monks, bizarrely churning sea, and multiple landscapes and interiors. Each of these images balances on the blurry line between the natural and artificial, and the real and surreal. Meanwhile, the exact local time is ticking away on a dollhouse clock set against a white wallpaper background in still-frame, which makes the scenes seem like interior visions, and dreamlike, rather than views of the world.
Go Watanabe has created six new light box mounted android portraits (No. 26-31) from his Face ('Portrait') (2005-2009) series especially for 'Big in Japan'. Watanabe's stunning alien faces appear to be staring directly at the viewer, although it is clear that they are not sentient beings and do not possess the power of sight. The beautiful albinos in the images might look identical at first glance, yet there are subtle differences between them; each portrait is constructed from a different image of a face and shares that referents skin, facial structure, and hair growth. Paradoxically, the uniqueness of human skin becomes apparent when several portraits appear in proximity and lends a lifelike appearance to these artificial images.
'Big in Japan' is accompanied by a catalogue, which features texts by the exhibition's curators and artists, and full colour photography of the artists' works.
The CAC Reading Room will provide visitors with an opportunity to explore new books about Japanese culture, art, design and architecture, donated by the Embassy of Japan in Lithuania on the occasion of this exhibition.
Patron of this exhibition:
EU – Japan Fest
Information sponsors:
Opus 3
JCDecaux
Sponsors:
Flexpro
UPS
Vyno klubas